By Chris Williams, CycloneFanatic.com PublisherFollow Chris on Twitter @ChrisMWilliams  
Happy Friday Cyclone Nation. It's mail time. Let's begin today's mailbag with a question from ItsCyence.
ItsCyence writes: In your opinion, would the addition of Florida State and Clemson change anything substantially record-wise in football?
CW: Well first of all, I think that a lot of people are assuming that if the Big 12 goes back to 12 schools that Iowa State will once again have four non-conference games every season. I don't believe that will be the case. Think about the type of money that television networks are throwing at conferences now days. Do you really think they are going to pay that kind of cash for Iowa State vs. North Dakota State? No way!
So if the league stays at 10 teams or goes to 12, 14 or 26 (pick your number), I really don't think that it matters. I see Iowa State playing nine conference games going forward, regardless.
Does adding Florida State and Clemson make the Big 12 a better football league? Absolutely. Both are "football schools." Both bring decades of tradition to the table and the money that comes along with it (Florida State more than Clemson, which is why I think a Virginia Tech or Miami would be a better fit with the Seminoles but that's a whole other conversation).
Having said all of that, I'm not sure that Iowa State's record would be affected by the addition of these programs that greatly though. Think about it this way. Iowa State already has to play Oklahoma, Oklahoma State, Texas, TCU, West Virginia and Kansas State annually. So if two teams are added to the league and some sort of a rotation is built in, I can only assume that the old Big 12 "North" schools remaining – Kansas and Kansas State (and whoever else gets put in Iowa State's division) – will play Iowa State every season. If Florida State and/or Clemson would be an annual opponent (assuming that these schools end up in the same division as Iowa State), they would likely replace two of those south teams every season. Hopefully Iowa State would be able to avoid the whole playing/not playing Texas and Oklahoma on the same rotation as we saw in the past.
It's all hypothetical. This is an impossible question to truly answer but I'll go with no. As long as the Big 12 is stuck on the nine-game conference schedule model, Iowa State is going to have a brutal road regardless of who is in the league.
CarlHungus writes: With the stable of running backs that we have, will DeVondrick Nealy get to see the field much this year? I think its important for our offense to have explosive guys like him and Jarvis West on the field as much as possible.
CW: I've touched on this in the past. It always amazes me that in a year like the one coming up, when Iowa State has proven players like Shontrelle Johnson (we think), James White and Jeff Woody ready to go, fans are already looking to replace them with rookies.
Now don't get me wrong. Iowa State's coaching staff seems to be geeked about Nealy's potential. Running backs coach Ken Pope's face lights up when he speaks about the freshmen. But I don't necessarily think that DeVondrick Nealy is going to be the difference in five and seven wins next season.
Could he turn into a special sort of weapon for the offense? Absolutely. But I would try to keep from expecting too much from the rookie as we head into September.
But the core to your question is correct. Iowa State does need more explosive players on offense. Nealy and Jarvis West both fit that mold.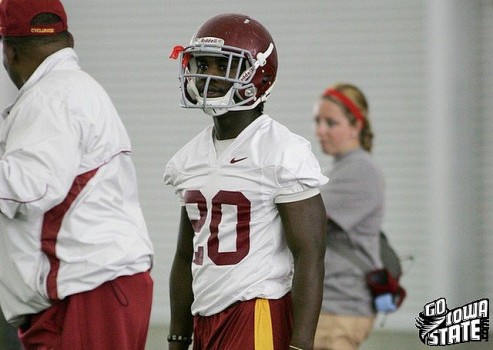 CloneTeach writes: Over/Under 23 MORE career starts for Jared Barnett? What would you set it at?
CW: Let's do a little math.
Heading into his sophomore season, Barnett has already started six games at Iowa State. He's got 36 opportunities remaining not counting bow games. You're setting the number at 23, meaning that he only needs 17 more? I'll take that in a heartbeat.
Barnett doesn't have all of the physical tools right now but he does have something that you just can't teach and that's leadership ability. That, plus experience will allow him to clear that number in my opinion.
As far as asking where I'd set the number goes, I think you're about right. I'd probably up it to 25 or so.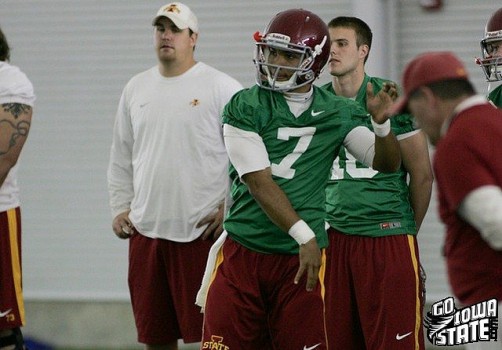 Cyphan writes: Basketball recruiting………..What's the latest? Will we begin getting commitments when AAU tournaments start in full force in June/July?
CW: As far as the open scholarships for next season go, recent reports indicate that Bubu Palo will have one of them. The other will likely go to a transfer – Jarrod Uthoff or Dorian Finney-Smith (who I consider as a long shot).
I'll be honest. I don't think that Uthoff will end up at Iowa State. He's been courted by Iowa State as a high schooler, and now a transfer. He's got family that played at Iowa State. He's taken how many visits to Ames?He still hasn't committed? Something tells me that if Uthoff wanted to be a Cyclone, he'd be one by now. But I could be 100 percent off with that theory. Hopefully that's the case.
The longer this spring goes on, the more I think that Iowa State might be light one scholarship player next season. Stay tuned.
As far as 2013 goes, things will really pick up in mid-July. That's when the coaches will be back out on the road and a busy 2013 recruiting calendar will be in full force.
Cystheman writes: If you could follow one ISU coach and one ISU athlete around for one day, who would you choose and why?
CW: I'd probably follow Fred Hoiberg just to watch out insanely popular the man is. I'd be willing to bet quite a bit that he can't go many places without being recognized in the state of Iowa.
For the second part of your question, no doubt it's Royce White. He's just an interesting dude. I'd love to see him in every day life, away from the cameras.
Also, if you could go back and cover any ISU team or story in the history of ISU athletics, what would it be?
CW: This isn't a team or story specifically, but a person. That's Johnny Orr. I am envious of guys like my friends John Walters and Keith Murphy, who often times tell fun stories about covering Coach Orr. He seems like such a fun human being and one that I wish I could have chronicled in the past.
ISUtama writes: Who do you think will win the Stanley Cup? And who do you think will win the NBA championship?
CW: Honestly, I don't even know who is playing in the NHL Playoffs. I'm not a hockey fan at all. I don't dislike the sport. I respect it. I love watching Olympic hockey. I've just never been into the NHL.
For the NBA, big Bulls fan here. Because of this, it is against my way of like to pick the Miami Heat.
Give me the Thunder. They're a young, talented team that could potentially be looked at as a dynasty when we look back 10 years from now.
RING4CY writes: Your thoughts and feelings on the Vikings getting their new stadium?
CW: Praise the Lord! I probably would have quit seriously watching the NFL all together had the Vikings left Minnesota. It would have been like a giant piece of my heart going up in flames.
Skol.