By Trevor Enerson, CycloneFanatic.com Fan Blogger
What he is: According to the Iowa State roster at Cyclones.com, Standard is a 5-foot-10 183- pound running back out of Chaminade High School in St. Louis, Mo. You want stats? Standard rushed for just under 7,800 yards in his career and he easily could have taken more. He also had 98 touchdowns during his high school career.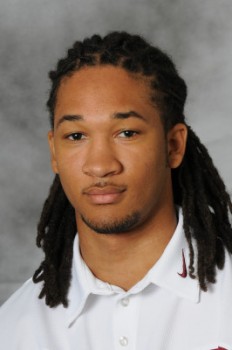 What he does: Standard does everything. In terms of a running back skillset, he has every component you would like to see. He can run a linebacker over in one play and sit a cornerback on the ground with quickness on the next.
Strengths/Weaknesses: I don't even know where to start. Looking at his highlights, one can see him do so many things right. He has exceptional vision. Once he sees the hole, Standard is explosive enough to get through it. He then has the pure speed to outrun everyone to the endzone. To me, there isn't a glaring weakness. He isn't large by any means, but he isn't small either. In my opinion, he is the prototypical feature back for the system Iowa State will run.
What's in store: I think Standard was brought in to eventually be the feature back for the Cyclones. He isn't a "situational" back. It will be very hard for him to be that guy over the next three years, however, I think we could see it happening. A redshirt is a possibility because of the depth that Iowa State already has at the position, but it certainly isn't a necessity in Standard's case. He may just be one of those guys who is too good to redshirt similar to Shontrelle Johnson last year. In time, I think Standard could be an all conference type of back.
He looks to me like: Alexander Robinson. He may be a bit more powerful and in time, could be bigger but he has the same explosiveness and vision that The Real A-Rob had as a Cyclone.