By Chris Williams, CycloneFanatic.com PublisherFollow Chris on Twitter @ChrisMWilliams
Iowa State running backs coach Kenith Pope has a problem.
"I probably have the toughest job on our coaching staff," Pope explained after Iowa State's second practice on Wednesday.
This isn't a bad problem though. It's a problem that every position coach dreams of having.
How in the world is Pope going to play all of these running backs?
Iowa State enters 2011 with four legitimate Big 12 running backs in its stable. Behind Shontrelle Johnson, Jeff Woody, James White and Duran Hollis are two more studs in waiting, freshmen DeVondrick Nealy and Rob Standard.
Standard ran for 7,799 and 98 touchdowns in his four years of high school.
Nealy ran for 2,743 yards and 39 touchdowns during his senior season alone.
"Those guys don't seem like freshmen right now," Pope said. "They went through that summer bridge program so the biggest thing is the learning process right now. They have a lot of talent, a lot of ability. I think in the future, the program looks really good."
Although they are still very much in the competition, conventional wisdom you that the freshmen will redshirt in 2011. It isn't that they aren't capable of playing now. It's more that Iowa State just doesn't need them. This is how things are supposed to work.
Depth is a beautiful thing.
"It's a position that you like to be in when you're going into a season," Pope said. "If something happens, I don't think we'll miss a beat with any guy going into the game."
The next question to ask is how the football will be spread around among four guys? That will be an even more serious issue in 2012, when all six of these backs are on the active roster (assuming that Nealy and Standard redshirt in 2011).
Shontrelle Johnson is currently No. 1 on Iowa State's depth chart.
"If he has the hot hand and is having a good game, he's going to get a whole lot of carries," Pope said. "Jeff Woody does some things inside that you can't replace. He is going to give us a different look. James White is a change of pace type of guy. "Duck" (Hollis) can make some things happen"
"Whoever is having the hot hand that day, I will watch that situation unfold. If it is Shontrelle, he will get those snaps. If it is James White, he will get those snaps. It is going to be a running back by committee. That's a good situation to be in."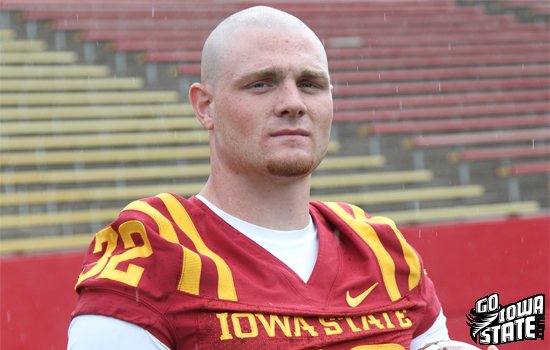 Shontrelle on kick return…
On media day, I wrote THIS BLOG questioning if Shontrelle Johnson would return kicks for Iowa State in 2011.
He did so last year as a true freshman. But now that he's Paul Rhoads' No. 1 running back, is it smart to put your top guy at one of the most dangerous positions on the field?
Pope, Johnson's position coach, chimed in.
"We're going to use every weapon that we have to win games. We want to put our best players on the field in each situation whether it is kickoff, kickoff return, punt or punt return. That's how you have to play the game if you want to win. Special teams is probably one of the most important teams on the field," Pope said. "Getting the ball past the 30 is our goal each week as a kickoff return team. If we can gain by having Shontrelle Johnson, an explosive guy back there, that's what we'll do this fall."