By Chris Williams, CycloneFanatic.com PublisherFollow Chris on Twitter @ChrisMWilliams
MORE MONEY: You know the whole gripe in the past about how the Big 12 never shared television money equally? Those days appear to be somewhat behind the new 10-team conference. On Friday, the league announced that beginning in 2012, revenue from the $1.2 billion deal with Fox will be split down the middle.
On top of that, income from bowls, NCAA Tournaments, additional TV contracts, etc. will be split 76 percent of the way, as that number sat at 57 percent in the past.
Some links…
For a complete recap, here's a Kansas City Star report by Blair Kerkhoff.
Here's another recap from David Ubben of ESPN.com.
And of that's not enough, here another from the Associated Press.
For an in-depth recap on what went down last June regarding realignment, here's a column from Chip Brown of OrangeBloods.com.
My Take: I'm not saying that this new look Big 12 is incapable of having problems. Every family fights. But within that family, most of the time a few kids don't eat Spam while the others fatten up on prime rib.
That's what the Big 12 has been like since its inception. Unfortunately, the Cyclones have stayed skinny on a healthy diet chopped liver over that time.
Hungry yet?
This new league is still in its honeymoon stages. I get that. But other than a grueling nine-game conference football schedule, I've yet to see a downside to this conference going forward as far as Iowa State is concerned.
The kicker is, without that nine-game conference schedule, Iowa State wouldn't make the increased amount of jack that it is set to see in 2012. I'd trade a non-conference football game for that amount of pay increase any day.
Making bowl games might be tougher to do in the short term but over an extended period of time, that money will put Iowa State on a more even playing field with its conference brothers.
Cash is king.
For the first time in well, forever, Iowa State will have some of it with this new setup.
SAME LOOK: Same name (Big 12), same logo. The league also announced late last week that it would keep its logo going forward.
My Take: Change the logo. To what you say? I don't know. Just change it. You've got two less teams. Revenue is about to go through the roof. All is well. You want to keep the name? I can live that. But freshen things up at least a little bit. Please?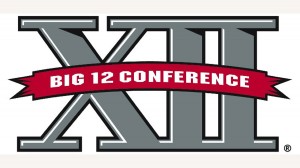 LINKS GALORE
– Iowa State picked up a wrestling commitment today and a good one at that. Three-time defending Iowa state champion John Meeks has swapped his commitment from Nebraska to the good guys. Here's a Des Moines Register report.
– Teddy Lampkin, a member of Iowa State's 2011 football recruiting class, was recently named the Omaha World Herald's Athlete of the Year.
– Pat Forde of ESPN.com says that the college football world that we live in is changing….
– A couple of Big 12 athletic directors commented on their school's coaching situations last week at the Big 12 summer meetings. For thoughts from Missouri's Mike Alden and Texas's DeLoss Dodds on Mack Brown, check out this blog from Blair Kerkhoff from the Kansas City Star.
– Last season was a tough one in Texas. So what is Mack Brown doing about it? He's casting a "wider recruiting net" for 2012 of course. Details here from the Texas Statesman.
– A report on how Oklahoma State's recruiting has improved under head coach Mike Gundy.
– Speaking of Oklahoma State, former Cowboy wide receiver Dez Bryant believes that his old team can win a national title next season.