By Chris Williams, CycloneFanatic.com Publisher
Follow Chris on Twitter @ChrisMWilliams
Jake Knott doesn't lock his car when he gets out…The car locks itself because it's scared that Jake Knott will get back in it. (For those of you who don't know, that's an old Chuck Norris joke).
While Iowa State's junior linebacker Jake Knott doesn't dazzle Cyclone fans with killer martial arts skills or a grizzled physic, he just might be as tough as Walker-Texas Ranger.
In April, Knott had surgery to repair a broken ulna bone in his right arm.
Last week, Iowa State's All-Big 12 linebacker had his cast removed.
One would naturally expect a broken arm to hinder a Big 12 athlete's offseason strength and conditioning schedule right?
Not this guy.
"I was doing dead lifts, pull ups, curls and all of that stuff," Knott told CycloneFanatic.com. "They have a bar in there that you can use because the cast won't let me rotate my arm. This bar allows me to pretty much do anything. You don't miss a minute with it."
"I didn't lose any strength at all in my wrist, or my arm for that matter. I didn't have any loss of size. Going back into things with my cast off has been an easy transition and has gone pretty smooth."
Knott put in the hard work to stay in tiptop shape throughout all of this and there's no doubt that he'll be at 100 percent when the Cyclones kick off 2011 vs. Northern Iowa on Sept. 3. But Knott also gives credit where it is due.
Iowa State's strength and conditioning staff led by director Yancy McKnight has done a bang up job.
"There should be an award for him, him and Clayton Oyster both," Knott said. "He knows more than any man should know about everything that has to do with conditioning, weight training and nutrition. Everybody feels comfortable approaching him and everybody on the team respects him. We listen to everything that he has to say. We're really lucky to have him here at Iowa State."
Within the Iowa State football program, Knott has the reputation for being a bit of a workout fiend. Knowing when to stop was Knott's biggest obstacle throughout the rehab process.
"If I had it my way, I definitely would have overdone it quite a few times," Knott said.
McKnight kept a close eye on him.
"He pushed me to the place where I could do things but wouldn't let me do too much," Knott said. "Coach Rhoads was the same way. Every time he'd walk by me, he'd tell me to not hurt my arm. He kind of kept me in check."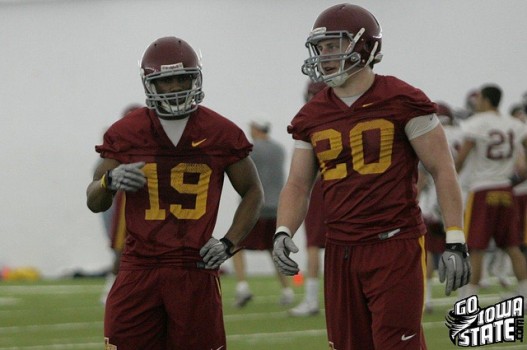 On his backup, young Jevohn Miller…
True freshman linebacker Jevohn Miller turned a lot of heads during spring football. Miller, who arrived on campus a semester early, somehow bolted his way into Iowa State's two-deeps. He currently sits as Knott's backup at WILL linebacker.
"I don't think that the coaches plan to redshirt him," Knott said. "I can see him on the field playing special teams and stuff like that. I can see him getting out there. You want your best players out there and he is a good player."
"He is still a young guy. You try to treat him like he is a sophomore or something like that but then he makes a mistake and you realize that he is still a freshman. You need to give him more time to get used to everything. He is a quieter guy. He keeps to himself. He is willing to learn anything. He'll watch film with me and anyone else who can teach him stuff. That's really good."
Knott on the incoming freshmen…
Iowa State's recruiting class of 2011 arrived on campus last week. It's early, but Knott likes what he's seen so far.
"They have handled everything well," Knott said. "You get freshmen who come in every once in a while who think they are kind of a gift to this earth. With these guys, I haven't seen that yet. They don't seem too cocky. They really are working hard for us."
Time management was Knott's biggest hurdle as a rookie. Any tips for the new freshmen?
"Probably just how much you have on your plate at one time. I think that will be one of the things that they will struggle with at first. You need to get the most out of your day so you don't miss something."