By Chris Williams, CycloneFanatic.com Publisher Follow Chris on Twitter @ChrisMWilliams
CycloneFanatic.com Publisher Chris Williams responds to questions from fanatics in his weekly mailbag, regarding numerous Iowa State topics and more.
Brett108 writes: I know Percy Gibson is still in the fold in terms of spring recruits for basketball. Are there any other names floating around that could provide some depth in the frontcourt for the 2011-2012 season?
CW: Not yet Brett. I've heard rumblings that Gibson could make it to Ames on an official visit as soon as this weekend. If that goes well (like if Gibson were to commit), I'm not sure that Iowa State would even take another prospect for the 2011 recruiting class. Unfortunately, there just aren't a ton of quality guys out there in mid-May. But who knows? Maybe Matt Abdelmassih has a plan B up his sleeve? If a name does surface over the next few days, I'll be sure to keep you all informed here at CycloneFanatic.com. Hope for Gibson though. That would be a mighty fine catch for this program at this stage of the recruiting calendar.
Timappelgate writes: With the dismissal of Godfrey, how much does this affect Anthony Booker's roll for this coming season?
CW: With one less big man in the mix, Booker will no doubt see more time next season. I believe that Godfrey would have started next season. Next man in. Is that Booker? Time will tell. He is the one transfer who you never really hear much about. Does this guy simply fly under the radar or is he just not that good? Anthony Booker's body is ridiculous. That doesn't always translate to basketball statistics but if you stand next to him, you'd think he belongs in the NBA.The only time I've seen him play was at the Capital City League last summer. He impressed me there, but that isn't saying much.
State43 writes: With Godfrey out and Jordan Railey trying his hardest to follow, it's more obvious then ever that Royce White and Booker really need to step up and play well. Do you see an obvious problem at the 4/5 spot going into next year? I know Fred spoke of running 4 perimeter theats and at this point, it might be our only option to ensure our big men are not all overworked by the end of the game.
CW: I understand your concerns. A few quick thoughts…
I've had a few behind the scene conversations with some folks regarding Jordan Railey and for the most part, the powers that be are confident that he'll stay out of trouble in the future. I wouldn't bank on Railey not being in the mix next season, but who knows?
Sure, there is a depth issue down low heading into next year, but that's better than the opposite. I love Iowa State's backcourt heading into 2011 and don't forget about Melvin Ejim. He's shown that he can play the four if he needs to, as he did it throughout his freshman campaign.
Another thought on depth…Nothing can be worse than what Fred Hoiberg had to work with last year right?
3GenClone writes: With the talk of new TV contracts, FOX, and now Gus Johnson, it makes me wonder – Who would your dream broadcast team be for ISU football and ISU basketball? After John Walters & company, of course.
CW: Okay, since I can't choose The Godfather (AKA John Walters), I'm still going to keep it local. There aren't many people in the business who I look up to more than WHO-TV 13's Keith Murphy. He would be my TV play-by-play guy for both football and basketball. I've never actually seen or heard Murphy do play-by-play, but I'm not big on technique. I care more about personality and being entertained. In my opinion, there's nobody better than Murph when it comes to that.
As for the color guy, I don't care what the sport is. This is the definition of a no-brainer.
Jon Gruden.
I don't care if I'm watching football, basketball, Magic the Gathering or a spelling bee. The more Jon Gruden, the better.
Of course, I'll opt for Jenn Brown as the sideline reporter. She is very talented.
That's my dream team.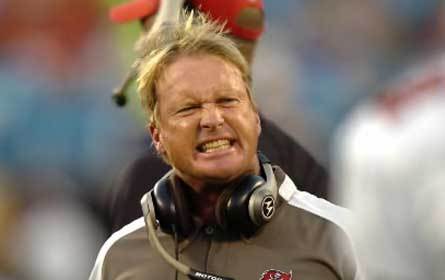 Isuno1fan writes: As a lifelong Cyclone fan, can I expect to die with any semblance of my nuts still in functioning order or will years of brutal kicks leave them useless and disfigured?
CW: Ice my friend. Plenty of ice. That's how you'll keep everything in tact down there. Who is your NFL team? I'm a Cyclone/Viking…Is there a worse combination in the world?
Drednot57 writes: As a fellow Vikings fan, what's your take on the proposed stadium complex location in Ramsey County, MN, 10 mi. N of St. Paul?
CW: Honestly, if the team stays put in Minnesota, I'll be happy. If that happens, you won't hear me complain.
But to directly answer your question, I'd much rather the stadium be downtown. The mass transit is nice. The bars/restaurants are awesome. The parking sucks but I'd rather pay 10 extra bucks than have to drive farther north and not be able to go out before and after the game.
It sounds to me like this is all very premature though. If I had to bet, I'd say that this thing ends up in downtown Minny.
Nuts4Cy writes: Sean Keeler said that ISU fans shouldn't be expecting an NCAA birth next year. I say NCAA or bust. Guy like Chris Allen don't come to ISU to go to the NIT their Senior season. What do you think?
CW: I don't think that Sean was off base with his article at all. In fact, I wrote about this in Tuesday's Cyclone Roundup. CLICK HERE if you'd like to read it.
Should you EXPECT an NCAA Tournament in year two of the Fred Hoiberg era? That might be a little bit much. But it certainly isn't out of line to do so. When you decide to go the transfer route like Hoiberg did, expectations inevitably shoot up in a hurry. Fred has said on multiple occasions that he wants to win now. Next year's team is talented enough to do so. Will they gel? Stay tuned.
Triggermv writes: I've been pondering this debate in my head lately. I know there are definitely more Iowa fans in this state than ISU fans, but when I look at the roads, it seems like I see more Cyclone plates than Hawk plates. First of all, am I just delusional, or am I in fact correct in my assumption? Keep in mind that I live in Cedar Rapids, so this should mean a lot that I am still observing this.
CW: I totally agree with you. Maybe Cyclone fans just have more pride in their school? Where do you live? If you live in central Iowa, then the answer to your question should be pretty obvious. I've never lived on the eastern side of the state, but I have a hard time believing that there is a high number of cardinal and gold license plates driving around.
Cytheguy writes: Anything new with the Lattimer incident from a few months ago? Has CPR said if he'll miss any time?
CW: Paul still hasn't commented on if Lattimer will miss any time or not. Towards the end of spring ball, Rhoads said that the case was still playing itself in the courts. I'll be surprised if we hear anything before that first Monday press conference leading up to the Northern Iowa game on Sept. 3.
Have a great weekend everybody!