By Chris Williams, CycloneFanatic.com PublisherFollow Chris on Twitter @ChrisMWilliams  
Good day Cyclone Nation. Here's a mid-week mailbag for you full of Iowa State related journalism gold (sarcasm alert, sarcasm alert). Enjoy.
Let's start things off today with a hoops question from gocubs2118.
gocubs2118 writes: What should our expectations be for next years basketball team?
CW: Final Four or bust. That's a joke people.
I realize that by writing what I'm about to write, I'm somewhat going out on a limb but what the heck.
I think that Iowa State can/will be as good next season than it was in 2011/2012. That's no disrespect to Royce White, Chris Allen or Scott Christopherson either. Let's be real here. Those were Iowa State's three best forms of offense all season long last season.
White was the stat-stuffing superstar. Christohperon was Mr. Big Shot and the guy who his teammates could always rely on. Allen was…Well, he was Chris Allen – an inconsistent player but one that had the ability to go off for 20-plus in a game.
But based off of what I've heard about Korie Lucious and Will Clyburn along with the rest of the guys coming into the program and the players returning, this could be another special Iowa State team.
Just like last season though, it's all going to come down to chemistry. That's what made last year's team so good. Not only did that group enjoy playing basketball together, they were friends off of the court as well. Fred Hoiberg said this a million times during the season. When your best player is one of the most unselfish guys in all of college basketball, the rest of the team feeds off of that. That's what made Royce White so special. That's why Royce White will be successful in the NBA.
Lucious will bring a light of intensity that last year's team didn't have. The dude is as scrappy as they come and a better shooter than most give him credit for. Clyburn has the tools to be a first round NBA draft pick and I heard the other day that he's up to weighing over 200 pounds (which was his biggest question mark).
What should your expectations be? Well there are still two scholarships to fill and the next couple of weeks will give us a glimpse as to what the Big 12 will look like in 2012/13. But to directly answer your question, I'd go into the season "expecting" another berth NCAA Tournament. Fred Hoiberg wouldn't want it any other way.
VikesFan4Ever28 writes: I know it's early but with Scottie, Allen, and Royce leaving, who do you believe will step up the most?
CW: I think I probably answered this question decently in the one above but if you're looking for one name, it's Clyburn (pictured below). I think he's the guy who most won't talk about that will do big things next season.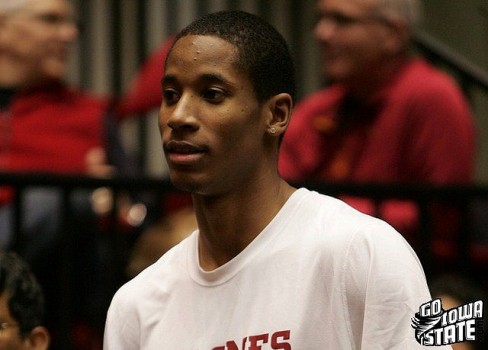 KFitzy87 writes: Who has a breakout year this fall in football?
CW: I'll give you a few on offense and a few on defense.
On offense, I'd list Ernst Brun, Quenton Bundrage and DeVondrick Nealy.
Brun is that hybrid tight end that Iowa State lacked last season. If he can handle the game from a mental standpoint, Brun is a guy who can help out Iowa State's quarterbacks a lot this fall.
I went with Quenton Bundrage at wide receiver but really, any of the newcomers (including Tad Ecby, Ja'Quarius Daniels and Justin Coleman) could have fit. But Daniels has been hurt this spring so I assume that will slightly affect his stock entering fall camp. Every redshirt freshman needs as many spring reps as he can get.
As far as Nealy goes at running back, I want to be careful not to feed the hype machine too much. But based off of my recent conversation with running backs coach Ken Pope/things I've been hearing about how the spring has gone, the rookie is going to have a shot to see the field quite a bit this fall. Shontrelle Johnson's status will have a lot to say about this too.
But remember what happened last year. Iowa State played four running backs. I'll be shocked if that isn't the case next year too.
On defense, give me both Jake McDonough and Cleyon Laing on the defensive line and Jansen Watson at cornerback.
If you haven't seen it by now, CLICK HERE and watch Shane Burnham's recent interview regarding Iowa State's defensive tackles. He has some positive things to say about both McDonough and Laing at defensive tackle. Burnham basically says that if Laing doesn't produce, it's untapped potential.
I hope that this prediction is right. If Iowa State can keep getting better up the middle, the sky is the limit for this defense with the best linebacking duo in the Big 12.
As far as Jansen Watson is concerned, the junior cornerback is legit. Watson was my favorite player to watch on special teams last season and according to many, he's tearing it up this spring.
CarlHungus writes: How much of an improvement do you think we will see from Percy Gibson? He looks like he has a bright future. 
CW: I'm not sure that there was a player on Iowa State's roster who improved more from game one to the end of the season than Percy Gibson. Not only was Gibson scoring consistently when the calendar hit March, but he made it look easy at times.
Gibson still has a ways to go from a defensive perspective but I agree with you Carl. I think he's got a very bright future and could be in the starting lineup when next season tips off.
How much improvement can he make? Well the old saying is that players improve the most between their freshman and sophomore seasons. It's scary to think how good Gibson will be around the basket when he's a senior you know?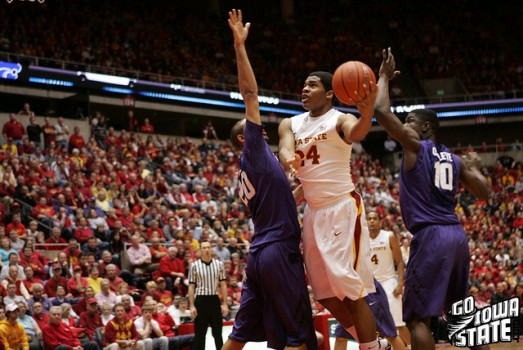 Cycsk writes: What is up with Bill Fennelly? How is his voice? How would he assess his job performance this year, given the unique circumstances? Does he expect things to be back to "normal" next year?
CW: I've written about this a few times and talked about it a lot on our radio programs throughout the basketball season.
While I wasn't around during the first half of the Fennelly era, I can speak of what I've been able to witness since 2003. That was the best coaching job that Fennelly has done since I've followed/covered his program. Period.
When you factor in his illness, Iowa State's ridiculously brutal round-robin Big 12 schedule and the fact that his team went at it with a true freshman at point guard, Fennelly coached his butt off.
Will the ISU women's gymnastics team advance from the Regionals to Nationals? They will have to outscore either Nebraska or Utah (at Salt Lake City). Celine Paulus finished strong, especially with some of the best vault scores ever in ISU history.
CW: Gymnastics coach Jay Ronayne is one of my favorite people at Iowa State. I've worked with him a couple of times over the last year and have enjoyed every minute of it. I've learned more about gymnastics in the last year than I did during the first 26 years of my life.
Having said all of that, I can't give you any insightful analysis as to how the team will do. I'm way too new to the sport. I do hope to learn more in the future though.
Jay is passionate about Iowa State and I'm confident that he's well on his way to building a power in Ames.
Timappelgate writes: Going to any concerts this summer, Chris?
CW: I've already purchased tickets to see Eric Church on July 28. I went to his show in Council Bluffs last year and as a guy who LOVES going to concerts, that was the best I have ever been to. In my opinion, there's nobody better in country music right now than Eric Church. He's on top of his game. Can't wait for the show!
Other than that, unless I can find some cheap tickets to Miranda Lambert or Hank Williams Jr. at the state fair, I'll probably lay low. I plan to use that concert money one some things for my house that need to get done.
Getting old is lame and it sucks Tim! Enjoy your college years buddy!
Oskyclone writes: What are you looking forward to most this summer outside of Iowa State?
CW: Well there are few things that I enjoy more in life than dirt track racing. I grew up on it. It's how I figured out that I wanted to get into sports journalism. I love getting out to local tracks on Friday/Saturday nights in the summer to watch racing in its most pure form.
I'll be hosting the Iowa Speedway's prerace show on 1460 KXNO again this summer, along with blogging for the Des Moines Register as well so I'll stay busy on that front.
Besides motorsports, I'll fish and boat a lot. My parents are big boaters. In fact, I'm fairly confident that my dad would live on his boat if it was at all possible. We'll be down at the Lake of the Ozarks (like we do every year) for a week in July.
That's about it really. Pretty typical summer stuff!
ShankinPAT's writes: Which sequel are you most excited for Anchorman or Dumb and Dumber 2?
CW: This is an easy one…Dumb and Dumber! That's without a doubt my favorite comedy of all-time. My best friend and I have probably watched it together over 100 times. That was a college tradition for us. Get home from the bars at around 2, keep things going with Dumb and Dumber in the background. How cool were we?
MOCK…YEAH…..