By Chris Williams, CycloneFanatic.com Publisher
It is a good problem to have for Iowa State running backs coach Kenith Pope.
For the four talented young running backs in Ames, there aren't enough snaps to go around this spring.
Iowa State's fourth all-time leading rusher, Alexander Robinson, is out of the picture. Though you can't really just replace a guy like Robinson, nobody is hanging their heads regarding Iowa State's running back roster heading into 2011. In fact, the Cyclones will likely be deeper this fall than they were in 2010.
"This is probably the most talent that we've had at one time since I have been here," Pope said. "We have a lot of competition with this particular group. Everybody is trying to find a place on the field. I like the attitude and the competition level of the way the guys are working at this time."
Iowa State's depth chart at running back is littered with upside. Here's a peek.
1 – Shontrelle Johnson, So.
2 – Jeff Woody, RS So.
3 – James White, RS So.
4 – Duran Hollis, RS Fr.
"You have to have a lot of depth. You don't like to use the word 'injury' but you never know," Pope said.
The days of playing one running back are essentially over. Look around college football and the NFL for that matter. Hardly anybody goes out there with one man anymore. Pope knows that and here's the best news that Cyclone fans can hear in early April.
"Right now, we have four guys who we can win with," Pope said. "I will play a variety of backs and my job is to be able to put the best talent on the field in whatever situation that may be."
The best thing about these four running backs is that they all possess different styles. Their strengths are complimentary for the group as a whole. I'll investigate that below.
Below: Iowa State running backs coach Ken Pope.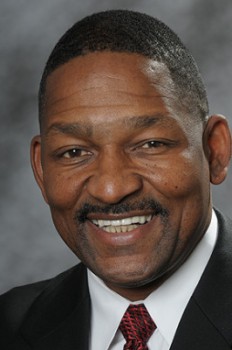 Don't sleep on James White
Shontrelle Johnson is the showstopper. Jeff Woody is the bulldog. Duran Hollis is the intriguing prospect that fans want to see more of.
But what about James White, a 5-foot-8, 181-pound redshirt sophomore who only a year ago was that exciting, somewhat unknown guy? White stole the show in last year's spring game and turned out to be somewhat of an afterthought in 2010, accounting for only 12 yards on five carries.
Rumblings coming out of Ames are telling me that White is one of the most improved players on the team this spring.
"He is doing some nice things out there right now," Pope said. "He is an explosive guy. He has the ability to make people miss. He has the ability to get you some tough yards. He plays with great pad leverage. James is a smart football player. He understands the game really well and that's why I think he plays the game pretty fast. I'm excited about what I am seeing."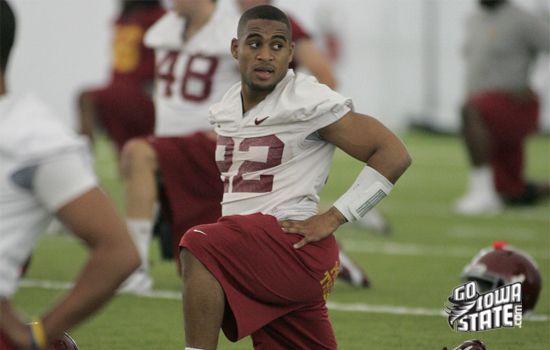 Different looks?
"If you blow up a balloon, that's Shontrelle Johnson. You really don't know where he is going to end up. I don't know if he knows but he has great vision and a feel and he makes very smart cuts."
That's how Pope describes Johnson, a slippery sophomore who ran for 218 yards and two touchdowns in 2010.
"He really is an elusive young man," Pope said. "He is a guy who plays in space about as good as anybody I've seen. It is going to be interesting to see the things that he will do this year for us."
Pope glows like a proud papa when discussing his prized running back who teammates refer to as "the rabbit." Cyclone fans only saw glimpses of Johnson's ability last season. This ridiculous move from the Kansas game became an Iowa State YouTube classic in hours.
When you have a player like that, the goal is to get him as many touches as possible. Expect that to be the case with Johnson next fall, but it might not always be at running back.
"You will see these guys in different locations on the field besides the running back spot," Pope said. "At times they will line up as wide receivers. We are going to make people defend the field. We will have some things that we feel like we can benefit from."
Believe it or not though fanatics, Johnson isn't perfect.
"He has to play smart. He has to understand the front. He has to understand the coverage," Pope said. "He has to understand what he sees. When he does that, it will allow him to really play well for us. Every day, I think he is learning those particular things."
Expect the same from the bulldozer
Here's your Jeff Woody spring update fanatics.
The man is still a bruiser. He still plays like one angry dude on the football field. Woody still has an edge and he'll be a major part of Iowa State's offense in 2011.
"He is going to get you those tough yards," Pope said. "He is going to surprise you with the fact that he is a hard guy to tackle in space. Everybody has his own little thing that he does. I tell him to utilize his talent. That is playing behind his pads. When he does that, he is truly fun to watch."
Woody ran for 192 yards and a touchdown during his redshirt freshman season. With his power, Woody really is the perfect complement to Johnson.
Scouting Duran Hollis
If you didn't read it last week, CLICK HERE to get to know Duran "Duck" Hollis just a little better. Hollis is a 5-foot-9, 203-pound redshirt freshman who acquired the nickname "Duck," at a young age. Why "Duck?"
Because he looks like one.
Oh yeah. The guy can play football too.
"The thing that makes "Duck" a little different is the fact that he can stop and start just as fast," Pope explained. "You'll see him a lot of times where it looks like he is hesitating and he'll make a cut. He can make people miss in space but he also has a great ability to visualize where he needs to attack."
Hollis ran for 1,217 yards and 14 touchdowns as a senior in high school. Pope said that Hollis accomplished everything the coaching staff wanted him to during his redshirt campaign.
"The biggest thing is that he understands the offense and therefore, he is playing a lot faster and he should be playing a lot faster than he did in the fall."