By Chris Williams, CycloneFanatic.com Publisher
Follow Chris on Twitter @ChrisMWilliams
Greetings my fellow fanatics.
We're officially in the dog days of the college athletics season. That's okay though. We're going to keep clawing here at CycloneFanatic.com. I've got a lot planned for you all over the next few months.
I threw this in the bottom of yesterday's musings column, but if you have any additional story ideas for the dog days, shoot me an email to chris.m.will@gmail.com. I can't guarantee that everything will be written, but I'll strongly consider any and all ideas sent my way.
Now, onto today's roundup.
ESPN PRAISES THE CYCLONE DEFENSE
ESPN.com's Big 12 blogger David Ubben recently released his list of the league's top tackling teams, where he ranked Iowa State third, behind Kansas State and Texas.
CLICK HERE for a link to the read.
Now this doesn't mean that Ubben views Iowa State's defense as third best in the league heading into next season. But it does show that the national media has a lot of respect for guys like Jake Knott (above) and A.J. Klein (below).
Now hope that Iowa State's defensive line will help those guys out a little more next season.
BEEBE SAVED THE BIG 12
Berry Tramel, a columnist from the Oklahoman is one of my favorite sports writers in the country. He recently delivered another gem, this time highlighting the recent successes of Big 12 commissioner Dan Beebe. CLICK HERE for the link.
On the day that the new Big 12 TV deal information came out, I just happened to be co-hosting the 4-7 spot on 1460 KXNO. During those three hours of radio, over and over again I stressed that a lot of folks out in cyber-land owe Beebe an apology.
I probably do too. In the past with that ridiculous TV deal, it has been impossible to not criticize the man. But as Tramel puts it in the linked column, Beebe is a fighter. He's one tough cookie and yes, I wholeheartedly agree that the Big 12 is now a very solid and stable conference. With that kind of jack being tossed around, it'd be pretty tough to pick up your gear and leave.
I've got one quick story regarding this topic and then we'll move on. I went back home for Easter last weekend and spent Friday night having a few beers with one of my best friends in the world, a guy who happens to be an Iowa graduate and diehard Hawkeye.
Believe it or not, this friend is maybe the smartest person I know. Yes, a Hawk fan is the smartest person I know. Something is wrong with putting those words together right? Anyway, we discussed realignment, TV deals, etc., for a good chunk of time. He made a comment that floored me.
"I think that the Big 12 has it right with a 10 team league. I wish that the Big Ten was in a round-robin situation."
My friend, a man who bleeds the black and the gold, likes the Big 12's setup going forward more than that of the beloved Big Ten.
This is only one reference. Don't worry. I'd venture to say that he doesn't have much company within his Hawkeye brothers.
CYCLONES FEATURED IN YAHOO COLUMN
You've got to love when Iowa State gets some positive, national press. That went down yesterday when Yahoo.com's Jason King named Royce White (below) and Chris Allen as two of the nation's most important transfers heading into next year's college basketball season. CLICK HERE for the link.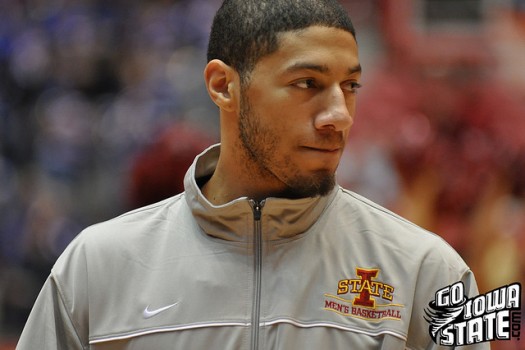 TROUBLE FOR TRESSEL
I'm not going to go too deep into this story because it doesn't directly impact Iowa State in any way, but the latest Jim Tressel news out of Columbus is disturbing. It is just more proof that if you win win college athletics, you can essentially do anything that you want. What bugs me the most is if I openly lied to my boss and important people to CycloneFanatic.com, I'd get fired. I assume that would be the case for your job too right? Fire this man!
LINKS GALORE
– Some good stuff on Iowa State's quarterback competition from Ames Tribune sports editor Bobby La Gesse.
– Iowa State isn't the only Big 12 school that is about to see some football facility upgrades. According to this Manhattan Mercury report, Kansas State will use a good chunk of the new Big 12 money to improve Bill Snyder Family Stadium.
– Missouri is about to make a big purchase too. You know that big, annoying drum that the Tiger cheerleaders pound on throughout games? The school is buying a new one. Yippee-ki-yay.
– With the NFL Draft looming, I found this Rivals.com piece especially interesting. It looks at the number of draft picks every college football program has had since the year 2000.
– I never realized it until reading this piece out of Austin by columnist Cedric Golden, but Texas head coach Mack Brown didn't show up for last week's Big 12 football teleconference. Golden reports that Brown was much more strict with the media during spring football as well. Hmm. Is somebody stressing out about going 5-7?
– Kansas very well could be in some trouble next season on the basketball court. The Jayhawks will no doubt have a very unproven team, but it gets worse. The Kansas City Star reports that Kansas will face a brutal schedule too.
– The 15th-ranked Iowa State women's golf team has qualified for NCAA postseason play.