By Chris Williams, CycloneFanatic.com Publisher
Iowa State (16-15, 3-13) vs. Colorado (19-12, 8-8)
Wednesday, March 9 * 2 p.m. @ Sprint Center, Kansas City
Big 12 Network/ESPN3 – Cyclone Radio Network
CycloneFanatic.com's 2011 Big 12 Tournament coverage is brought to you by our good friends at Wilson Toyota of Ames, located at 2212 S. Duff Ave.
BREAKING DOWN THE CYCLONES
Iowa State's probable starters
G: Diante Garrett, 6-4 Sr. – 17.2 PPG, 6.1 APG
G: Scott Christopherson, 6-3 Jr. – 13.9 PPG, 3.1 RPG
G: Jake Anderson, 6-2 Sr. – 12.2 PPG, 7.3 RPG
F: Melvin Ejim, 6-6 Fr. – 10.5 PPG, 6.7 RPG
F: Jamie Vanderbeken, 6-11 Sr. – 11.3 PPG, 5.5 RPG
Kansas City – Are the Cyclones playing their best basketball of the season at the right time? That hot question has been floating around the minds of Iowa State fans ever since last week's 95-90 win over Colorado.
No, Saturday's 67-55 loss to Kansas State wasn't pretty. Scott Christopherson, Jamie Vanderbeken and Jake Anderson combined to go 8-for-33 in that contest, while the Cyclones went 4-for-23 from long range. Diante Garrett was the only Cyclone who cracked double digits in scoring. Offensively, it was an utter disaster.
Defensively however, it was one of the strongest games that the Cyclones have played in some time. That alone should give Iowa State fans some hope heading into Wednesday's Big 12 Tournament first round game against Colorado, a team that has scored 95 and 90 points in two games against Iowa State this season. Here's the breakdown.
Key to victory
Iowa State has been focused on one thing since learning of a first round Big 12 Tournament date with Colorado.
Transition defense.
"They killed us on that in Boulder," said head coach Fred Hoiberg. "They thrive off of turnovers. They are as good as any team in our league at turning it over, getting numbers and finishing on the other end. They are too big, strong and fast for us to be casual with the ball."
In its 95-69 loss to Colorado on Feb. 1, Iowa State turned the basketball over 17 times. In last Wednesday's win, that number was reduced to seven.
Fresh on the mind…
These two teams should certainly be familiar with one another.
"Both teams will take that and just look at their scouting reports from a week ago," said Hoiberg. "The actions that they and we run are fresh in both teams' minds. Both teams will be prepared."
"For me, it doesn't matter," said Jamie Vanderbeken. "We're fresh in their minds too. We just need to come out with the same mentality. We're trying to shock the world I guess."
Cyclone Notebook
–       Iowa State hasn't won a Big 12 Tournament game since 2005, which came against Baylor by a 77-57 final. The Cyclones are 0-2 all-time in the Sprint Center and Iowa State is playing as the 12-seed for the first time in school history.
"It would be good for us and good for me too personally," said Garrett. "I haven't won one yet. Getting out of the first round would be great."
–       This could be Diante Garrett's final game in an Iowa State uniform. Here's a quick update as to where Garrett is number wise in various categories within Iowa State's record book.
o   Garrett played his 127th career game last Saturday against Kansas State. That is now an Iowa State record.
o   Garrett is currently second on Iowa State's all-time assists chart with 605.
o   Garrett was recently named All-Big 12 Second Team by the league's coaches.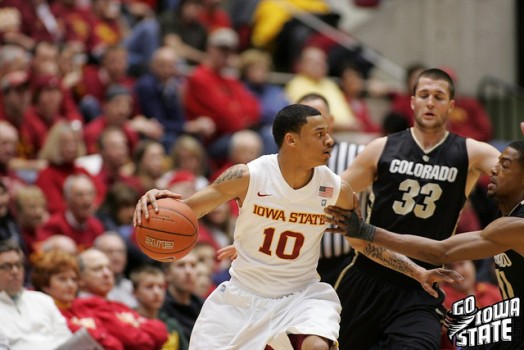 –       Scott Christopherson's 3-point shooting streak is still in tact. He's made a trey in 33 straight games.
–       No matter what happens on Wednesday, Iowa State has assured itself of a non-losing season for the first time since 2005-06.
BREAKING DOWN THE BUFFALOES
Colorado's probable starters
G: Cory Higgins, 6-5 Sr. – 15.7 PPG, 3.5 RPG
G: Alec Burks, 6-6 So. – 19.5 PPG, 6.2 RPG
G: Nate Tomlinson, 6-3 Jr. – 3.1 PPG, 2.3 APG
F: Marcus Relphorde, 6-7 Sr. – 11.7 PPG, 4.4 RPG
F: Austin Dufault, 6-9 Jr. – 7.3 PPG, 4.2 RPG
If you want to slow down this herd of Buffalo, you better attack their leader. That is sophomore Alec Burks.
"He is a prototypical wing player in the NBA," said Hoiberg, who would know. "He is big, strong, fast and athletic. He draws fouls. Those guys (along with Cory Higgins, who is pictured below) will last a long time in that league. He has a very bright future ahead of him."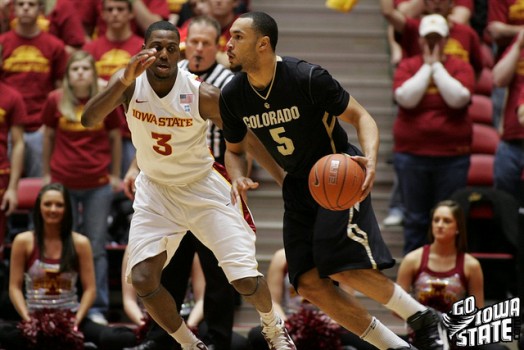 Burks combined to score 43 points in the first two meetings between these teams. He was also very efficient from the free throw line, combing to go 9-of-11 from the stripe.
"His mid-range game is on point," said Garrett. "He's 6-foot-6 so he can shoot over mostly any guards who are on him. He's pretty fast too. He comes off of a lot of down screens, flares and stuff like that. He's a really good player."
Again. Transition defense. Burn that key into your brain right now Cyclone fans.
"They live off of getting in transition and getting buckets," said Garrett. "We have to stop those guys from getting to the free throw line."
Did you know?
–       That Colorado senior Austin Dufault is cousin of Fred Hoiberg's wife. Dufault often frequented Hoiberg's basketball camps when he was a kid.
On the road again…
It all began with road losses to San Francisco and Harvard in November. And let's be fair. The biggest question a guy (or gal) can ask about those two games is why in the heck Colorado agreed to play them in the first place. But the road woes continued for Tad Boyle's Buffaloes all season long. In games not played in Boulder, Colorado was 4-9 this season (that includes two neutral court contests vs. New Mexico and Indiana).
For comparison's sake, Iowa State is 3-9 in games outside of Ames this season.
We'll call this aspect of the game a draw.
PREDICTION
This is a solid draw for Iowa State. Colorado has a potential NCAA Tournament berth to play for on Wednesday, but the Cyclones seemed to have recently figured "it" out. I'm not even sure what "it" is.
There's no doubt in my mind that if Colorado scores 90 points (like they did last Wednesday) tomorrow, Iowa State's season will be over in the first round of the Big 12 Tournament. However, Iowa State held the red hot Kansas State Wildcats to 67 points on Saturday. It was arguably the best defensive performance we've seen from these Cyclones in months.
I've written this before, but I believe in basketball karma. They've been so close so many times. I think that they just might be over the hump at the right time.
THE PICK
Iowa State 84, Colorado 82