By Kirk Haaland, CycloneFanatic.com Contributor
It's time for round two of reviewing the 2010-11 Iowa State basketball season and to put it in proper perspective historically.  The thoughts of the season have been hashed and re-hashed but there are some interesting statistics as food for the thought that will be provided here.  I will present you with some evidence of style of play being implemented, close losses and yes, even some success that has rarely been seen before in Ames.
The close losses were the talk of the 2009-10 season and perhaps those close losses were the key cog in changing the overall trajectory of just how successful the season would be.  This year, the Cyclones lost four games by six points or less (an arbitrary number, I know) in conference games.  That is tied for the most all time.  Below is a chart depicting these occurrences: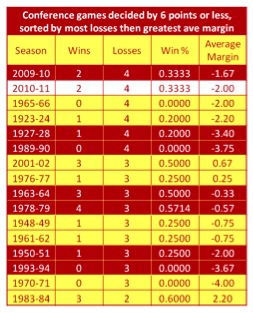 You'll note just how tough the last two seasons have been on the players and us fans with both of those seasons being at the top of the list.
Another way to take a closer look at just how many games were "close losses" for the team is to calculate the percentage of games lost by 10 points or less.  The Cyclones lost 16 games in 2010-11 and 11 of them were by a margin of less than 10, below you can see how that stacks up all-time:
Maybe you're thinking that ranking 20thin this category out of 104 total season isn't all that impressive — and in reality, it isn't.  It is a sign of being close and not coming through, for the most part.  But consider that of the 19 teams ranked ahead of last year's ISU team that 13 of them played before 1965.  Only five seasons since the mid 60's have had as high of a percentage of losses by less than 10 points and again, the 2009-10 season shows up here as well.  A painful couple of seasons for ISU.
One last drum to pound on with these close losses—overtime games.  ISU played in three overtime games this season, not an astoundingly large number, but only three other seasons have had teams that played in more overtime games [1968-69 (5), 1983-84 (4), and 1987-88 (4)] to go with the 14 other seasons that played in three (again, the 2009-10 season makes an appearance as well).  What is more worthy of note is that all three of the overtime games this past season were in conference play.  There are two other seasons that played three conference overtime games and one other season that played in five:
There was a lot of talk by Fred Hoiberg when he took the job about implementing an up-tempo system.  Even some mention of Johnny Orr telling Fred that the most important thing with his first year was implementing his style to lay that foundation.  Some media and fans scoffed, claiming that all new head coaches say that they will run, but Hoiberg followed through.
When you look at home conference games and compare the scoring averages of those games, Hoiberg's first year was one of the highest scoring seasons in ISU history.  I used home games in an effort to even out the lack of experience for last season's team since they only had three returning players.  Either way, when you consider that it was the first year of Hoiberg's system, it is impressive:
Not only did Hoiberg's team rank well in average points per game for home conference games, but the 2010-11 squad is one of just seven total teams in ISU history that scored fewer than 70 points just once in home games for the season (1999-00, 1987-88, 1985-86, 551974-75, 1969-70, and 1954-).
It was well documented before and during the season and even now that the season is complete just how weak the non-conference slate was for the Cyclones.  Weak or not, it produced one of the top seasons for average margin of games in ISU history: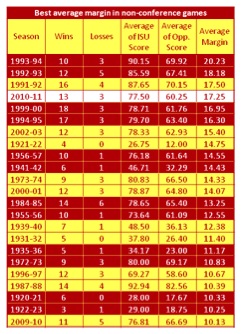 I hypothesized before the season that Hoiberg's first year would be like many of Johnny Orr's years as a head coach at ISU, good home record and a struggle to win on the road.  I was somewhat correct…or incorrect, as it were.  The Cyclones were a far better team when playing at home than on the road as evidenced by the winless road record in league play.  However, and this surprised me, the most true road wins in non-conference play for any team is three.  That was done four times, all 1960 and before.  The 2010-11 team won two true road games in the non-conference schedule which has been done 22 other times:
Couple with last week's recap which can be found here that about wraps up my roundup on the team data for the season.  Over the next couple of weeks I will be looking at the individual performances of the past season, and in a few cases, careers.
If you like this kind of analysis and want to see more, visit my site www.encyclonepedia.com
You can also follow me on Twitter @khaal53