By Chris Williams, CycloneFanatic.com Publisher
Iowa State (14-13, 1-11) @ No. 5 Texas (23-4, 11-1)
Tuesday, Feb. 22 * 7 p.m. @ Erwin Center
Big 12 Network/ESPN 3 – Cyclone Radio Network
Don't forget to tune into the CycloneFanatic.com/Wilson Toyota of Ames postgame show on Des Moines' Sports Station, 1460 KXNO after the game. Give us a call at 866-333-5966. We'll be broadcasting live from the Keg Stand in West Des Moines.
BREAKING DOWN THE CYCLONES
Iowa State's probable starters
G: Diante Garrett, 17.3 PPG, 6.1 APG
G: Scott Christopherson, 14.2 PPG, 3.1 RPG
G: Jake Anderson, 12.3 PPG, 7.5 RPG
F: Melvin Ejim, 6-6 Fr. – 10.9 PPG, 7.0 RPG
F: Calvin Godfrey, 6-8 Fr. – 4.8 PPG, 5.0 RPG
Iowa State has played three straight opponents that are ranked in the top 25. Things don't get any easier tonight with a road trip to fifth-ranked Texas.
Saturday's 76-70 loss to Missouri reminded me of the movie "Groundhog Day."
Same thing…Different day.
Get down early. Come back. Crowd is pumped. Can't get over that hump.
That's been the most frustrating part of this Cyclone season. They've shown glimpses of being a decent team. In the end, their consistently out of gas and rightfully so. Jamie Vanderbeken will not play again tonight, leaving Fred Hoiberg with only seven eligible scholarship players.
Cyclone Notebook
–       Here is some good news. The Cyclones broke the school record for 3-pointers made in a season on Saturday vs. Missouri. Iowa State has buried 239 treys this season. The old record was at 236, that Greg McDermott's 2008-09 team set. The Cyclones currently lead the Big 12 in 3-pointers per game at 8.9. That mark puts them at 12th nationally.
–       Diante Garrett still leads the Big 12 in assists, averaging 6.0 per game.
–       Iowa State has lost nine games this season by six points or less.
–       Jake Anderson shared Big 12 Rookie of the Week honors on Monday, after averaging 17.5 points per game last week.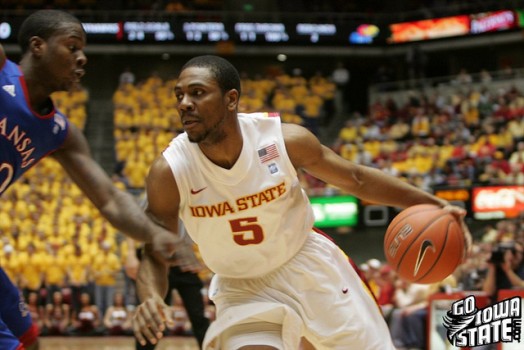 –       Iowa State has had equal or more assists than turnovers 21 times this season.
–       Texas leads the all-time series vs. Iowa State 12-8. The Longhorns have won six straight over the Cyclones. Iowa State is 1-7 vs. Texas in Austin. That one win came back in 2005.
BREAKING DOWN THE LONGHORNS
Texas' probable starters
G: Cory Joseph, 6-3 Fr. – 11.0 PPG, 3.8 RPG
G: Dogus Balbay, 6-1 Sr. – 4.6 PPG, 3.1 RPG
G: Jordan Hamilton, 6-7 So. – 18.7 PPG, 7.5 RPG
F: Tristan Thompson, 6-8 Fr. – 12.6 PPG, 7.2 RPG
F: Gary Johnson, 6-6 Sr. – 11.8 PPG, 6.7 RPG.
Today's burning question: Is Texas the best team in the Big 12?
I think so.
"Their inside-outside combination along with Kansas, are among the best in the country," said Iowa State head coach Fred Hoiberg. "Their pressure is so tough at home. They capitalize on your mistakes. If we go down there and turn the ball over, we won't have out home crowd to get us back into it like we did on Saturday against Missouri. We just need to go out and get off to a good start."
For the fifth-ranked Longhorns, it all starts with sophomore Jordan Hamilton. The 6-foot-7 guard is currently averaging 18.7 points and 7.5 rebounds per game.
"He is a lottery pick," said Hoiberg. That size on the wing, that's what you look for in that league. You look for guys who have that advantage where you can put them on the post. There are a lot of isolation plays that you try to take advantage of size mismatches. That's what he provides. Plus, he shoots the heck out of it from the outside. He has a very good first step and he can finish."
Iowa State will have a lot more to worry about tonight than just Hamilton. Take freshman forward Tristan Thompson for instance. Thompson is clearly one of the Big 12's best rookies, averaging 12.6 points and 7.2 rebounds per game. Thompson leads the league in blocked shots, averaging 2.2 per game.
The Longhorns are loaded and thanks to Doc Sadler's Huskers, Texas is ticked off. Nebraska upset the Horns on Saturday by a 70-67 final. That loss kept Texas from being the nation's top-ranked team when the new polls came out on Monday.
"Not exactly what we wanted heading down to Texas, them coming off of a loss," said Hoiberg. "You want to go down there and hope that their guard is down a little bit. I don't think that Rick Barnes will let that happen."
PREDICTION
This is a worst-case scenario type game for Iowa State. After Saturday, Texas is going to be angry. Iowa State is coming off of another close loss. Still, this Cyclone team just doesn't get blown out very often. I really feel like they'll show up and compete tonight in Austin. I don't think that we'll be chatting about an Iowa State victory on the CF/Wilson Toyota postgame show, but I don't see a 30-point drubbing coming our way either. The key for Iowa State will be the play of Diante Garrett. His scoring has been down in Vanderbeken's absence. Garrett absolutely has to score 20-plus points tonight for Iowa State to have a shot in the end.
THE PICK
Texas 82, Iowa State 67