By Chris Williams, CycloneFanatic.com Publisher
Iowa State (14-6, 1-4) vs. Texas Tech (9-11, 1-4)
Wednesday, Jan. 26 * 8 p.m. @ Hilton Coliseum
CTN/ESPN3/ESPN Full Court – Cyclone Radio Network
Be sure to tune into the Cyclone Fanatic/Wilson Toyota of Ames Postgame Show after tonight's game on 1460 KXNO and KXNO.com. Tron Smith and I will be broadcasting live from Es Tas Bar and Grill located at 216 Stanton in Ames. I'll also post the podcast on CF late Wednesday night.
BREAKING DOWN THE CYCLONES
Iowa State's probable starters
G: Diante Garrett, 6-4 Sr. – 17.4 PPG, 6.0 APG
G: Scott Christopherson, 6-3 Jr. – 13.5 PPG, 3.1 RPG
G: Jake Anderson, 6-2 Sr. – 11.9 PPG, 7.8 RPG
F: Melvin Ejim, 6-6 Fr. – 11.2 PPG, 6.9 RPG
F: Jamie Vanderbeken, 6-11 Sr. – 11.9 PPG, 5.9 RPG
When you talk about a team that was the Big 12's unanimous pick to finish dead last in the league, it is hard to label any game as a "must win."
If such a thing did exist, tonight's meeting with Texas Tech would likely be it for Iowa State. Win and the Cyclones are back in the postseason conversation with a favorable contest against Oklahoma looming on Saturday. Lose and the NIT talk can pretty much be shot and all of the sudden, the rest of the schedule looks a heck of a lot more daunting.
"We have to take care of our home court," said Fred Hoiberg. "You've got to do that in Big 12 play. It is very hard to win on the road."
Iowa State is coming off its worst shooting performance in over two years. The Cyclones were 27.1 percent from the field on Saturday in a 33-point loss to Missouri. That was the worst shooting output for an Iowa State team since the 2008 Texas A&M game, where the Cyclones put up a 27.4 percent mark.
Some key storylines for Iowa State tonight include…
–       This team needs Scott Christopherson to get going again. Christopherson has combined to score 13 points in Iowa State's two straight losses, while going 5-of-17 from the field.
–       Take that note on Christopherson and apply the same logic to freshman Melvin Ejim. Ever since the Nebraska game, Ejim has really dropped off of the offensive production map for Iowa State. Over Iowa State's last four games, Ejim has gone 6-of-23 from the field to total 21 points.
"The big thing that made Melvin successful early in the season was him flying around and getting tip-ins and running the floor in transition," said Hoiberg. "He needs to come out and give that same energy and I am confident that he will."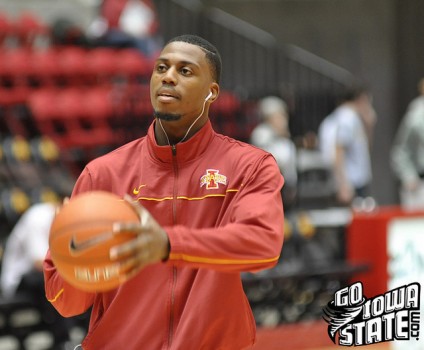 –       The Iowa State-Texas Tech series is currently tied at 9-9. Iowa State is 6-2 against Tech in Ames but the Red Raiders have won five of six over the Cyclones. Iowa State beat Texas Tech the last time they were in Ames, 78-76 in 2009.
BREAKING DOWN THE RED RAIDERS
Texas Tech's probable starters
G: John Roberson, 5-11 Sr. – 13.0 PPG, 3.8 APG
G: Brad Reese, 6-6 Sr. – 12.0 PPG, 4.8 RPG
F: Mike Singletary, 6-6 Sr. – 12.8 PPG, 6.0 RPG
F: D'wayln Roberts, 6-7 Sr. – 4.9 PPG, 4.2 RPG
F: Robert Lewandowski, 6-10 Jr. – 9.5 PPG, 5.2 RPG
Texas Tech's below average record won't impress many basketball fans out there, nor should it. In addition to dropping four of its first five Big 12 games, Texas Tech lost non-conference games to the likes of North Texas, St. Mary's, South Florida, Washington, TCU, UTEP and New Mexico along the way.
In games played outside of Lubbock this season, the Red Raiders are 0-7.
But still, Iowa State isn't good enough to sleep on any Big 12 team, especially a senior-laden ball club like the Red Raiders. Three Texas Tech seniors, John Roberson, Mike Singletary and Brad Reese, all average over 12 points per game. Roberson dropped 25 in Saturday's Tech victory over Nebraska.
"They went out and played with a lot of confidence," Hoiberg said. "Roberson got it going early in that game. It got his confidence high, making some shots. Any time that you win a game like that, obviously it helps out with confidence."
Roberson currently leads the Big 12 in assists, with 571 on the season. He's also made 40.2 percent of his 3-pionters on the season.
Mike Singletary (not the linebacker) and Brad Reese round out Tech's fairly impressive backcourt that accounts for nearly 37 points per game. Down low, 6-foot-10 junior Robert Lewandowski will be Iowa State's toughest matchup. Lewandowski leads the Red Raiders in field goal percentage (59.1 percent).
Another storyline to keep an eye on tonight is Tech head coach Pat Knight, who is undoubtedly on the hot seat. During the Big 12 media days back in November, Knight referred to 2010-11 as a year where he would get a contract extension, or lose his job. Right now, things are leaning towards the latter.
PREDICTION
Remember the Baylor game? That's the Iowa State team that I think you'll see tonight inside of Hilton Coliseum. I truly believe that the whole situation that surrounded the Missouri game equaled one nasty recipe for disaster for the Cyclones. I am sensing a bounce back game tonight and an encore against Oklahoma on Saturday.
If this team had a history of being blown out, I wouldn't feel this way. But besides Saturday, the rest of Iowa State's five losses were by single digits. It is hard for me to believe that after one blowout, the Cyclones will tank and roll into the fetal position. LVSC opened tonight's game with a line of -14 in favor of Iowa State. Give me the Cyclones by 15.
THE PICK
Iowa State 82, Texas Tech 67