By Chris Williams, CycloneFanatic.com Publisher
Iowa State (14-11, 1-9) @ No. 17 Texas A&M (19-5, 6-4)
Wednesday, Feb. 16, 7p.m. @ Reed Arena in College Station
Big 12 Network/ESPN 3 – Cyclone Radio Network
BREAKING DOWN THE CYCLONES
Iowa State's probable starters
G: Diante Garrett, 6-4 Sr. – 17.7 PPG, 5.8 APG
G: Scott Christopherson, 6-3 Jr. – 14.3 PPG, 3.1 RPG
G: Jake Anderson, 6-2 Sr. – 11.9 PPG, 7.7 RPG
F: Melvin Ejim, 6-6 Fr. – 10.9 PPG, 7.0 RPG
C: Jordan Railey, 6-11 Fr. – 2.2 PPG, 1.6 RPG
First of all, the above is a very tentative starting lineup. That lineup was sent out in the media notes for tonight's game. However, I'm now hearing that freshman Calvin Godfrey will start in place of Jamie Vanderbeken this evening.
"Right now, Jordan just can only play for short stretches due to the type of shape he is in but he'll get better," said Fred Hoiberg at Monday's press conference. "He'll get more wind as he gets more of those opportunities. It is a great experience for him down the road, to go out and get minutes against these big, strong and physical players."
Why all of the hassle? Senior Jamie Vanderbeken didn't make the trip to College Station due to a severe high ankle sprain. Because of that, only seven scholarship players will be available for the Cyclones tonight.
Notebook
–       Texas A&M has been a thorn in Iowa State's side for much of the last decade. The Aggies have won seven straight over Iowa State. The last time Cyclone team won in College Station was on Jan. 28, 2001 (72-53). Texas A&M won last year's meeting in Ames 60-56.
–       Diante Garrett currently has 1,253 points in his Iowa State career. He's tied for 19th all-time with the great Garry Thompson (1955-57). Garrett has 23 double-digit games this season.
–       Despite the ugly loss to Kansas, Iowa State managed to tie its season-high in 3-pointers made on Saturday (14). The single-game school record for 3-pointers in a game by an Iowa State team is 15.
Christopherson shooting for history
He doesn't think it is that big of a deal, but Scott Christohperson is shooting for history tonight. Christopherson has made a 3-pointer in 27 straight games, which ties the school record with Mike Taylor (2006-07).
"I didn't even know about it until Saturday after the game when people asked me about it," Christopherson said. "I think that it is something that when I'm done playing, I might look back and think it is cool but for right now, I'm just trying to figure out a way to get some wins."
Christopherson has hit 69 threes this season, which ranks him eighth all-time at Iowa State. Scott has played especially well over the last three games, averaging 20.6 points and shooting 57.8 percent from the field.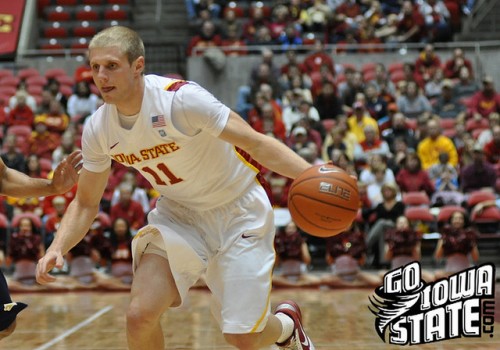 BREAKING DOWN THE AGGIES
Texas A&M's probable starters
G: Dash Harris, 6-1 Jr. – 4.1 PPG, 3.4 APG
G: B.J. Holmes, 5-11 Sr. – 10.1 PPG, 3.2 APG
F: Nathan Walkup, 6-7 Sr. – 9.9 PPG, 5.9 RPG
F: Khris Middleton, 6-7 So. – 15.0 PPG, 4.8 RPG
F: David Lobeau, 6-8 Jr. – 10.9 PPG, 5.3 RPG
It's time for "Captain Obvious" to enter this game preview. This is a tough matchup for Iowa State. Why? Because Texas A&M does one thing very well. That's physically beating the crap of their opponents. This team doesn't have to relying on making shots to win games. Flexing their muscles and stingy defense tend to do the trick most nights for the Aggies.
"They don't beat themselves," said Hoiberg. "It is a team that has size and shooters. They are a very tough team at home and they really pressure you defensively."
With only seven scholarship players (and one of those guys is Eric McKnight), how is Iowa State supposed to compete tonight?
"I sit here every Monday talking about these games and I say the same thing," Hoiberg explained. "You have to go out there and take care of the ball, try to match the other team's physical play and get back in transition."
Texas A&M has won its last two basketball games, but the Aggies are 3-4 in their last seven contests. Last week, A&M picked up two road wins over Colorado and Texas Tech.
PREDICTION
Surprisingly enough, I don't believe that this game will get out of hand. That isn't the way that Texas A&M plays ball. I see this being somewhere near a 10-point game at the half. I don't believe that Iowa State will ever actually threaten to win the game, but the Cyclones hanging around and making it interesting wouldn't shock me either. Texas A&M isn't like Missouri. This team doesn't go out and beat opponents by 30 points. The Aggies haven't cracked the 80-point barrier in regulation all Big 12 season long. Still, thinking that Iowa State has a chance to go to College Station and win this thing is a bit unrealistic too.
THE PICK
Texas A&M 74, Iowa State 61