By Chris Williams, CycloneFanatic.com Publisher
When Iowa State travels to Texas A&M on Wednesday night, the Cyclones will likely be without senior forward Jamie Vanderbeken, who went down with a nasty high ankle sprain in Saturday's loss to Kansas.
I do have a little bit of good news for you fanatics though. Freshman Calvin Godfrey will be back against the Aggies after severing a three game suspension for violating team rules. According to head coach Fred Hoiberg, Godfrey's attitude has been superb over the last two weeks.
"We got back from Kansas the other night at about 10:30. I went into the office to take care of a few things and Calvin was in there working out," Hoiberg said. "He has worked very hard throughout the suspension and he is ready to come back. We're ready to have him back."
Godfrey averaged 4.1 points and 4.7 rebounds during the first 22 games of Iowa State's season.
"That gives us one more physical body to throw out there," Hoiberg said.
Life without JVB
I'm no doctor, but Jamie Vanderbeken's injury doesn't sound good.
"The x-rays were negative," Hoiberg said. "The swelling has gone down some today. He'll continue to get treatment around the clock. I don't know what his status is for Wednesday. I'd say that it is a long shot he plays but you never know how those things will react to treatment. Right now, I'd say it is a long shot."
Vanderbeken wasn't listed as a probable starter in the team's media guide. The 6-foot-11 senior has averaged 11.3 points and 5.3 rebounds per game so far this season.
"He does a lot of unique things with his ability to space the floor," Hoiberg said. "Our pick and rolls are a lot more effective with Jamie in there. He forces a switch where we can take advantage of the mismatch or you pick and pop with him. He is a big part of what we do offensively and to not have him in there will definitely change things."
As far as the starting lineup goes, Hoiberg said that he was unsure of who will replace Vanderbeken.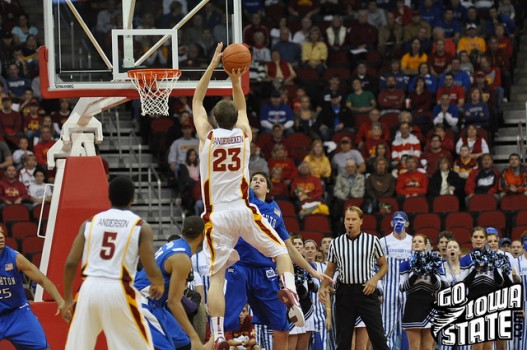 Turn that frown upside down
I found the following Fred Hoiberg quote refreshing, regarding if his team is "cursed" this season.
"If you hang your heads now and start feeling sorry for yourselves, things are going to get a lot worse. If you don't think that things can get worse, you're wrong. They can," Hoiberg said. "I've been a part of a lot of losing teams in my life. If you don't go out there and try to continue to execute the game plan and go out and try to play physical and do the right things, it is going to be an ugly finish to the season."
Is DG a pro?
Iowa State could have another player selected in the NBA Draft this June. Diante Garrett's 17.7 points and 5.8 assists per game have caught the attention of many.
"We have had a lot of scouts come to our practices. We have scouts at pretty much every game now looking to see what Diante is doing," Hoiberg said. "He's putting himself in a position where he is going to have a chance at the next level. Obviously there is some luck involved. He's gone from being a nine-point scorer to a 17-point scorer."
Garrett is one of only two players in the country to average over 17 points and six assists per game.
"Hopefully if he does get drafted, he's taken by the right team where he can go in there, fit and make the team and make an impact," Hoiberg said. "We are definitely getting interest and calls from all around the league with Diante."
"Speed and quickness are so important in the NBA and Diante has that. He can go around guys. His decision-making has gotten better as the season has gone on. He's really slowed himself down. He's added a little floater to a game."