By Chris Williams, CycloneFanatic.com Publisher
Sketchy defense, poor 3-point shooting and a lack of urgency all contributed to Iowa State's 92-83 loss to Texas Tech on Wednesday night.  Below are my thoughts on the game, with quotes from head coach Fred Hoiberg as well.
LISTEN: Fred Hoiberg's postgame press conference
BOX SCORE: Texas Tech 92, Iowa State 83
CF PLAYER OF THE GAME
Diante Garrett – You can make a case for Jake Anderson or Calvin Godfrey here but there's no question that once again, DG deserves player of the game honors. Garrett scored 27 points in Iowa State's loss, while going 11-of-24 from the field.
THREE UP
Fred Hoiberg's postgame presser – We saw a different side of Fred Hoiberg in his postgame press conference after Wednesday night's loss. "The Mayor" was ticked off and as animated as I've ever seen him.
"I blame myself," Hoiberg said. "We are going to get after it tomorrow. For the next two days, we are going to get after it. I don't care how many minutes these guys are playing. We can't continue to have that type of energy. These guys need to be held more accountable and I put that on me."
On the CycloneFanatic.com/Wilson Toyota of Ames Postgame Show, Randy Peterson of the Des Moines Register told Tron Smith and me that Hoiberg is beginning to coach like he played back in the day.
Calvin Godfrey – Read the following Fred Hoiberg quote from after Wednesday night's loss.
"What I am looking for is five guys to come out and give us energy from the opening tip. It shouldn't take you 30 minutes to finally figure out that you need to be aggressive to get back into the game."
If that really is the case, then Calvin Godfrey will likely make a run at Melvin Ejim's starting spot on Saturday night when Oklahoma comes to town. In 17 minutes against Tech, Godfrey went 3-of-5 from the field and scored 10 points. The points aren't even what make you want to see more of Godfrey. It is just the positive energy that he's brought to this team over the last few weeks.
Iowa State fans appreciate hard work. That's why nearly every time that Godfrey leaves the game, he gets a standing ovation from a handful of fanatics.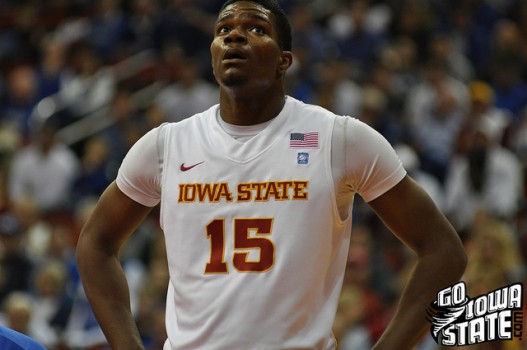 Free throw shooting – Texas Tech just begged Iowa State to come back and win that game. The Red Raiders put the Cyclones in the bonus with 12 minutes to play. Iowa State was in the double-bonus with 9:33 to go. Iowa State went 23-of-25 from the free throw line in the game and even with a 23-15 made free throw advantage, the Cyclones still lost by nine at home. Still, the Cyclones are a 72 percent free throw shooting team on the season. That's not too shabby.
THREE DOWN
Defense – Iowa State going 4-of-21 from the 3-point line will get a lot of attention after Wednesday night's loss. But don't tell Hoiberg that's the reason his team lost the game.
"We scored 83 tonight. I'm not worried about our offense," Hoiberg said. "They scored 55 in the second half and shot almost 63 percent. That is unacceptable. You cannot allow that to happen."
Some other defensive thoughts/notes…
–       Do you remember back about a month ago when Jamie Vanderbeken couldn't stay out of foul trouble? After fouling out against Nebraska on Jan. 8, JVB has committed two fouls in four of Iowa State's last five games. He picked up three personals last Wednesday against Oklahoma State. Vanderbeken staying out of foul trouble is a good thing for Iowa State. After all, the Cyclones are a different basketball team when he's not in the game. I'm starting to think that Iowa State and JVB might have overcompensated just a little bit though. Now, it almost looks like Vanderbeken is scared of any contact at all with the opposition. Vanderbeken certainly isn't the only Cyclone who has lacked defensive energy during this three-game skid. But Texas Tech's 44 points scored in paint Wednesday night were a bit alarming.
–       Iowa State couldn't stop Texas Tech's Mike Singletary on Wednesday. The senior scored 33 points and Hoiberg was honest that his team simply had no answer.
"We tried everything in that first half," Hoiberg said. "We tried a box-and-one, a 2/3 zone. We tried to have three guys guard Singletary."
Melvin Ejim – Melvin Ejim's slump continued on Wednesday night by going 3-of-7 from the field while scoring eight points. In his last five games, Ejim has gone 9-of-30 from the field. He also committed four fouls vs. Tech. The biggest issue I have with the current state of Ejim's game is the fact that he's not helping Iowa State anywhere on the floor. Don't get me wrong. Ejim isn't the only reason that Iowa State came up short on Wednesday. He's got a great future in Ames and I don't doubt that at all. But there's no question that Melvin Ejim is in some sort of a funk right now.
The Cellar – With Wednesday's loss, Iowa State now sits all alone at last place in the Big 12 Conference.
QUOTEWORTHY
Fred Hoiberg on if his team is fatigued….
"You've got to come out with a sense of urgency. If you are fatigued, you're fatigued at the end of the game. Not the beginning of the game. For really the last five games, we've gotten punched in the mouth first. You need to be the aggressors, especially when you are at home. You've got to get the crowd into the game. You've got to go out there and you've got to want it. We just went out there tonight and nonchalantly like it was another game. This was the biggest game of the season for us. We came out and didn't have any energy."