By Chris Williams, CycloneFanatic.com Publisher
Fred Hoiberg gives the credit to Diante Garrett.
Diante Garrett gives the credit to Fred Hoiberg.
Call me crazy, but I think that that they both had a lot to do with the remarkable improvement in Diante Garrett's play as a senior. The numbers speak for themselves.
Fr.  – 6.3 PPG, 2.8 APG, 35% FG, 22% 3 PT, 70% FT
So. – 9.8 PPG, 5.0 APG, 41% FG, 22% 3 PT, 71% FT
Jr. – 9.2 PPG, 5.1 APG, 44% FG, 35% 3 PT, 69% FT
Now, take a look at Garrett's line through the first 29 games of his senior campaign.
17.2 PPG, 6.1 APG, 41% FG, 32% 3PT, 80% FT
As of Monday, Garrett is the only high-major basketball player in America averaging over 17 points and six assists per game.
"Those are pretty special numbers," said Hoiberg. "I have always been a fan of Diante, even in my earlier days when I was scouting, just because of how good he is with the ball and how fast he is with the ball. I wanted to come in here and put the ball in his hands and let him space the floor properly to let him make plays."
Back in November, you didn't have to have be Jay Bilas to predict that Garrett's scoring numbers were going to go up this year. After all, everybody knew that he was going to shoot more. Regardless of the opponent, Iowa State's offense was going to go through Garrett. But nobody expected Garrett, who made only 39 3-pointers during his first three seasons in Ames, to become the shooting threat that he is today.
Garrett has made 55 3-pointers (30 during Big 12 play) so far this season and he's currently shooting 92 percent from the free throw line during conference play.
"He put confidence in my game and telling me to keep shooting," Garrett said about his head coach. "He told me that in his system, I was going to get a lot of shots and ball screens from my teammates. So I just stayed in the gym all day, just working on every part of my game. It has paid off for me."
Of course Hoiberg, who nailed 183 treys during his four years at Iowa State, corrected a few mechanical flaws in Garrett's shot that have helped out too.
"When he gets off balance, he has a tendency of guiding the ball up there," Hoiberg explained. "I remember my shooting struggles. When you're not making shots, you reach and try to get as close to the basket as possible instead of trusting your high release. Especially since conference play started, his numbers have really gone up."
As good as he was during the non-conference portion of Iowa State's schedule, Garrett has kept on getting better. In 14 Big 12 games this year, Garrett has shot 41 percent from the floor and 34 percent from downtown. Again, confidence has been the key.
Use Dec. 10's 75-72 win over Iowa as an example. At halftime of that game, Garrett was 1-for-14 from the field. He never got passive though. Garrett kept shooting. He ended up with 10 points and six assists.
"I would never do that," Hoiberg said. "If I was 1-for-10, I would dig a hole, climb in it, stay there and not take any more shots. Diante doesn't care. He just keeps thinking that he is going to make the next one. That is a great mentality to have."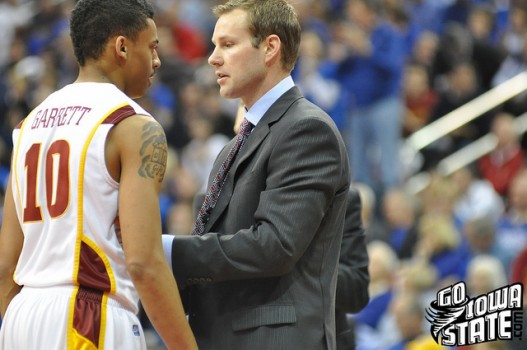 Garrett's Cyclone career has been filled with more lows than highs. He never quite seemed to be the right fit for Greg McDermott's system in Ames and that's okay. Garrett will still get an opportunity to play professional ball as Hoiberg's phone has been ringing off the hook.
On Wednesday night, here is why every single person in Hilton Coliseum should give Diante Garrett a standing ovation.
"He's played his role and he's never complained," Hoiberg said. "The past few years, his role was to throw the ball inside. It probably should have been. There were a couple of pretty good players down there on the block."
It was on March 6, 2010 when the Diante Garrett era really began at Iowa State. That was the date when the McDermott-led Cyclones went into Manhattan and knocked off fifth-ranked Kansas State by an 85-82 final in overtime. Craig Brackins had fouled out of that one before heading to the extra session.
"He was big time," Hoiberg said. He willed that team to a win that night."
Those five minutes of basketball set the tone for Garrett's incredible senior campaign. Hopefully, this season sets the tone for a bright profession future for the man they call "DG."