By Chris Williams, CycloneFanatic.com Publisher
It was what we though it would be. A blowout. A rout. A true spanking. You get the point. These last time out before Christmas competitions can sometimes be a headache. This one wasn't.
Iowa State improved to 11-2 on Tuesday night with a 104-63 shellacking of Chicago State, who drops to 3-11 on the season. Here's a recap.
CF PLAYER OF THE GAME
Melvin Ejim – Ejim scored 14 points in the first seven minutes of Tuesday night's clobbering. Iowa State's standout freshman ended the night with 18 points, eight rebounds and four steals, while going 7-of-12 from the floor. Heading into the break, Ejim is Iowa State's third leading scorer with an average of 13.1 points per game. He leads the team in field goal percentage, at .602.
THREE UP
Energy – It really wasn't that bad for a pre-Christmas break game in front of a unenthusiastic (but full) crowd. Iowa State's defensive intensity was lackluster to start the game but the Cyclones picked it up after five minutes by forcing 16 Chicago State first half turnovers. The Cougars ended the game with 24 turnovers. Iowa State out-rebounded Chicago State 45-38.
Nine Garrett assists – Diante Garrett's assist-to-turnover ration was nine to one on Tuesday night. Garrett also scored 18 points in the win, moving him past Vince Brewer and Terry Woods on Iowa State's career scoring chart (25). Garrett's three steals moved him to 14th on Iowa State's career list, with 126.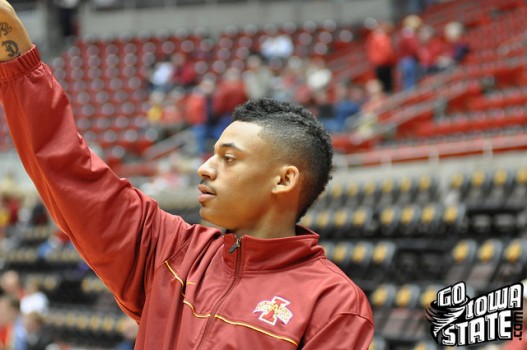 Bubu Palo – This walk-on knocked down his career-high in scoring vs. Dartmouth 11. He topped it on Tuesday night by scoring 12. Palo played 22 minutes to DeMarcus Phillips' 11. It is very clear that Palo is the most trusted of Iowa State's reserve backcourt players.
THREE DOWN
Kansas State – Chicago State's Tuesday night was a dandy compared to our friends in the "Little Apple."   Shortly before tipping off against UNLV (a game that KSU lost 63-59), reports surfaced that Kansas State seniors Jacob Pullen and Curtis Kelly had been suspended for three games due to receiving "impermissible benefits." CLICK HERE to read the story published by the Topeka Capital-Journal.
Quick Change – On Wednesday, Jan. 12, the nationally ranked Kansas Jayhawks will roll into Hilton Coliseum. It's bound to be a big night for everybody in attendance. Not only is that annually one of the top games on Iowa State's home schedule, the legendary Johnny Orr will be honored prior to tip. It gets even better (depending on which side you're on) though fanatics. At halftime, Quick Change will perform? Never seen this act before? Well then, it is time to step out of your cave. Here's a video to preview the big performance.
The first time I saw Quick Change, I was enamored by them. The second time I saw Quick Change, it left me wanting more. It was the exact same act that I saw before. The same happened the third, fourth, fifth, sixth and seventh times. If you're new to the act, you'll love it. If not, go buy a Clone Cone.
Why is this in "Three Down" tonight? Randy Peterson (Des Moines Register), Bobby La Gesse (Ames Tribune) and I got into a passionate conversation about this topic during the game. Peterson predictably loves the duo. Like me, La Gesse views Quick Change as overrated. Where do you stand?
By the way, I am fully prepared to get killed (not literally) for this stance.
Chicago State – This game was a mismatch in the worst way. Iowa State could have scored 150 on this team if Fred Hoiberg wanted them to.
WHO'S NEXT?
Thursday, Dec. 30 @ Virginia – The Cavaliers are currently on a five-game winning streak that includes impressive road victories over Minnesota and Virginia Tech. Virginia will play Seattle at home on Wednesday night in their final game before the Cyclones head to Charlottesville.