By Chris Williams, CycloneFanatic.com Publisher
After Iowa State's 65-54 win over Texas Southern on Dec. 12, head coach Fred Hoiberg stressed the importance of finding extra depth in his teams' next two outings against Dartmouth and Chicago State.
Bubu Palo must have gotten the memo.
Palo, a walk-on redshirt freshmen set a career-high in scoring two games in a row. Palo scored 12 points in Iowa State's 104-63 spanking of Chicago State on Tuesday night and he's secured the spot as Hoiberg's top reserve in Iowa State's backcourt.
"Bubu really stepped up these last two games," Hoiberg said. "I thought that he was a huge factor in our win against Dartmouth. He came out and gave us great energy early."
Palo isn't the only Cyclone who excelled over this two game stretch. Freshman Calvin Godfrey scored 10 points and grabbed four rebounds on Tuesday night, while going 6-for-6 from the free throw line.
"Calvin is giving us very consistent energy off of the bench," Hoiberg said. "It was great to see him get double-digits in scoring today because he does so many little things that don't show up in the box score. "
Godfrey is averaging 3.7 points and 4.7 rebounds per game though Iowa State's first 13 contests.
Then there's freshman post Jordan Railey, who rarely leaves too big of a dent on the box score. But he's doing other things that have impressed Hoiberg.
"Jordan continues to do great things defensively," Hoiberg said. "I think that he is as good of a help defender as we have on this team. We are going to need his size come Big 12 time."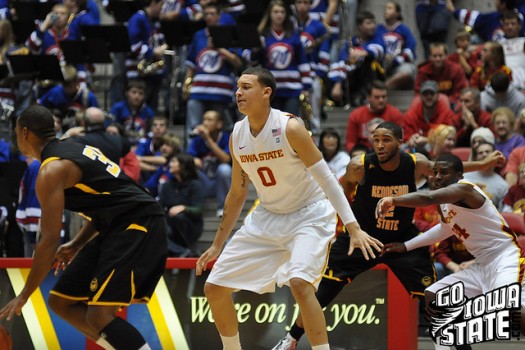 That's all good news. The bad comes in the form of junior guard DeMarcus Phillips, who isn't playing much and when he is in there, isn't playing well. In 11 minutes against Chicago State, Phillips went 1-for-4 from the field, while scoring three points. Phillips scored two points in eight minutes against Dartmouth on Sunday.
The progress that Palo, Godfrey and Railey have shown is encouraging. But are they Big 12 ready? It won't be long until we find out. The Cyclones only have two non-conference games remaining before Big 12 play begins on Jan. 8 at Nebraska.