By Chris Williams, CycloneFanatic.com Publisher
Happy Thursday fanatics. I apologize for not posting a mailbag here over the past couple of weeks. We were at that odd time of year with overlapping sports and then Thanksgiving came along. My mailbag battery has been recharged though and it is now stronger than ever. Let's get things started today with a note from Clonefan32.
Clonefan32 writes:  Do you think we score 54 or less points again this year?
CW: Sadly, yes. I think that Iowa State will likely have another night like what you saw on Wednesday. It is time for me to be blunt with you all. Iowa State has one of the worst frontcourts in high-major college basketball. I'm not being negative. I'm being realistic. Melvin Ejim is a 6-foot-6 power forward. Jamie Vanderbeken is a 6-foot-11 shooting guard, who is being asked to play down low with the bruisers. High percentage shots will be tough to get all season long for Iowa State. That's why transition buckets are so important for this team. Iowa State got out-rebounded by 11 last night and couldn't push it up the floor. It was an awful shooting night and as Fred Hoiberg said after the game, the Cyclones were due for one of those. They'll likely have a few more this season too.
What was your take on the Big 12 all-conference teams? A-Rob not even getting honorable mention seems harsh.
CW: I think that we can all agree that A-Rob isn't better than Kendall Hunter, DeMarco Murray, Roy Helu or Daniel Thomas. There is an argument to be made but him not being on the list isn't crazy to me. Colorado's Rodney Stewart is the one who really got jobbed in my opinion. Stewart was the nation's 12th leading rusher with 1,318 yards and 10 touchdowns. He got nothing. In comparison, A-Rob only ran for 946 yards and nine touchdowns. When you stack it up that way, the decision makes sense.
UNIGuy4Cy writes: When do offseason workouts start taking place for football? With no bowl game, we are going to really miss those extra practices for the quarterbacks. What are the strengths and weaknesses for the start of the season in 2011 and who are the starters on the OL and DL in 2011? Thanks!
CW: I'll begin with the projections that you asked for. Keep in mind that it is EXTREMELY early to be doing this. I'm just taking a wild stab at things right now.
Offensive Line
RT: Brayden Burris
RG: Jon Caspers
C: Tom Farinok
LG: Hayworth Hicks
LT: Kelechi Osemele
I think that there is a legitmate chance that Osemele could move over to guard. I know that there has been talk of that. I'm not positive which one of the young guys in the program is most likely to fill that role. Also, placing Farinok (who will be a redshirt freshman) at center could be a little dicey. I know that the staff is high on all that who group of freshmen offensive linemen though. We'll see. There should be plenty of depth on the line next season though.
Defensive line
LE: Jacob Lattimer
DT: Cleyon Laing (or Jake McDonough
NG: Stephen Ruempolhamer
RE: Rony Nelson (or Roosevelt Maggitt)
One quick note on the defensive line. I was encouraged that Lattimer was voted Honorable Mention All-Big 12 earlier this week. Here's a guy who really only played (significantly) for half of the season. He made enough of an impact in those games to receive this honor. That's impressive. The defensive line should improve next season. I'd still like to get a couple of JUCO's in the mix in this 2011 recruiting class though.
I agree with you about the quarterbacks. Jerome Tiller, James Capello and Jared Barnett could all use as many reps as they can get. They'll all be in for a hell of a competition this spring.
Another thing that people aren't talking about enough (in my opinion) is the development of Iowa State's young receivers. So much focus has been put on the quarterback position, but it was painfully obvious during the Missouri game how long of a way Iowa State has to go at receiver. How is Jarvis West progressing? What about Chris Young and Albert Gary? In a perfect world, those men will compete with Darius Darks, Darius Reynolds and Sedrick Johnson for playing time next season.
3GenClone writes: Jake Gyllenhal and Taylor Swift – your thoughts?
CW: I knew nothing about this. Thanks for ruining my day 3GenClone. Taylor can do better than that. Why doesn't she just buckle down and date a country artist? There are plenty of young up-and-comers who would treat her the way she deserves. How about Justin Moore Taylor? Any interest in Chris Young? Is Luke Bryan single? I'm tired of seeing her waste her time with these Hollywood fat cats.
For those who care, I finally had a chance to listen to T-Swift's new album last weekend. This might surprise you, but I wasn't blown away. I'm starting to sour on her. My issue with it is that she's trying to act older than she actually is. Be yourself T-Swift! There's no need to act like you're 35.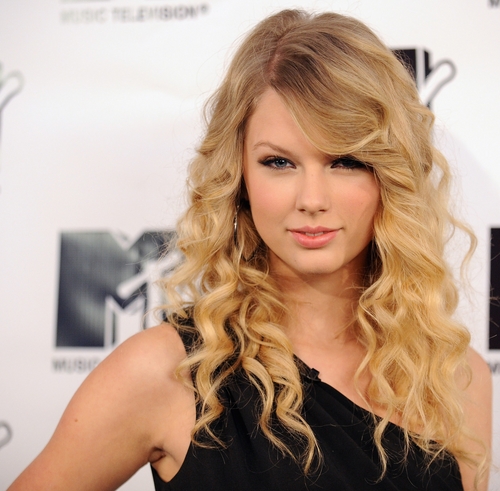 ABOVE: (She's looking at you)
CykoAGR writes: To piggyback onto UNIGuy's question about starters. Do you foresee any of the incoming recruits starting/contributing significantly. If not, of the incoming recruits who would you guess will have the biggest impact on the 2011 season?
CW: It is pretty clear to me that wide receiver Tad Ecby (out of Houston) will have a chance to not only play, but start at Iowa State next season. That should tell you a little bit about how much help the Cyclones need at this spot. Ecby is 6-foot-1, 180-pounds so his body will be fine. That would be my initial guess but again, it is very early.
Another guy to keep an eye on is JUCO tight end Ernst Brun. That is a need postiton for Iowa State will Collin Franklin's graduation. I also think that Sam Richardson (the quarterback) has a shot to make some noise. If none of the other guys in the program jump up and grab the spot, why not see what the true freshman has?
Azn4cy writes: Whose hair is worse? Diante's faux-hawk or Lucas O'Rear's perm mullet?
CW: The perm mullet is much worse. DG is pulling off the hawk just fine in my opinion. I'm not sure what is going on with O'Rear. I actually think that DG should keep rocking the hawk though. Why not? Think about how many years in a row Iowa State has had some type of a hawk on the team. Jackson Vroman rocked it. Craig Brackins made it famous. The way I see it, DG is just carrying on a proud Cyclone tradition.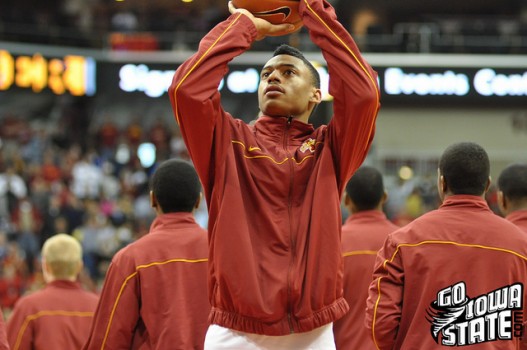 IowaStateClones writes: When will we actually be the team that dictates the tempo in MBB?
CW: The team is 6-1 man. The Cyclones lost one road game to a team that was in the Sweet 16 a year ago. It isn't like the Clones are winless right now. Just relax. I'm not sure exactly what some of you expected from this season. I tried warning you all to keep your expectations in check.
Judoka writes: Basketball: How do you feel the team – both the guys on the court and the scout team guys – will react to their first (of likely many) loss of the year? It's easy to be "team first" when you're blowing people out, but can this team keep up that attitude going in to a tough conference season?
CW: Solid points. This is where leadership comes in. Diante and Jake Anderson are the leaders on this team. What will they do to keep the team focused on the task at hand? I'm not really concerned about the scout team. They know their role.
Football: How do you feel about our recruiting class so far?
CW: I get this question a lot. It looks okay. Truth be told, I've never seen any of these players play before. I can't really tell you if it is good or not. Rob Standard's tape impressed me, as did Tad Ecby and Sam Richardson's (the quarterback). I like the JUCO tight end Brun, who will sign with Iowa State. But as far as front seven type guys, who knows? I think we've all learned over the years that stars don't mean much. Just ask Jake Knott, he'll tell you.
Wrestling: Any thoughts on the ISU-Iowa meet on Friday?
CW: I'm not a wrestling guy. I hope that Iowa State wins, but I really can't give you any insight on it. It is an outstanding event for our state though. I covered my first Iowa State-Iowa wrestling match last year. Pretty cool stuff. I know that the Cyclones are young but so is Iowa. I don't really care for the sport but I probably respect it more than any other. Those athletes put their bodies through a living hell. I give big props to all of them for doing something that most humans can't even imagine.
RING4CY writes: When the college football season ends, how do you get yourself through to the next season?
CW: I drink a lot. I play a lot of NCAA Football on my PS3. I top every night off by watching replays of Iowa State's season on my DVR.
I keeed. I keeed. I am actually a college hoops junkie. There's no drop off for me. Plus, with football, you can always start looking ahead. I have a list of over 25 football-related stories that I plan on writing between now and the spring. Good times.
GeronimusClone writes: Does Taylor's (Swift) complete inability to disregard a giant ****** like John Mayer a turn off to you, Chris?
CW: I think that it is time for you to give credit where it is due GC. Didn't John Mayer break up with Jennifer Anison? The dude BROKE UP with her. Not the other way around. Mayer finds himself some fine ladies to associate with. He gets nothing but respect from me.
CRcyclone6 writes: How do you think the hoops team bounces back Saturday vs. Cal?
CW: I think they'll be fine. Losing one game on the road is nothing to panic about. The meltdown from last night's game was completely overdone in my opinion. Again, what were your expectations coming into this season? How many people actually picked Iowa State to win that game back in early November? Not many. Northern Iowa was the favorite last night, not the other way around.
Do you think GeronimusClone wears shades like Dylan McKay from 90210?
CW: I love your avatar.
Gnomeborg writes: In 1993, Fred Hoiberg was the first Iowan to wear #40 in honor of Chris Street. My quick research (and memory) tells me that this continued all the way until last year and this. Have you heard any rumblings about this? Any chance it's coming back?
CW: I apologize but I literally have no information at all about this topic.