By Chris Williams, CycloneFanatic.com Publisher
Hello again from Seattle my fellow Cyclone fanatics. How is the great state of Iowa treating you? I'll tell you all this: I REALLY miss that place. No, I haven't been on "vacation" out here in the Evergreen State. I've just been a loving husband and good golly, I miss home!
There's a lot going on in Cyclone athletics and you all issued out some insightful questions for this week's mailbag. Let's get things started with one from CycoAGR.
CycoAGR writes: What position or group will you be most interested in while watching the spring game? You can't use the quarterback competition either. That's too easy.
CW: The quarterbacks…That was my lame attempt at humor. Now please humor me and laugh.
I'll go with a position on each side of the football for you CycoAGR. On offense, the wide receivers intrigue me. Wide receivers always seem to intrigue me. I just don't understand why they've been so poor at Iowa State over the last two seasons. I'm ready to see a scary playmaker dawn the cardinal and gold at that position. I believe that in the future, Jarvis West could be that guy. I've heard so much about West, a redshirt freshman, who was the 2010 Scout Team Offensive Player of the Year, I want to finally see him with my own two eyes. Paul Rhoads gave Darius Reynolds some love during his press conference on Tuesday. I think that we all know what we're going to get from Darius Darks and Josh Lenz. Who will that playmaker be? My money is on West, but who knows? What makes me so interested in this group is the depth that it appears to possess. What about guys like Keith Blanton, Donnie Jennert (pictured below), Chris Young, Albert Gary and Aaron Horne? We don't really know anything about any of them. This will be a fun group to cover all spring long.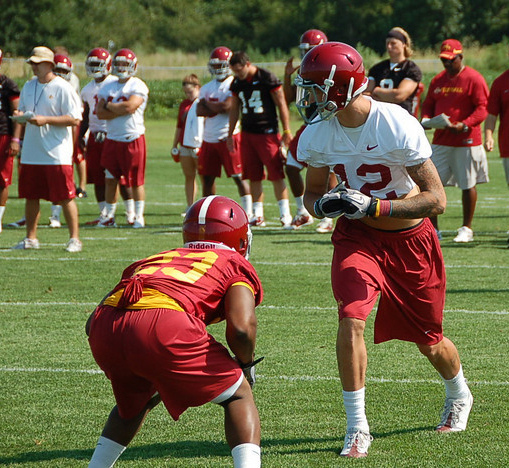 On defense, this is a no-brainer. Who is going to play safety for Iowa State in 2011?
Right now, Ter'Ran Benton and Jacques Washington are listed as No. 1 at the two safety spots. But what about guys like Deon Broomfield and Durrell Givens? They are virtual unknowns to everybody at this point. Can C.J. Morgan or Adrian Bennett make an impact during their redshirt freshman seasons?
JUKEBOX writes: What redshirt freshmen will make an impact next year?
CW: I feel like I am hyping him up too much, which I really want to refrain from doing. But if I have to name somebody today, I'll go with Jarvis West at the wide receiver position.
Now I could also throw you a curve and go with Tom Farniok at the center position. He's currently listed as a starter. I'll be surprised if he doesn't get the nod on Sept. 3 against Northern Iowa.
How much will Jeremiah George see the field?
CW: That's a good question that I don't really have an answer to. George is currently behind Matt Tau'fo'ou on Iowa State's depth chart at middle linebacker. As far as seeing the field goes, that's better than backing up Jake Knott or A.J. Klein for the true sophomore. I think that we'll certainly see more of George in 2011 than we did a season ago. He's a talented, athletic, speedy linebacker that fits well in the Big 12.
Cyfan964 writes: Why do new scissors come in packages that require a pair of scissors to open?
CW: This question is more proof that we're making the world a better place, solving one problem at a time at CycloneFanatic.com.
Cyclonespiker33 writes: Do you see the basketball coaches getting another transfer or banking our scholarships that opened up from McKnight?
CW: I don't believe that Iowa State will choose to bank the scholarship. I think that they'll get somebody who they feel can help them right away in 2011-12, or go the transfer route for 2012. I'd be shocked if Iowa State signs a guy who'd be the 11th or 12th man for next year.
Brett108 writes: With the recent transfer of Eric McKnight, there have been rumblings of coaches going to watch interior players that would be part of the 2011 class. What is the latest on these potential prospects, and are any offers or visits in the works?
CW: I read a lot about some of those prospects. As far as I know, Iowa State isn't seriously recruiting any 2011 high school post prospects. I could be wrong though. I'm working on some fresh men's basketball recruiting stuff right now. Hopefully I'll have something to report in the next week or so.
Goldfinger writes: Are Jake Anderson, Diante Garrett, and Jamie Vanderbeken set to graduate from Iowa State?
CW: As I understand it, Jake Anderson already has a four-year degree from Northern Illinois and he's finishing up some graduate courses at Iowa State. I've heard that Jamie is on pace to graduate and that Diante Garrett is very close. Garrett plans to play professionally and eventually finish up online or through summer courses but yes, he is very close and plans to finish.
Farmerbrent writes: Do you think our men's basketball assistant coaching staff will stay the same for next season?
CW: This is a tough question to answer, mainly because the college basketball coaching game seems to be so fluid this season. New jobs are popping open every day.
Bobby Lutz has 218 career wins as a head coach so you know that his name will continue to pop up on the east coast. T.J. Otzelberger is a young, proven recruiter who could be in intriguing candidate for a low to mid-major school in the Midwest. I don't really know enough about Elwyn McCroy to make any sort of judgment yet. So I really don't know.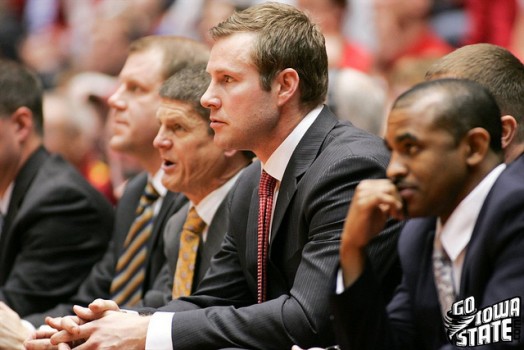 MNCyGuy writes: Did you get a chance to watch the Fab Five doc yet? Thoughts?
CW: Yes, I did get to watch the documentary. I thought it was great. It was cool for me because while I do remember watching the FAB 5 and those Duke teams play, all memories from that era are very vague. I was only around nine years old at the time. Those guys really did change modern day college athletics. I actually wrote about this in my Monday Musings a few weeks ago. CLICK HERE to check it out. You'll have to scroll down a little bit to get to it.
SuperCy writes: What did you end up doing in Seattle?
CW: Not much. My wife has been working. I've been sitting in this crappy hotel working. What a vacation! We went across the bay to the Olympic Peninsula over the weekend, which was lovely. It was good to get out of the city. I don't care much for a big city. The peninsula was cool. We walked along the beach for probably three hours one day. Up until then, I'd never been to a beach where I had to wear a winter jacket. Still, seeing mountains and ocean water in the same scene was pretty sweet. Other than that, we went to the famous Pike Place Market one day. Some people really get their jollies off on that. It didn't blow me away. I'd give our trip to Seattle a C- at this point. I'm REALLY ready to come home. When you factor in my trip to Kansas City and the Big 12 Tournament a few weeks ago, it has been nearly a month since I've slept in my own bed. I miss my cat!
RedBlooded writes: I don't recall seeing much of Amanda Zimmerman, was she hurt?
CW: She came down with some sort of nasty illness (the flu maybe?) right before the Big 12 Tournament. It couldn't have come at a worse time either. In her last healthy game of the season, Zimmerman scored 11 points in a 72-36 win over Kansas on March 1. That was arguably her best game of the season.
Alarson writes: With regards to the recent city of Ames survey, what would you suggest as key things that need to be done to improve Ames?
CW: I haven't seen this survey that you speak of. Being an Ames resident, I really don't have too many complaints. I wish that housing wasn't so expensive there. When my wife and I finally decide to buy, we'll likely look elsewhere because of that issue. But again, no big complaints here. I love Ames.
Frak writes: The new JTS scoreboard goes to the BoR tomorrow. When are we going to see renderings???
CW: Well according to THIS THREAD, you fanatics seem to be all over this one. I wish I knew specifics but I just don't. I'm working on it though.
Psyclone Brian writes: What's Coach Fred Hoiberg's mood like, heading into next year? Is he excited?
CW: He is very excited and appears to be in a great mood Brian. Next year should be a lot of fun.
Thanks for the questions everybody.