By Chris Williams, CycloneFanatic.com Publisher
The effort was there. The defensive game plan was flawless.
Execution was lacking.
Missouri beat Iowa State 14-0 and the Cyclones will stay at home this holiday season.
Still, there are a lot of things to be excited about surrounding this football program heading into the winter months. Over the course of the next few weeks, I'll be writing about many of those thoughts, while looking back at some of the highs and lows from the 2010 Iowa State football season. Here is my final report card for last night's game.
GAME BALL
Jake Knott – This award has to go to someone on an Iowa State defense that held a potent Missouri offense to only 14 points. Jake Knott led the Cyclones with 11 tackles and once again, he gets my game ball. Can somebody explain to me how so many different schools missed on this guy? Knott was unbelievable in 2010, as he led Iowa State in tackles with 130 on the season. Knott is an All-Big 12 candidate and if he keeps this up, he'll go down as one of the best linebackers in Iowa State history. Get excited fanatics. You've got two more seasons to watch this guy play.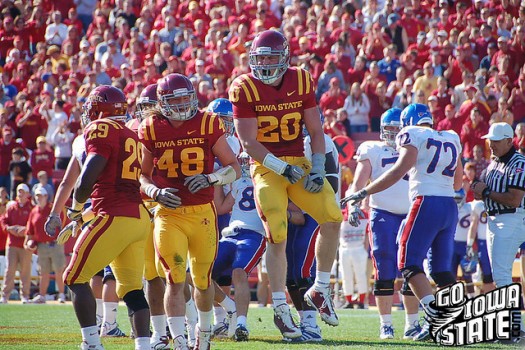 HELMET STICKERS
Jerome Tiller – His stats won't blow you away, but Jerome Tiller didn't get a whole lot of help on Saturday night and I actually thought he played pretty well. Tiller only turned the ball over once (a fumble), while going 13 of-31 for 156 yards. He also ran for 50 yards. This is about what I expected from Tiller but really, had Iowa State's receivers not dropped so many passes, his stats and outing as a whole would have been a lot better. All week long, I challenged Tiller to go out and take the game. He tried to do that. Jerome Tiller didn't lose this game for Iowa State. The combination of bad kicks, dropped passes and other missed opportunities lost this game for Iowa State.
Jerome Tiller's Saturday night performance didn't make me giddy but I have to admit that I feel better about Iowa State's 2011 quarterback situation right now than I did a week ago (for the record, I'm still not jumping for joy). I don't think that Tiller is an automatic write-in to win the job next year, but he'll likely be the number one guy when spring ball begins.
Jake Williams – Mr. Consistency stepped up again for Iowa State on Saturday night. He isn't the flashiest guy in the world but I'm curious if there has been a more consistent skill position player in Ames over the last two seasons than Jake Williams. Williams caught six passes for 102 yards in the loss and was Iowa State's one true spark plug on offense.
Alexander Robinson – A-Rob netted 98 rushing yards in the loss and ended up with 946 on the season. Considering the fact that he was running behind a banged up offense line and Iowa State's offense provided little to no threat to throw the ball all, Robinson ran well.
Ben Lamaak and Alex Alvarez – With Brayden Burris missing the game with an injury, Iowa State had to go with a patchwork offensive line against the Tigers. Ben Lamaak went from center to right tackle while Alvarez slid from guard back to center, where he's played a lot at in his career. I've never played offensive line in the Big 12 but I can't imagine that switching positions like that is an easy thing to do.
Wally Burnham – Iowa State's defense had no business only giving up 14 points to Missouri last night. Name a coordinator in football who does more with less than Wally Burnham? I loved Iowa State's defensive game plan going into this game. It was almost as if Burnham knew that pressuring Blaine Gabbert consistently would be next to impossible. At times in the game, Iowa State was only sending two players to the quarterback. Defensive linemen were dropping back into zone and the Cyclones constantly showed Missouri different looks. Gabbert looked confused. Iowa State held Missouri to 306 total yards and 14 points. Helmet stickers to all! Wally "the Wizard" gets a headphone sticker.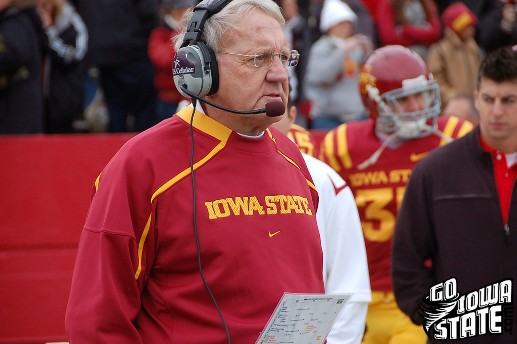 Jeremy Reeves – This sophomore keeps getting better and better. If he were two inches taller, Reeves would probably be at one of the nations' marquee programs right now. Reeves had eight tackles in Saturday's loss.
A.J. Klein – Jake Knott's twin had eight tackles in Iowa State's defense's impressive performance but most importantly, 2.5 of those were for a loss.
THREE UP
Seniors – This senior class is special for numerous reasons but none more important than the fact that it was the last recruiting class that Dan McCarney brought to Ames. Every one of these guys (who were at ISU for five years) has gone through not one, not two, but three head coaches during their time in Ames.
Paul Rhoads – If you get a chance, watch the replay of this football game sometime. Just go ahead and fast forward to when Iowa State successfully faked a punt in the fourth quarter. Watch the way Rhoads reacts on the sideline. Then ask yourself how any athlete in America wouldn't want to come and play for that guy? Paul Rhoads is Iowa State. His personality actually reminds me a lot of Bill Fennelly. Both men are fueled by emotion and their programs feed off of that. Lifetime contract anyone?
Gold jerseys – I was surprised and I loved them. In fact, I want to buy one to hang up in my office. Does anybody know how I can go about doing this?
THREE DOWN
Wide receiver play – This position group is a glaring weakness for this football program. Regardless of who is playing at wide receiver next year for Iowa State, they need to be better than what we saw in 2010 and especially last night's game. In 2011, it is a guarantee that a first year starting quarterback will be at the helm for the Cyclones. On Saturday night, this group (minus Jake Williams) gave an inexperienced quarterback little to no help at all. Dropped pass after dropped pass plagued Iowa State and that just can't happen against quality Big 12 opponents like Missouri, when the margin for error is so slim. I'm not going to name names here. That's not productive because the group as a whole needs to be a heck of a lot better. Period.
Grant Mahoney – After Saturday, Grant Mahoney has missed eight of his last nine field goal attempts dating back to the Texas Tech game. When looking at that stat, it is important to be fair and point out that many of them were from 50-yards or more. But still, Mahoney missed field goals from 38 and 27 yards in Saturday's loss. That can't happen. What's odd is that Mahoney started off the season playing so well. He started the year by going 6-of-7 on field goals. Mahoney can obviously kick. We've seen it before. He has a leg and he's valuable on kickoffs. You just can't trust him anymore. Whatever is going on has to be mental. That's the scary thing here. This is a major concern heading into next season.
Officiating – Big 12 officials missed two huge calls on Saturday. I'll start with Iowa State/Mizzou. The rules of the game state that a coach cannot call a timeout to avoid an illegal substitution penalty. In the second half last night, two officials threw illegal substitution flags on Missouri, only to have them called off by the third official who claimed that Gary Pinkel had called a timeout prior to the infraction. Paul Rhaods was visibly upset and I don't blame him. Unless something happened that I'm not aware of, Iowa State got jobbed. And no, I'm not blaming the game on this. That probably wouldn't have impacted the outcome but in this case, the zebras bailed the Tigers out.
The second blown call came in Texas A&M's 9-6 win over Nebraska. Bo Pelini was well, Bo Pelini, after the game and I can't say that I blame him. Nebraska defensive back Courtney Osborne was called for a roughing the passer late in the fourth quarter. I've watched this play probably five times now and I just don't get it. I'm not going to describe the play as you've probably all seen it by now. There's no way around it. That's just some bad, bad officiating.
FINAL THOUGHTS
Over the course of the next few weeks, we'll take a look back at 2010 here at CycloneFanatic.com and of course; we'll begin looking ahead to 2011 as well. I'll beef up our recruiting coverage here over the next few weeks and as always; football will be on the brain.