By Chris Williams, CycloneFanatic.com Publisher
Iowa State vs. #9/10 Nebraska
Jack Trice Stadium, 2:30 Kick on ABC
Cyclone Radio Network
Iowa State and Nebraska just might meet for the final time in this series' long history tomorrow. Does this bother anybody else?
Sure, if you're hanging out here at CycloneFanatic.com., you probably have your issues with a Huskers fan or two. Who doesn't right? Whether if it is that Husker fan who can't name two members of their basketball team (but he has Creighton's roster memorized) or the guy who was loud and obnoxious about the "Blackshirts" in the 90's, only to disappear during the entire Bill Callahan era, it makes no difference. You know who I am talking about. Yes, our neighbors to the west can lean a tad bit to the annoying side sometimes.
Everything written above is surface level talk though. If you dig a little deeper, you'll see that besides the Cyclones' annual clash with Iowa, this is consistently the second most attractive game on Iowa State's schedule. It is for me at least.
The Huskers have dominated this series 85-17-2, so it is hard for me to technically label it as a rivalry. We all may view it as one, but do our friends in Lincoln?
That's beside the point though. Where I'm going with this is that right now, I'm a little bit jealous of Iowa. Next year, the Hawks and the Huskers will take over from here.
As Brent Blum put it in our weekly podcast, it is like breaking up with your girlfriend, only to watch your brother start dating her a week later.
This stinks for Iowa State because like them or not, Nebraska is really the only team in the Big 12 where you can talk trash with a co-worker at the water cooler. How many Kansas State or Missouri fans do you central Iowans really trade paint with on a daily basis? There are some exceptions, but not many.
Being a western Iowa boy, in the past, I've made it a point to get to Lincoln as many times as possible. It is one of the best venues in all of college football. From my hometown, driving to Lincoln is easier than a trip to Ames. I was lucky enough to be sitting in the stands during last season's unforgettable 9-7 upset. That was probably the best live sporting event memory that these 26-year old eyes have ever seen. Had I known that it was going to be the last time the Cyclones would ever invade Lincoln, I probably would have soaked it in even a little more.
When you head to Jack Trice Stadium tomorrow, you'll hear all of the jokes.
"N stands for knowledge."
"Huck the Fuskers."
All oldies, but goodies.
Before kickoff though, I urge you to savor the moment. Throw all of the surface-level negatives to the side. Playing the Huskers annually is a positive thing for Iowa State football. It is a shame that it has to come to an end. I will really miss this game.
Enough of this sappy stuff. How about we break this game down?
IOWA STATE'S DEFENSE VS. NEBRASKA'S OFFENSE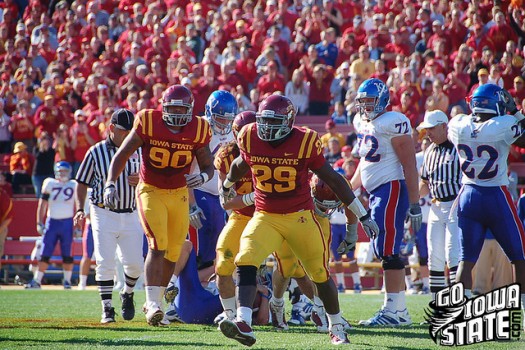 This week's burning question: How in the name of Seneca Wallace himself will Iowa State's front seven slow down Taylor Martinez and Roy Helu?
The Cyclones are ranked 99th nationally against the run, giving up just over 194 yards per game. Nebraska's rush offense is ranked sixth, with an average of 294.75 yards per game. See the mismatch?
This isn't a bulky Iowa State defense we're talking about here. The Cyclones don't match up well with power teams. Having said that, in recent weeks, we've seen Iowa State start to put more pressure on opposing quarterbacks, allowing the secondary to be much more productive.
"We have had better coverage because of rush and we have had better rush because of coverage," said Iowa State defensive coordinator Wally Burnham. "I don't think that you can ever have one without the other. I think it goes hand in hand over the last two or three weeks."
"Everybody has improved. They never lost faith. They went out there, worked and believed that they would get to a good point one of these days. You just try to keep selling that and they keep buying it. They have athletic ability so if they work at it, they'll keep getting better."
Let's all be realistic here fanatics. In order for Iowa State to beat Nebraska, the Cyclones will need to force some turnovers. I think that we all can agree on that. I don't think that eight is necessarily the magic number like we saw a year ago, but winning the turnover margin is without a doubt a major key to victory in this game. I'll touch  more on that later on in this column.
For Nebraska, it all comes down to redshirt freshman quarterback Taylor Martinez . The dude has been lights out so far in 2010. He's averaged 110.75 rushing yards per game, while  tallying up 1,004 yards with 12 touchdowns so far this year. On top of that, he's also passed for 1,161 yards and nine touchdowns, while only throwing three interceptions.
"He is perfect for this system," said Burnham. "You can't take just any quarterback and run this system. They are fortunate to have that kid on campus. It means a lot to have the right people at that position."
Oh yeah…Then there's senior running back Roy Helu Jr., who ran for a school record 307 yards and three touchdowns n Nebraska's 31-17 win over Missouri last week.
"It is kind of amazing. You sit there and start breaking them down and they have weapons at quarterback, running back, two tight ends who are really good football players and wide receivers who probably don't get enough credit because they don't throw the ball very much. They are very difficult to prepare for."
One thing that Iowa State could have going for them is the fact that Martinez is dinged up. He suffered an ankle injury last week against the Tigers. All signs point to Martinez playing against the Cyclones on Saturday. But will he be 100 percent?
In Martinez's absence last week, Nebraska didn't have to rely much on Zac Lee due to Helu's ridiculous game. Lee went 1-for-3 in the contest. He's 8-for-16 on the season, totaling 70 yards through the air.
"They still ran the same offense, they just fed it to the running back more," said Burnham. "He handed the ball off and that was good enough."
IOWA STATE'S OFFENSE VS. NEBRASKA'S DEFENSE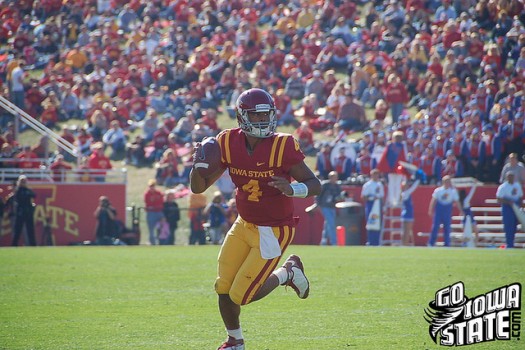 This is the matchup that Cyclone fans haven't paid enough attention to this week. Instead of worrying so much about stopping Nebraska's potent rushing attack, Iowa State needs be concerned about consistently scoring points on offense.
Have a first half like they did against Kansas and this will be a long day for the Cyclones.
Here's what you need to know about Nebraska's defense. The Huskers have what some have labeled the best secondary in school history. Nebraska ranks first nationally in pass efficiency defense and 16th in total defense, with opponents averaging only 17.75 points per game.
"They make it very difficult for you to find windows because they play pretty much the same two coverages over and over again," said Iowa State offensive coordinator Tom Herman. "They know exactly what they are doing. When they are in zone, it is more of a matchup zone if you will. It turns into a man coverage very quickly and they are basically doubling the receivers at the same time. It is really hard to complete the ball down the field on them."
Here is the best news that you will hear all day Cyclone fans. Ndamukong Suh won't be walking into Jack Trice Stadium tomorrow.
"We watched last year's game and we would throw a tunnel screen to one of our fastest guys in Josh Lenz and we were all putting our hands up and here comes this 310-pound animal walking him down from behind. Holy smokes," Herman said. "Thank God he's not there. But at the same time, Jared Crick is a man amongst boys himself. The guy they have playing next to him, Steinkuhler (Baker) is a big athletic guy."
"Their front four is a lot like Iowa. They can create a pass rush and get to your quarterback with just the front four guys. That makes it real difficult. We are going to have to stay out of those third and long situations as best as we can so that we aren't trying to force the ball down the field as much."
Iowa State's rushing attack has found some life over the last two weeks. The Cyclones ran for 232 yards last week against Kansas and 199 the week before against Texas. Want to beat the Huskers? Run the football. Nebraska ranks 75th nationally against the run and it is pretty evident that Austen Arnaud is a much more efficient quarterback when his team can set the tone on the ground early.
TOP STORYLINES
–       Will Iowa State's senior center Ben Lamaak play? I wasn't too encouraged early in the week but recent comments on his Twitter page make me think there is a chance.
–       Taylor Martinez's status is probably the top storyline heading into this contest. I found it odd for Bo Pelini to come out on Monday to state that Martinez would likely play. I've never been around a coach who openly shares injury information with the media, especially about a player of Martinez's stature. Could it be a smokescreen to mess with Iowa State from a preparation standpoint?
–       It is critical for Iowa State to get off to a fast start in this one. The Huskers are 6-0 this season when they score on their first possession.
–       Paul Rhoads has done a lot of great things during his short time in Ames, but he's never beaten a top 10 team. In fact, Rhoads' Cyclones have never even gone four quarters with a top 10 opponent. Will tomorrow be any different?
–       Was the Roy Helu 307 yard game against Missouri a fluke? Before last Saturday, Helu hadn't run for over 110 yards in a game this season. Even with the 307-yard game, Helu's has mustered up 807 yards on the season. For comparison's sake, Alexander Robinson has accumulated 725 yards this year. I'm not saying that Helu isn't a good back. He's just normally not that explosive. Prior to last week, Helu's best career game was a 169-yard performance against Virginia Tech on Sept. 19 of last season. Nebraska ended up losing that game 16-15.
FINAL TAKE
Iowa State doesn't need to force eight turnovers to beat Nebraska tomorrow. Last year was one of the nuttiest games in college football history. Iowa State went into Lincoln without their two best offensive players in Austen Arnaud and Alexander Robinson. Numerous Cyclones were vomiting on the sidelines from a flu outbreak and really, Iowa State's team was actually playing at about 60 percent (that number is strictly a Williams estimation.) With a green Jerome Tiller at quarterback and a hapless Jeremiah Schwartz as literally your only rushing threat, it was like Tom Herman went to Coldstone for some ice cream and ordered a vanilla cone. Sure, he would have loved the Birthday Cake Remix, but the ingredients simply weren't there to mix it up.
So yes, in last year's specific situation, it took eight turnovers for Iowa State to win. That likely won't be the case this time around.
This works both ways. Nebraska's offense was horrible a season ago too, hence the eight turnovers and only scoring seven points.
The key is Iowa State's offensive consistency. Can the Cyclones score early and often? Will Iowa State be able to run the football? The Cyclones absolutely need to keep their defense off of the field at all costs. If the Cyclone offense can do that consistently, regardless of what the turnover battle looks like, Iowa State can be in this football game in the fourth quarter.
FINAL PICK
Nebraska 37, Iowa State 24