By Chris Williams, CycloneFanatic.com Publisher
Iowa State (0-0) vs. Northern Arizona (0-0)
Friday, Nov. 12 @ 7 p.m. – Hilton Coliseum
Cyclone Radio Network – No TV
Iowa State's probable starters
G: Diante Garrett, 6-foot-4 senior
G: Scott Christopherson, 6-foot-3 junior
G: Jake Anderson, 6-foot-2 senior
F: Melvin Ejim, 6-foot-6 freshman
F: Jamie Vanderbeken, 6-foot-11 senior
Northern Arizona's probable starters
G: Eric Platt, 6-foot-5 Sr.
G: Julian Olubuyi, 5-foot-9 Sr.
G: Cameron Jones, 6-foot-4 Sr.
G: DeAngelo Jones, 6-foot-5 Sr.
F: Shane Johannsen, 6-foot-7 Sr.
THE BREAKDOWN
Iowa State's 100-50 rout of Dubuque went exactly the way it was supposed to. The Cyclones' starting backcourt of Diante Garrett, Scott Christopherson and Jake Anderson combined for 46 points, while red-shirt freshman Bubu Palo came off of the bench to chip in with 14. Freshmen Melvin Ejim and Calvin Godfrey showed a heap of promise and Iowa State thoroughly dominated a severely undermanned opponent, holding Dubuque to 25.4 percent shooting from the field, while forcing 26 turnovers.
I hope that you enjoyed the blowout because Iowa State's first official opponent of the 2010-11 season is no cupcake. The Northern Arizona Lumberjacks are being picked by some to win the Big Sky Conference. That means that many "experts" out there see this as an NCAA Tournament team. That's a scary thing to think about for Cyclone fans considering the fact that we don't really know anything at all about this year's Iowa State roster.
For a Northern Arizona team that went 14-14 a season ago, it all starts with Cameron Jones, a 6-foot-4, 190-pound senior guard. Jones averaged 19.3 points per game last season. He led the Lumberjacks in scoring in 20 of their 28 games, while recording double-figure points in 26 of them. If Iowa State wants to tip the Fred Hoiberg era off with a win, containing Cameron Jones is a necessity.
"He's a very crafty player," said Hoiberg. "They post him up some. He's very good off of the dribble with a shot fade because he shoots so well. He is a guy who we are going to have to key on."
The thing that makes this Northern Arizona roster so dangerous for Iowa State is their experience. Northern Arizona head coach Mike Adras will start five seniors on Friday night. Meanwhile, potentially six newcomers (Melvin Ejim, Jake Anderson, Calvin Godfrey, Bubu Palo, Jordan Railey and Eric McKnight) will play for the first time in an Iowa State uniform.
"They have guys who can really shoot the basketball," Hoiberg said. "They run a lot of sets. They run a lot of plays and they are very good at executing them. They have two guys down low who can really bang. They try to fly it up the floor. We are going to have our hands full. It is going to be a very good first test for us."
TOP CYCLONE STORYLINES
–       Freshman big man Calvin Godfrey impressed the masses with his 12 point, 13 rebound performance in Iowa State's exhibition win over Dubuque. Will he keep up the intensity and production against division one opponents?
"That's who he is," Hoiberg said. "He understands who he is. He doesn't try to go outside of what he does. He is an excellent offensive rebounder. He does an excellent job of wedging himself in there and getting the inside position. I think that he will be our best rim protector this year."
–       DeMarcus Phillips (pictured below)could return from a broken hand by the time that Iowa State meets Drake next Wedneday night. In fact, Hoiberg told reporters before Wednesday's practice that Phillips, a 6-foot-2 junior out of Marshalltown C.C., would more than likely suit up against Northern Arizona.
"He has been cleared for light activities but no contact yet," Hoiberg said. "He is in a soft cast and hopefully over the next week he will be able to pick it up and get to live drills next week is our hope. Maybe we'll get him back for the Drake game next week."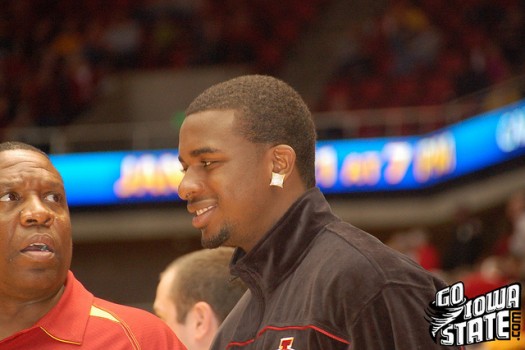 CYCLONE NOTEBOOK
–       Iowa State is 83-20 in home season-openers. The last time that the Cyclones lost a season-opening game at home was to Northern Iowa back in 1997.
–       Iowa State has won 12 straight season-openers.
–       Eight other Big 12 schools will play their first games of 2010 on Friday. Other games include: Oklahoma vs. Coppin State, Nebraska vs. South Dakota, Kansas vs. Longwood, Texas A&M vs. Alcorn State, Texas Tech vs. ULM, Kansas State vs. James Madison, Colorado vs. Idaho State and Baylor vs. Grambling state.
–       Iowa State and Northern Arizona have never played before.
–       The Cyclones are 8-1 all-time vs. Big Sky opponents. The last time Iowa State lost to a Big Sky team was in 1958, to Montana State.
FINAL PREDICTION
I've spent so much time in this column writing about Northern Arizona's experience. Don't forget that Iowa State's backcourt isn't full of rookies. The combination of Diante Garrett, Jake Anderson and Scott Christopheron is a formidable one. When predicting an outcome, I look at it this way. Think about what your expectations are for Iowa State in the Big 12 this season. What would they be if the Cyclones played in the Big Sky? Exactly. Expectations would skyrocket. This is a game that Iowa State should win. Though Northern Arizona does have a significant edge in experience, the Cyclones have more talent. Combine that with what I expect to be a raucous Hilton Coliseum during Fred Hoiberg's first game, I predict a very close Cyclone victory.
THE PICK
Iowa State 81, Northern Arizona 76