By Ian Smith, Cyclonefanatic.com Contributor
Austen Arnaud and the word Cyclones are synonymous. For nine years, the nickname has been stitched across his chest.
First, as a prep star at Ames High, Arnaud led the school to consecutive playoff appearances. At Iowa State, the 6-foot-3 quarterback has etched his name near the top of every Iowa State passing record.
"To me, being a Cyclone means everything," Arnaud said. "Obviously, my dad played (at Iowa State) and I grew up here watching games all my life. It's kind of a legacy to fulfill."
Nine seasons of football have all been pointing Arnaud to this last one. Don't think he doesn't realize it. The player – who Iowa State head coach Paul Rhoads called the most improved coming out of spring ball – is ready for his last hurrah.
"He will be a tremendous leader of this football team," Rhoads said. "He will be a tremendous leader of this offense. You'll see that on the football field on Sept. 2 (against Northern Illinois)."
Talented youngster
It didn't take Arnaud more than a few practices to make an big first impression at Ames High. As a lanky freshman with a goofy smile, his talents quickly became evident. Never mind the fact he was playing with teammates who were still learning how to strap on their helmets.
"I knew immediately when he was a freshman that Austen had some special gifts," Jamie Kohl, who was Arnaud's quarterback coach in high school, said. "Especially with his dad's background and where he was athletically. I didn't really get to know Austen until he was a sophomore and he was brought up to the varsity level. Once I saw the type of focus, type of leadership skills and type of person he was, I knew he could be special."
Kohl, a former Iowa State kicker, knows college level ability when he sees it. He owns Kohl's Professional Kicking Camps and evaluates high school athletes for ESPN.com.
"I feel a lot of pride for Iowa State, Austen and his family because I know everybody involved," Kohl said. "He is truly one of the best leaders and young men I have ever coached – ever."
In Arnaud's senior season, he combined to run and throw for more than 2,000 yards and was named Gatorade Player of the Year after guiding Ames to the state quarterfinals.
"He made us very difficult to defend," Ames High head coach Bruce Vertanen said. "His ability to throw and run were great, but he was a better leader."
Arnaud left an impression off the field, too.
"He always treated everybody with respect," Vertanen said. "Whether you were an athlete, teacher or special needs kid, it didn't matter. Everybody thought he was their friend."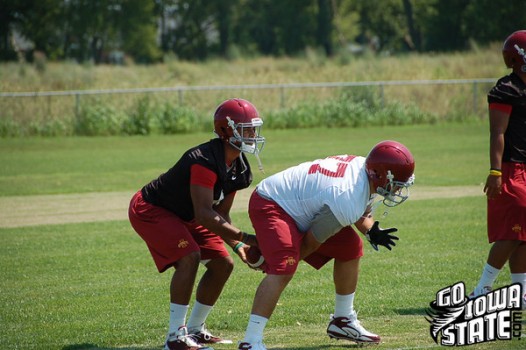 On to State
When Arnaud signed with Iowa State in the spring of 2006, he thought he'd be playing for Dan McCarney. Things changed quickly. When Arnaud's college career is over, he'll have suited up for three head coaches, which means three different offenses.
Did Arnaud ever complain? No, instead he did his best to embrace each system. After two seasons as a starter, Arnaud is first in all-time completion percentage (.601), fifth in passing yards (5,074), third in completions (445) and fourth in touchdowns passes (29).
There is still plenty of room for improvement, Arnaud and Rhoads both said. This season, Arnaud wants to raise his completion percentage to .650, fine tune his fundamentals and reduce his turnovers.
"The word I would use to best describe him right now is poised," Rhoads said. "That comes from all the things I talked about that he's improved upon. He knows he is a better fundamental football player right now. He also understands an offense fully and thoroughly as he enters."
Add Arnaud's legs to the equation and he figures to be even more dangerous in 2010. Last season, he carried the ball 147 times for 561 yards and eight touchdowns.
"He probably was our best short yardage back and it's nice to have that ability," Iowa State offensive coordinator Tom Herman said. "If you have a big, physical quarterback that can run, the offense is a little tougher to defend on third and short and third and medium. That's certainly a big part of what we do."
Toting the football takes its toll, though. Last season against Baylor, Arnaud injured his throwing hand. He missed two starts and wasn't 100 percent for the rest of the season.
To combat the pounding he takes each fall Saturday, Arnaud put in extra time in the weight room. He is now up to 230-pounds, which should help with the riggers of a Big 12 schedule.
Another area the signal-caller aggressively addressed this offseason was his film study. He is using his triumphs and mistakes from last year to prepare for this season. After dissecting all 13 Iowa State games, he took time to watch tape of Texas, Oklahoma and Kansas to see what their quarterbacks do well.
"I think the biggest thing he has learned is to calm down in the pocket and trust his mechanics even when the game is going 1,000 miles-per-hour," Herman said. "We are going to need him to continue to do that."
Last hurrah
With fall practice underway, Arnaud is back to doing what he does best – leading the Cyclones. Iowa State returns a strong offensive line, talented running backs and maturing receivers who should all have a better understanding of Herman's offense.
Considering Herman's prior success at Rice, the Cyclones are thinking big on offense, especially with an advanced Arnaud.
"He's a great motivator," center Ben Lamaak said. "He wants to get better everyday and you can see that."
Kickoff against Northern Illinois is Sept. 2. You can bet Iowa State will be ready.
"I'm very excited for this season," Arnaud said. "I feel like I've been building up my whole life for this."