By Chris Williams, CycloneFanatic.com Publisher
Being able to write this blog makes me smile for multiple reasons. Of course, Iowa State doesn't add players with the talent level of  Royce White very often. When this does go down, I generally get flat out giddy. The other reason that this makes me feel so jubilant is the fact that finally, this Royce White recruitment story is finally behind us.
Dissecting this situation for the last two months has been tiring. Every Wednesday for the past month, my mailbag has been flooded with questions that neither I, nor anybody else had the answers to.
It has been Royce White mania within the Cyclone Nation.
Will Royce White be worth the risk for Iowa State? I have no idea. I don't have all of the information about this situation that Fred Hoiberg and company do.
I will say this though. During his interview with the media today, White said all of the right things. He was respectful. He actually sounded like a very bright kid. Hoiberg told us that after quitting the team in Minnesota last year, White taught himself how to play the piano to occupy his time.
Have you ever tried playing the piano? It's not easy. Regardless of your opinion, give Royce some props for that.
My theory is this. Fred Hoiberg is under no pressure at all to win right now in Ames. For the naysayers out there, I totally understand where you're coming from. I try not to do this very often, but I am riding the fence on this topic. I genuinely see both sides.
But why would Hoiberg take this big of a risk if he didn't think it was going to pay out? He doesn't need to right now. He must know something we don't.
Cyclone fans should trust the coaching staff on this one. That's my opinion and nothing more.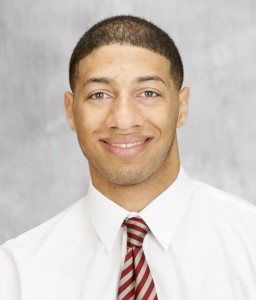 Above:Royce White
Eligibility notes
Somebody who would know cleared up a few things for me today regarding White's potential eligibility for Iowa State next season. He'll either get all of next year, or none of it. Period. I was told that there is no chance that he'll be eligible for the second semester, after sitting out the first.
"We are compiling all of the information right now that we need to get to the NCAA," Hoiberg told reporters. "They will make their decision. Whatever happens though, we are going to put a support system around Royce and will hopefully have him as a Cyclone for a long time."
I am by no means an expert when it comes to this stuff. My gut says to plan on White playing his first game for Iowa State during the 2011-12 season. I hope I am wrong.
The mentor factor
Wasn't Jeff Grayer hired at Iowa State for situations exactly like this? Yep. Hoiberg confirmed that today.
"Jeff Grayer is a guy who will play a big part in this," Hoiberg said. "Jeff came from a situation in Flint, Mich. where he went to Iowa State and the best thing about it was the fans and how loyal everybody is to Iowa State and how much of a family atmosphere it was. I think that Royce felt that when he was down on his visit."
Transfer galore
In case you've been hiding in a cave since he took the job, Hoiberg has been a little transfer happy since returning to Ames. White is the fourth transfer to join Iowa State's roster this summer, joining Jake Anderson (Northern Illinois), Chris Babb (Penn State) and Anthony Booker (Southern Illinois).
Here's a thought. Add one average point guard to the mix and Iowa State's potential 2010-11 scout team starting lineup could beat the real lineup for many programs.
"Our scout team is going to be pretty darn good this year," Hoiberg said. "It is going to be an important year for those guys and one that can help our freshman. They will be mentors for those guys and they've been through it a couple of years. They've been away from home for a couple of years. For the freshmen, who I am very excited about, it is their first time away from home. These guys will have a very important role."
Why all the transfers? Well, in the situation that Hoiberg took over, the better questions is, why not? People can say what they want about the background of guys like White and Booker, but they can't say that Hoiberg's staff hasn't been stockpiling some serious talent over the past few months.
"I think that T.J. (Otzelberger) is about as good as anyone in the country in going out and finding situations like that," Hoiberg said. "Chris Babb is a guy where it is unfortunate. I would love to have him eligible right now because of his ability to space the floor and shoot the basketball. Anthony Booker is a guy who was very highly rated as a high school player. He went into what maybe wasn't the best fit for him at Southern Illinois. I'll tell you what. You look for those types of situations. People maybe weren't happy."
The 2011-12 roster
Speaking of that talent, here is an estimated look at what Iowa State's roster could look like for the 2011-12 campaign, minus two scholarship players that will more than likely be added in the 2011 class. Listed below are scholarship players only.
Potential Staring Lineup
G: Scott Christopherson, Sr
G: Chris Babb, Jr.
F: Melvin Ejim, So.
F: Royce White, So.
F: Anthony Booker, Jr.
Now obviously, that lineup above is lacking a point guard. Could Christopherson run the point? That is questionable. But that could be Iowa State's best option if they don't sign another Big 12-ready point guard in the 2011 class. Anthony Odunsi could be a sleeper to snag that spot. He doesn't score much and struggles shooting, but this Texas freshman (in 2011) is solid defensively and has a Big 12 body right now.
Reserves
F: Eric McKnight, So.
F: Calvin Godfrey, So.
F: Jordan Railey, So.
F: Elgin Cook, Fr.
G: DeMarcus Phillips, Sr.
G: Anthony Odunsi, Fr.
This would leave two scholarships that are still open in Iowa State's class of 2011. We just learned that the class needs another point guard. Look for Naadir Tharpe of the Brewster Academy to be Iowa State's top target at that position. You can read a full report on Tharpe by CLICKING HERE. Also, don't sleep on red-shirt freshman walk-on point guard Bubu Palo as a possible option at point guard as well.
Then, there's Jarrod Uthoff of Cedar Rapids Jefferson. He would be a great mix because if you look up above, there aren't many shooters in the mix when you take away Babb and Christopheron. Uthoff's shot and basketball savvy would be a nice mix with the group of superb athletes listed above.