By Chris Williams, CycloneFanatic.com Publisher
Iowa State head football coach Paul Rhoads was one of four coaches to kick off the Big 12 media days in Dallas on Monday. Here are a few notes from Rhoads' press conference with the print media.  If you want to read the entire Q&A from Rhoads' presser, CLICK HERE.
Sims will be a Cyclone
The 2009 Big 12 Defensive Newcomer of the Year David Sims is still on Iowa State's roster. That's according to a depth chart that was released by the program on Monday and also Rhoads himself.
"There's nothing new to report," Rhoads said. "The investigation is ongoing, and hopefully there will be some light shed on the matter here within the next 24 to 48 hours."
Rhoads also made an appearance on 1460 KXNO's Matt and Miller Show, where he reiterated that Sims would still be a Cyclone at the beginning of the season.
"He will be a part of our football team," Rhoads said in the interview.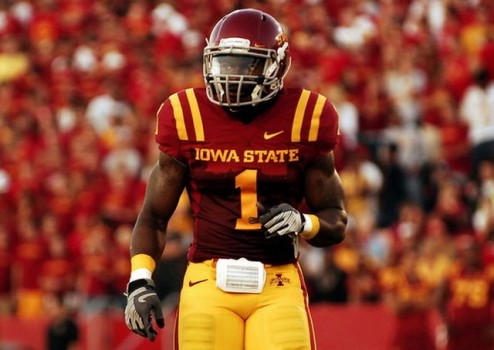 Rhoads confirms the Alburtis rumor
It didn't take long for Rhoads to  address the rumors that senior defensive tackle Austin Alburtis had quit the team. Rhoads said the following in his opening monologue about the defensive lineman.
"Austin Albertus has graduated this summer, to help boost what is already the number one graduation rate in the Big 12 at Iowa State, and has elected to forego his senior year of eligibility and move into the workplace."
So that's that. Alburtis was scheduled to be safely on Iowa State's two-deep, likely behind sophomore Jake McDonough.
This now provides an opportunity for Taylor Mansfield, Cleyon Laing or Walter Woods to step up and produce for Iowa State at a position that lacks depth.
Parker "offended" by Clayborn's comments
Senior defensive end Rashawn Parker was awfully vocal about Iowa defensive end Adrian Clayborn's recent comments. Remember when Clayborn mocked the Iowa State football program's very existence a few weeks ago? Yeah. So does Parker.
"It upset me, Parker told the Des Moines Register's Randy Peterson. "It's like a slap in the face."
To read Peterson's complete story on Parker's thoughts, CLICK HERE.
In addition to that, HERE'S A LINK to Peterson's running blog that he'll continue updating over the next two days.
Rhoads praises Arnaud & Robinson
We've heard Paul Rhoads say a handful of times that Austen Arnaud was Iowa State's most improved player last spring. The ball coach reiterated that to the media on Monday.
"A lot of programs will give out an award for the most improved player. It usually goes to a freshman coming off a redshirt or somebody of that nature," Rhoads said. "He's been somewhat handicapped because he's been through three coaches, three position coaches and so forth, and he's just now getting a chance to settle in to an offense that he could call his own."
"He needed to improve fundamentally on his mechanics at being a quarterback. He did that this spring. I think he has an excellent grasp of our offense, which will improve his decision making when he takes the field. And we'll need him to have that kind of improved success if we're going to as a football team."
As for the man we all refer to as "A-Rob," Rhoads was complimentary of him as well. The coach actually used the word "underrated" in a room full of reporters that constantly underrates number 33.
"I think Alexander Robinson is a guy that is underrated in this league," Rhoads said. "I wouldn't trade him for another back in this league. I think he ranks right up there with all of them. He runs it. He catches it. He blocks. He's intelligent. He's a leader. And I think you'll continue to see that out of him with remaining healthy as we go through 2010."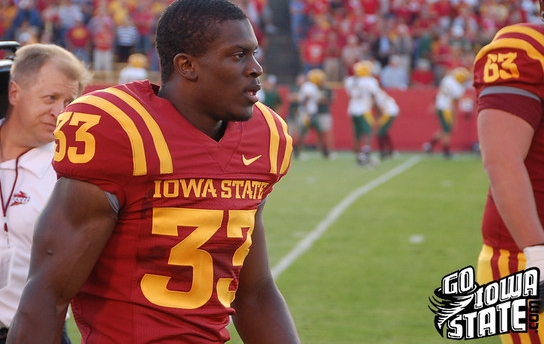 Some other Cyclone links from Monday
As I always do, I'll put together a separate Cyclone/Big 12 links section on CF at some point on Tuesday morning. Here are a few good reads/listens concerning Iowa State to hold you over until then.
THIS BLOG from the Kansas City Star discusses Iowa State's scheduling in the future, including the 2011 Utah game that now seems doubtful to happen.
CLICK HERE to download and listen to podcasts from Monday's installment of 1460 KXNO's Matt and Miller Show. The local radio duo are live in Dallas this week. On Monday's show, they had one-on-one conversations with Paul Rhoads, Austen Arnaud, Alexander Robinson and Rashawn Parker.
The Dallas Morning Newscomments on how important Iowa State's Insight Bowl victory over Minnesota actually was.
Finally, HERE is a complete recap by our friends over at www.cyclones.com.