Oklahoma Sooners forward Tanner Groves (35) celebrates beside Iowa State Cyclones forward George Conditt IV (4) during a men's college basketball game between the University of Oklahoma Sooners (OU) and the Iowa State Cyclones at Lloyd Noble Center in Norman, Okla., Saturday, Jan. 8, 2022. Oklahoma won 79-66.
Phoggy Calls
Honestly, I don't really want to talk about this. I'm still mourning. But for as painful as the loss is and the uncontrollable things that lead to it I am also encouraged by some of the controllable things that could have been better there are a lot of positives to take away from that one.
The bigger points of interest and topics of discussion I have were inspired by this tweet from Mr. Joe Bomb, or Mr. Joe Day… whichever.
Can we talk for a moment about how some aspects of the game are officiated? Robert Jones, playing on the court, hustling, scrapping, and working as hard as possible, hit Jalen Coleman-Lands in the face with his elbow and while it caused a nasty gash it was inadvertent enough that nobody noticed until the blood was obvious. Perceiving intent is more or less impossible but I'm not sure how watching that play you see anything other than a big guy working to change direction and incidentally hitting a guy in the head that is six inches shorter.
Yet the explanation is that Jones and Coleman-Lands were both established well enough that Jones should have been able to avoid that contact. Okay, sounds bogus, but okay.
Fast forward to the final two minutes and three officials somehow missed what nobody else did when Izaiah Brockington had his shot blocked only after hitting the backboard. How does the logic check that we can hyper-analyze the incidental elbow from Jones and he can be held accountable when he "should have known Coleman-Lands was there" yet three officials just shrug their shoulders and move on from a game-changing non-call? How can we expect Jones to avoid contact like that but not expect officials to make such an obvious call? It is just so typical of us to hold 18-22-year-old student-athletes to a higher standard than adults in and around the game.
For the record, not calling goaltending was—and still is—upsetting but I don't place it under the "game costing blunder" umbrella because who knows how things would have unfolded afterward. It certainly didn't help, though.
The second point in all of this is how TJ Otzelberger responds to and deals with the officials. If you watch the guy on the sideline he is a complete psychopath (I mean that in the most endearing way possible) and that is putting it mildly. He has to be exhausted after games and I am not being sarcastic. Yet when it comes to handling officials he is calm and not over the top animated. Whether it is right or wrong or the best way to coach, I can't say. But I can say that I respect how much energy he commits to coaching and his mindset in dealing with bad calls.
That isn't to say I never enjoyed a good Larry Eustachy tirade from time to time.
Boomered
There were two big stories to this game; the first 30 minutes where the Cyclones may have played their best 30 minutes of the season and the last ten minutes where the Cyclones may have played one of their worse 10-minute stretches of the year. But it wasn't the uninspired offense scoring just nine points in the final ten minutes that was so unbelievable. It was, for the first time all year, the defense wasn't there.
This leads to a larger point that I want to investigate but haven't yet determined a method to do so… Is it actually any better to have an elite defense to play on the road? The thought is that sometimes shots don't fall so you can't just rely on your offense but the reality is sometimes the opponent's shots DO fall, even though they are contested.
Is it better to be the #5 defense and #100 offense than vice versa? So much of conventional wisdom says yes but my theory is that it is likely better to be in the scenario with the elite offense. Much of that thought process is based on the Ken Pomeroy study that concluded a good offense will often times beat a good defense. His study determined that defenses only have about 17 percent control of opponent three-point percentage and 36 percent control over scoring rate as a whole. The study notes that the real battle in each game is turnover rate and two-point percentage where control is about a 50/50 split between offenses and defense. The work even includes some home-court advantage information, but further investigation into this exact question is probably needed.
But, we'll save all of that for a later date.
The highlights (read: lowlights) for the defense from 9:11 remaining in the second half until 1:30 remaining and the foul game started, the Oklahoma offense:
13 possessions
9/9 on layups (ISU averages giving up 14 layups per game this year, 17th lowest rate in the country)
2/2 on mid-range jumpers
1 missed 3-point attempt
1 turnover
1.69 points per possession
In that stretch, the defense just couldn't make Oklahoma uncomfortable and couldn't rotate quickly enough out of the penetration that couldn't be prevented. Aside from that, the Oklahoma game represents Iowa State's worst defensive effort in creating turnovers and effective field goal percentage while the offense had its lowest offensive rebounding rate and lowest free throw rate of the season.
Too many things working against them especially down the stretch, to win a conference road game.
Game Difficulty Matrix
Much has been and should be made of Iowa State's difficult schedule out of the gate in the Big 12. Going 3-3 in the first six games was always going to be a miraculous feat, 2-4 would be very good, and 1-5 would be pretty acceptable. To visualize this and other teams in the Big 12, I made this matrix. Across the top are the Big 12 teams in order of their KenPom Rank as of today and going down in the far left column are the most to least difficult games to be played this Big 12 season (as of current KenPom data).
Going down in each column is the result for that team playing the game indicated in the left-most column, green for a win and red for a loss. There are two thick black horizontal lines to break Iowa State's games into three tiers of six games. The two yellow cells in Iowa State's column are the two games that they will play this week.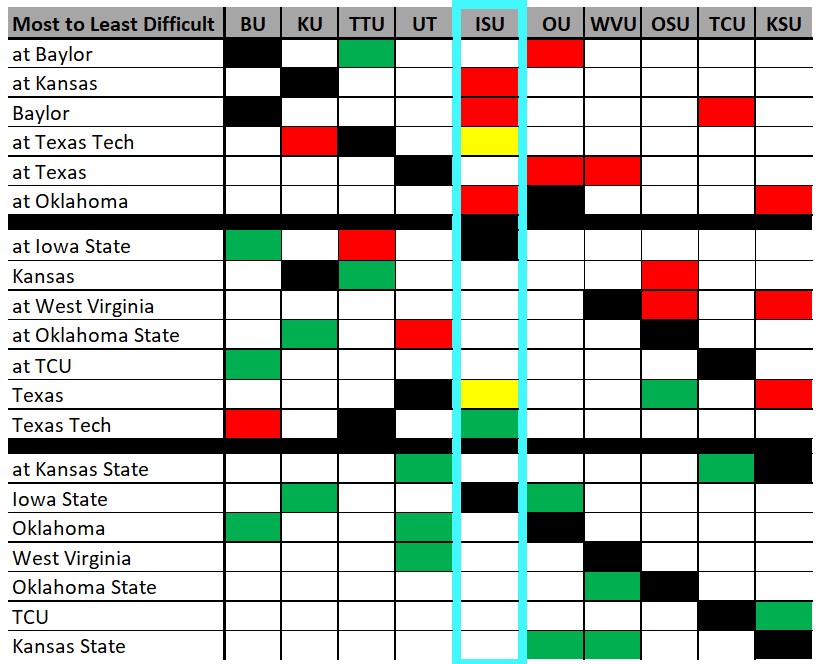 So after the first six games, ISU will have played four of the six games from the toughest tier and two of the six games from the middle tier. The Cyclones are the only Big 12 team that will not have played one of the six easiest games in their first six outings.
Overall, what do we make of this for how it concerns the Cyclones. First, they have to keep competing and weather the initial storm. If they can win the next two we are headed to the Final Four, get one and be very happy but after that is when it is really time to make some hay. Can they win all six from tier three while finding three or more from the middle and top tier? If they do, they will be in fantastic shape come March.
Look Ahead
Texas: The Longhorns really do not have any major, glaring weaknesses offensively or defensively. They are solid throughout and they have more talent top to bottom than the Cyclones. They have been a little bit inconsistent but have largely beat up on some middle-of-the-pack Big 12 teams at home (West Virginia and Oklahoma) while controlling Kansas State on the road. They have a bit of a tendency to settle for long two-point shots but they have a bevy of guys that are good—not great—three-point shooters that can jump up and bite you. Marcus Carr is the transfer from Minnesota that is a wild card at times and unstoppable at others that I would consider a better but slightly tamed down version of Mike Taylor.
Iowa State's best chance to do damage on offense may well come at the offensive glass and free throw line. As will be the case all year, they need to take care of the ball, which has been a struggle in some instances, and make some shots to keep the defense honest, but if they attack on offense like they usually do on defense they should be fine.
Texas Tech: Holy cow, who saw this coming from Tech? They are certainly rolling now and this will be a tough road game. The talk will be if either team can figure out how to score and it may well be the first team to 45 wins. But my biggest point of interest is how Brockington will be used offensively. The last time out he struggled, especially in the second half because so many times the offense has him starting on the right wing to attack left or starting on the right-wing to receive a dribble hand off and attack left on a curl from there.
But while the talk has been about teams sitting on his left hand I think the bigger factor was Tech playing their very aggressive "no middle" defense. It seemed it was much more of that stubborn defensive approach than just denying his left hand. However, if you start Brockington on the left-wing and let him work baseline where he so often will pull up from twelve feet with success, he can do some damage. The defense is meant to force baseline and aggressively help and take charges but the pull-up jumper from the short corner is there for the taking.
Shouts to the Twister Sisters
Not only are they alone atop the conference they have already beaten the #2 and #3 teams in the standings and both of those games were on the road! Huge opportunities lie in front of this team!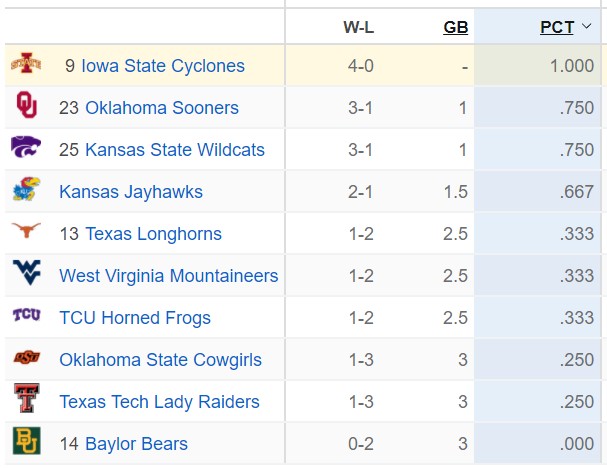 BONUS!
Last week Mike Green shared a picture of Ricky Byrdsong and a blurb about his past which was news to some. I wrote a story on him over ten years ago focusing on his time at Iowa State and his coaching career after. That isn't hosted anymore but I've pasted it below if you want to read here:
Forgotten Cyclone: Ricky Byrdsong
When you score just 24 career points while wearing an Iowa State uniform, you aren't likely to be selected by any University "All-Century" team or be tabbed in any fan's personal "All-Time Starting Five". When you play in an era of Cyclone basketball that was an upside-down, sideways-spinning, roller coaster ride, it is easy to get lost in the mix. Even though you were the team captain, even though you were a part of one of the most remarkable two-season turnarounds in school history. Even though you were the heart and soul of the squad while appearing in just 27 of the 54 games during your time in Ames.
Great basketball talent is so highly coveted and so necessary to success that often times the chemistry and emotional stability of a team is easily forgotten.
This is the story of the original "Glue Guy": Ricky Byrdsong.
In Ken Trickey's second season at the helm of the Iowa State basketball program, the 1975-76 Cyclones went 3-24 (3-11). It would ultimately be his last season. The team was in disarray.
That is the last time an Iowa State team was winless in the non-conference season, and the first time since the 1927-28 season. Trickey was replaced by Lynn Nance, an assistant from Kentucky the previous season. The Cyclones vaulted all the way to a second-place tie in the Big 8 during Nance's second season going 14-13 (9-5).
While the team in Nance's first two seasons was headlined by greats like Chuck Harminson, Andrew Parker, Bob Fowler, Dean Uthoff, and Steve Burgason, it was Byrdsong that was the leader and the catalyst for success.
John Tillo played with Byrdsong at Iowa State. "Ricky was just a great guy that was all about the team. He had a great attitude, was positive and always led by example. That's why we voted him to be one of our team captains his senior year (1977-78)," Tillo said.
Another former player and co-captain with Byrdsong at Iowa State was Steve Burgason. The two were roommates and very close, even dubbed by many as "Salt & Pepper". Byrdsong was later the best man in Burgason's wedding.
"After the death of Maury John and the program troubles under Trickey the team really came together as a close-knit group because of Ricky. The team bonded very closely spiritually, we had Bible studies together, prayers before practices and games, and went to church together on Sundays during road trips," said Burgason.
Upon exhausting his eligibility and staying in Ames as a Graduate Assistant, Ricky and Coach Nance were expecting a great team for Nance's third season. With Harminson, Parker, Uthoff, and Fowler returning, coupled with the addition of Robert Estes, the Cyclones had high hopes.
They once again were able to muster a tie for second place in the league with an 8-6 mark. But the 3-10 non-conference record was far below expectations.
Burgason, an Ames native and current resident, points to the lack of Ricky's on-court leadership to explain the drop-off. "Ricky had a magnetic personality that drew everyone to him. He was a man of authenticity and that included his relationships with everyone on the team and coaching staff and was vital to the team chemistry that led to the program turnaround," said Burgason.
Ricky spent only one season on the bench at Iowa State, but his coaching career was far from over. He bounced from Western Michigan to Eastern Illinois to Arizona (under Lute Olson.) In Byrdsong's first and second seasons at Arizona, the Wildcats played Iowa State. In the 1982-83 season ISU beat Arizona 80-66 in Tucson and in the 1983-84 season the Cyclones again were victorious, winning 75-63 in Hilton.
Byrdsong was at Arizona from 1982-88 before taking the head coaching position at Detroit Mercy.
Detroit Mercy was coming off a 7-23 record in the season prior to Byrdsong's arrival. Each year his team improved. He notched his best record as the Titan coach in 1992-93 with a mark of 15-12. During his five-year stint at Detroit Mercy, Byrdsong's squads went 53-87.
In May of 1993, Byrdsong was hired by Northwestern University. In his first season as the head man of the Wildcats, they went 15-14—the first winning season in eleven years at the school and just the second in 25 years. That season's performance was good enough for an NIT bid—at the time it was the second post-season appearance in the history of the school.
Perhaps the moment most en-grained in the memory of everyone from that season was an incident that didn't take place on the court. February 7th, 1994, marked the night that incited the Minnesota student section to begin chanting, "Byrdsong's nuts!"
Northwestern was on a seven-game losing streak when the game started. As the game progressed it became more and more clear that another tally was going to be added to the losing column.
It was then that Byrdsong took what he would later characterize as "a walk on the wild side".
He marched to the end of the bench as the forthcoming loss became more apparent and sat on a stool far from his assistant coaches. On two separate occasions, he walked onto the court with complaints to the officials, and a technical was earned for one of his complaints.
When a timeout was called, Byrdsong continued his strange behavior and did not join the rest of the staff or team in the huddle. He finally handed the reins of the team to one of his assistant coaches and headed to the stands. It was there that Byrdsong began shaking the hands of Gopher fans, and high-fived the Gopher mascot before taking a seat in the aisle. He sat there until an usher asked him to move.
Upon losing the game and returning to Evanston, Byrdsong's wife, Sherialyn, requested a leave of absence for the coach.
Byrdsong had this to say at the time, "My wife, after watching me, obviously got concerned. Now, anytime I'm going to take a walk on the wild side, I should let her know."
His leave ended up being for 12 days. He missed four games while consulting with doctors about his mental and physical health. Upon his return for a home contest with Indiana, Byrdsong was greeted with a standing ovation.
The event in Minnesota drew national attention because of its oddity. And it was an event that perhaps overshadowed Byrdsong's accomplishments as the Wildcats coach. It was widely misconstrued as a mentally unstable man participating in crazy behavior, as opposed to a coach being fed up with his team's play searching for a motivational tool.
Byrdsong was never able to duplicate the success of his first season in Evanston. In his second season on the job, he had to replace four starters. His team was devastated by defections and injuries. Byrdsong was fired with seven games left in the 1996-97 season, having gone 34-78 in his four seasons at the helm.
But that is not the end of the Byrdsong story.
Byrdsong had been out of coaching since he was fired by Northwestern, but he remained in the Chicago area. It was just past 8:00 pm on July 2nd, 1999 when he went for a walk with two of his children in the suburb of Skokie.
That walk turned tragic.
Benjamin Nathaniel Smith, who over the previous few days had shot at a group of Orthodox Jews wounding six and killed a Korean-American college student, drove around Skokie, Illinois that same fateful night. He found Byrdsong and his two children walking.
Smith shot Byrdsong in the back just three blocks from Byrdsong's home. Byrdsong collapsed to the ground in front of his children and died four hours later on the operating table.
Smith later took his own life before he could be brought into custody.
Ricky Byrdsong was more than just a basketball player. His success wearing the Cardinal and Gold wasn't only because of his ability on the floor; he had success at Iowa State because of his charisma and fun-loving personality. "Ricky was a consummate team player that won everybody over with the biggest and widest smile on the planet," said Burgason.
It wasn't Byrdsong's talent that recruited players like Steve Kerr and Sean Elliot to Arizona; it was his leadership, genuine personality, and authentic relationships that won them over.
There were more than 2,000 people that attended Byrdsong's funeral. The attendee list was a metaphorical trail of bread crumbs throughout his career. Former teammates from ISU—including Burgason—and the former Cyclone coach Lynn Nance. Also attending was Steve Fisher, Lute Olson, Steve Kerr and former players at Northwestern under Byrdsong like Evan Eschmeyer and Dion Lee.
"The news of his death was just so shocking and a reminder of the presence of evil on earth. There were so many at his funeral because he was so beloved and connected so well with everybody," said Burgason.
As it stands now, Ricky Byrdsong and Fred Hoiberg are the only two Cyclone basketball players that went on to coach Division 1 basketball later in their careers.
Cyclone fans young, old, and in between need to know the story of Ricky Byrdsong. Not because of his playing ability but because of who he was as a person.
In fact, everyone should know the story of Ricky Byrdsong.