Ben Bruns nervously blended into the huddle. The talented offensive lineman was running with the ones in practice as an Iowa State freshman in 1997, which, you know, was kind of a big deal.
A bit frightening, too.
So when tough-as-nails Cyclone fullback, Joe Parmentier, looked sideways and spoke, an anxious but eager Bruns listened intently, then gulped.
"Don't (screw) it up," Bruns recalled Parmentier saying.
Well, then.
"I was already scared going into the huddle — and this is at practice, right? — and looking at No. 42, like, 'Wow, OK," said Bruns, who went on to become an all-American as a senior on ISU's 9-3 and first bowl-winning team in 2000. "That's real."
It certainly was — as is Bruns's unwavering love for Iowa State. Last fall, the former star lineman wrapped up his 20th and final season with the Cyclones Radio Network. ISU won its first-ever New Year's Six Bowl game and, coincidentally, went 9-3. So this ending for Bruns proved to be perfectly fitting and happy, especially since his former teammate, Ryan Harklau, prepares to step into his sideline reporter shoes this fall as expectations continue to crest for the Cyclones' program.
"I think we just have a phenomenal product, both with the team, but also with our broadcast," said Bruns, who now lives near Appleton, Wis., and is the Boldt Company's Executive Vice President for the Northern Operations Group. "So that part is probably the hardest thing to walk away from. But when I got brought on board, it was because they wanted insight into (then-coach Dan McCarney's) program. As I had imagined as I was leaving was that (head coach Matt Campbell) would want something similar, but for it to be a McCarney-era guy like Ryan — who I bashed my head against every single day. Every day. I mean, do you want to talk about why people get to be good at something? Because they never, ever, ever took a break going against each other in practice. Ever. And Ryan was that guy — and he's a phenomenal person. He's a great dad. He's got a great career. And to have him step into that role, I think he'll bring really, really good insight, but also that perspective from 20(-plus) years ago."
That's what Bruns provided. Deep insight. Broad-ranging and hard-earned perspective. He'd helped build a winning program under McCarney's leadership as a player and helped chronicle plenty of ups and downs in his 20 years on the sideline without pads.
Harklau, the Regional Vice President at Farm Bureau Financial Services, brings the same knowledge, passion and energy to the job.
"(Ben's) done an amazing job doing this for 20 years," Harklau said. "And I'm lucky to have this opportunity. … It's just one of those opportunities that you never think will ever hit you or (you'll) get an opportunity to do something like this. But with Bruns and I, we've had a relationship since the (Iowa) Shrine Bowl (game) when we were in high school. That's where it all started is at the Shrine Bowl. And then from then forward, we were hitting each other literally every day of our careers for five years. That just creates — yes, we made each other better, because he will tell you and I would say the same thing: If you take a play off, you're going to get housed by one of us."
Competition breeds excellence. Durable friendships, too. That's what Bruns and Harklau share, which builds an invaluable bridge for the network's broadcasts helmed by John Walters and Eric Heft.
Heft was integral to Bruns being hired by the network more than 20 years ago and certainly was consulted, along with others, on the decision to bring Harklau into the fold.
"I certainly wanted to find someone, or encourage Cyclone Sports Properties to find someone, who had that same expertise, had been in the trenches and knew what it was like," said Heft, who has been with the network for more than 40 years. "The fact that Ryan was part of one of the best teams in Iowa State history and part of rebuilding the program to make Iowa State football relevant again, that's great, but it's really kind of a plus because you're really looking for the guy who has the personality, and the intelligence. Ben and Ryan are really cut out of the same mold. I'm just so excited for Ryan to join us."
"Excited" is the buzzword for a program that's reached rarified air since Campbell took over in 2016. It's one of the first terms Harklau — who has been very involved in Campbell's mentorship program between former and current players — used when he spoke about taking on his new role.
"I don't think there could be a more exciting time than now to be doing this, with where this program is at," said Harklau, who has helped mentor J.D. Waggoner, Amechie Walker, Joel Lanning and Dylan Soehner, among others. "It's not, like, a flash in the pan either. It's not like, 'Here's our one chance at being good.' The program is being built and that's the cool thing about this. To be able to be around the program and continue to stay around the program when it's in a great place — and you just have that confidence that it's not going anywhere. This is going to be a program that will be very, I don't want to say dominant, but it's going to be respected for a long time as long as they keep what they're doing going."
So why did Bruns choose to step down? Largely because he now lives roughly a seven-hour drive from Ames and felt someone Iowa-based and closer to the day-to-day developments surrounding the Cyclones' program should step in.
Harklau, he reiterated, is the perfect fit. Still, it won't be easy to click on his radio and just listen when ISU takes on Northern Iowa in the Sept. 4 opener. After all, he's been invested in the program for more than 25 years — and even chosen transitions can stir a flurry of emotions.
 "It'll be bittersweet for me," Bruns said. "I know that right now. I know how passionate I am. Hell, I started crying while we were talking. So I'm going to be a mess that first game. I am. I just know it. And leading up to it I'm going to be a mess because I care. And I love it. It's a part of me. So when you give up something that's part of you, that's a big deal. But I just have so much respect for all involved and I'm thankful for the opportunity that I've had. I hope that more often than not, I did it well. I know there were times where I could have done it better. I'm sure of that. You learn those lessons in life and you move on."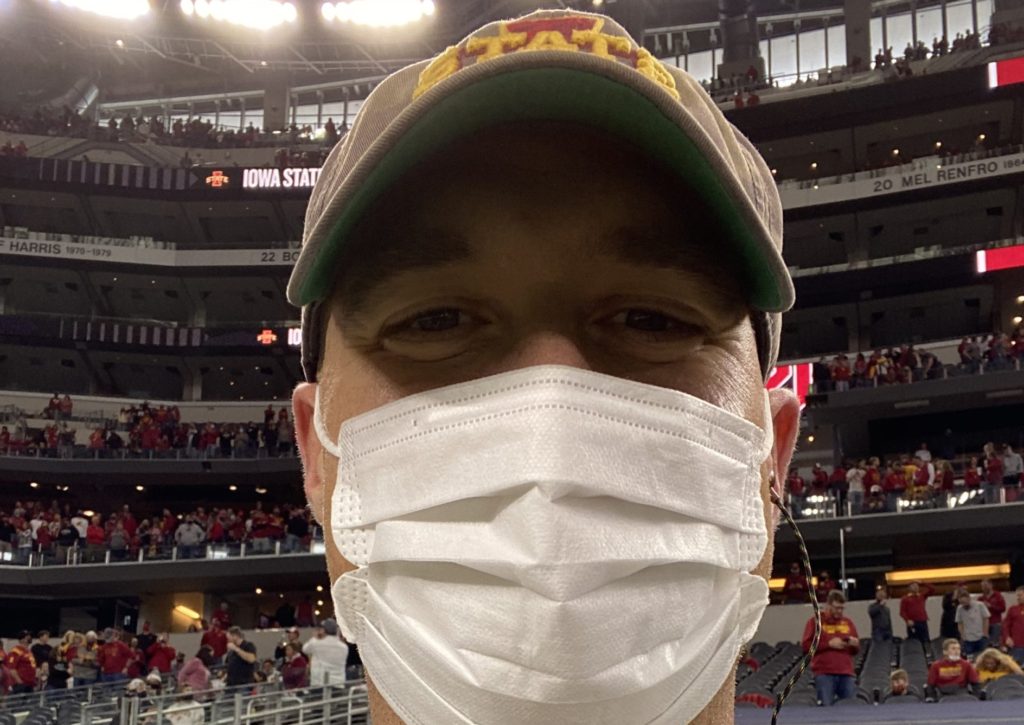 Most assuredly, Bruns didn't (screw it) it up — just like during his Cyclone playing career that started in that tense, yet exciting practice huddle. He worked hard and shined, enlivening 20 years of game broadcasts with deep knowledge, insight and enthusiasm.
"Well, Ben was not only a valuable part of the broadcast, but a good friend," Walters said. "(A) very easy guy to talk to. A fun guy to talk to. Engaging. Intelligent. Whenever we got going and had conversations at a roundtable over a couple of beers where it was (Brent) Blum and myself, and Ben, and Eric, I was definitely the dumbest guy in the room. I know that. It was not even a contest, but, man, I sure enjoyed those conversations. … It wasn't always football. Some of it was. We shared a lot of great stories about great memories."
What's Bruns' greatest memory from reporting on the sideline? Witnessing — and helping to describe — ISU's stunning and monumental 2017 upset win at Oklahoma.
"Just absolutely a game-changing sort-of a win," Bruns said. "It's those things that make all the other stuff really worth it. I'm just blessed to have had the opportunity to do it."
Now it's Harklau's turn.
"I think my responsibility is to represent the coaching staff and the players and to help tell their story of what's going on," Harklau said. "You know while having a little insight into what's going on by getting into locker rooms, getting into practices and a couple of team meetings, to hopefully tell the story of here's what they're trying to do — whether it's going well, or not. At least give the fans an understanding of why is it going this way? I think that's going to be my responsibility, telling that part of the story, because John and Eric do a great job. Where I can help, I think, is I've been in those lines. I've been in those trenches. But now, having some access to this program, I hope I can give the fan a picture into what's going on with these guys on a Saturday, but also how they got there from Monday through Friday."
That's real. That's additive. And Harklau's perfectly suited to provide it.
"You're very fortunate to find another guy who has the same time reference as Ben did, the same knowledge of the history of the program, the same passion for Iowa State," Walters said. "He always wanted to be a Cyclone, has stayed right here within the state of Iowa, so has been able to follow it closely. A very eloquent speaker, just like Ben, and very knowledgable."
Annnnd?
"I'll still be the dumbest guy in the room!" Walters said.