Nov 27, 2020; Austin, Texas, USA; Iowa State Cyclones tight end Charlie Kolar (88) avoids tackle from Texas Longhorns defensive back Caden Sterns (7) in the third quarter at Darrell K Royal-Texas Memorial Stadium. Mandatory Credit: Scott Wachter-USA TODAY Sports
I would love to masterfully create some clever lede to capture the significance of this moment. However my name isn't Rob Gray and sometimes it's better to just let the players do the talking.
Iowa State's Heisman-worthy sophomore running back Breece Hall said it best following Iowa State's 23-20 victory over Texas on Friday.
"It's five-star culture vs. five-star players," Hall told the media moments following his game-winning 3-yard touchdown run, which came on a drive that resulted in Iowa State's first red zone touchdown of the day.
The scene was profoundly poetic.
Little old Iowa State – the program I used to watch practice inside the Lied Rec Center while I jogged my fat ass around the track up above – all but clinched a spot in the Big 12 Championship Game on the road vs. the mighty Longhorns, whose locker room toilet bidets are coated in gold (would it surprise you these days?).
Hall's quote was subtle smack, but it showcased wisdom beyond his years.
You win in life with great people, incredible work ethic and motivation.
Talent can only get a guy or gal so far in this world.
These Cyclones are talented, but their locker room is full of mostly two- and three-star prospects who have worked for everything they have gotten.
When you play football at Iowa State, you don't get many benefit-of-the-doubt calls. You can lead the country in rushing but Heisman voters still won't pay attention to you. To many, you are a second-class citizen in your own state.
That's why Breece's comments about the buzzword "culture" hit me so hard.
It took me back to halftime against Baylor a few weeks ago. Brock Purdy had thrown three interceptions and the Cyclones trailed by two scores, yet during our halftime show, I felt an odd calm within my football-loving soul.
I actually trusted this football team.
The same goes for this past week leading up to the Texas game. I believed the outcome would be a toss-up. On paper, these are two very evenly matched football teams. But I knew in my heart that if Iowa State lost, it would be because they had been beaten by a better team.
I no longer fear for the epic Cyclone "kick to the stones."
Hall referred to the program's culture as "5-star," but I'll take it a step further. I have seen this fan base grow too. No longer do we expect the worst.
No, fans aren't on the field, but negative (or positive) energy reverberates.
It starts from the top, which is why we owe Matt Campbell so much.
Let's jump into a very broad Three Up, Three Down from what I think we can safely call the biggest win in the history of Iowa State Football.
THREE UP
1 – Evolution — I was hosting the Cyclone Radio Network postgame show when I looked down at my Twitter feed during a break. I saw this and came away touched.
Rhoads is all class. I deeply miss the man and his family, who all truly love Iowa State.
His tweet reminded me of something Jamie Pollard has talked about for years.
Pollard has a theory (allow me to paraphrase): It took Dan McCarney's base to build to Gene Chizik's recruiting. It took Chizik's recruiting to built to Paul Rhoads' passion and selling of the program. The energy that Rhoads brought to Iowa State set the table for Matt Campbell to come and grow the culture.
I exchanged text messages with McCarney after the game. He was emotional and proud, like every true Cyclone.
There is something about this place that gets in your blood.
We saw that on Friday. Former coaches and players from all eras were locked in, tweeting and tearful.
Loyal sons forever true.
2 — Iowa State doesn't have to be perfect anymore.
This victory wasn't an impeccable performance by any stretch of the imagination.
An illegal formation that basically gave Texas three free points in the second quarter…
A missed field goal…
Breece Hall didn't reach 100 yards rushing for the first time all season …
A slow start on defense…
An offense that didn't produce a touchdown in the red zone until the final drive of the game…
Iowa State didn't play poorly on Friday but it wasn't a PERFECT game by any means. That's where the program is at. Sure, the "margin for error" that we hear about so often is smaller in Ames than at a college football blue blood program that's loaded with five-star recruits. But the talent level is high enough to be dangerous and the mental capacity of this team is off the charts.
Iowa State no longer has to be perfect to beat good football teams in big situations.
3 — Latrell Bankston — I have a soft spot for the interior linemen in Jon Heacock's dime-stack scheme.
Bankston saved his two best games of the season for Kansas State and Texas, taking up two blockers nearly every snap that he played.
Guys like Ray Lima rarely get the box score love of their defensive end brothers, but damnit they are so valuable.
It was fitting that Bankston got the sack that pushed Texas' attempted game-tying field goal to a whopping 57 yards.
Bankston deserved that moment greatly.
THREE DOWN
1 – Tom Herman — I've known the man for a long time, but Texas head coach and former Iowa State offensive coordinator/Ames native Tom Herman had this coming.
Ames > Siberia, and I'll leave it at that.
I don't dislike Tom. I actually really like him being in the Big 12. It keeps things interesting.
For two reasons, I don't want him to lose his job.

1 – Why would anybody wish that upon another human being, especially one you consider a friend?
2 – I do NOT want Urban Meyer in the Big 12.
But damnit, Tom.

Don't do Iowa State dirty like that. When you were here, Cyclone fans loved you like one of their own. Going off and staying stuff like that … it's just not how you treat people.
Again, I hope the man keeps his job. I care about him and his family. But if the Siberian Cyclones are the ones who knock him out of the Big 12, then there's probably something somewhat poetic about that too.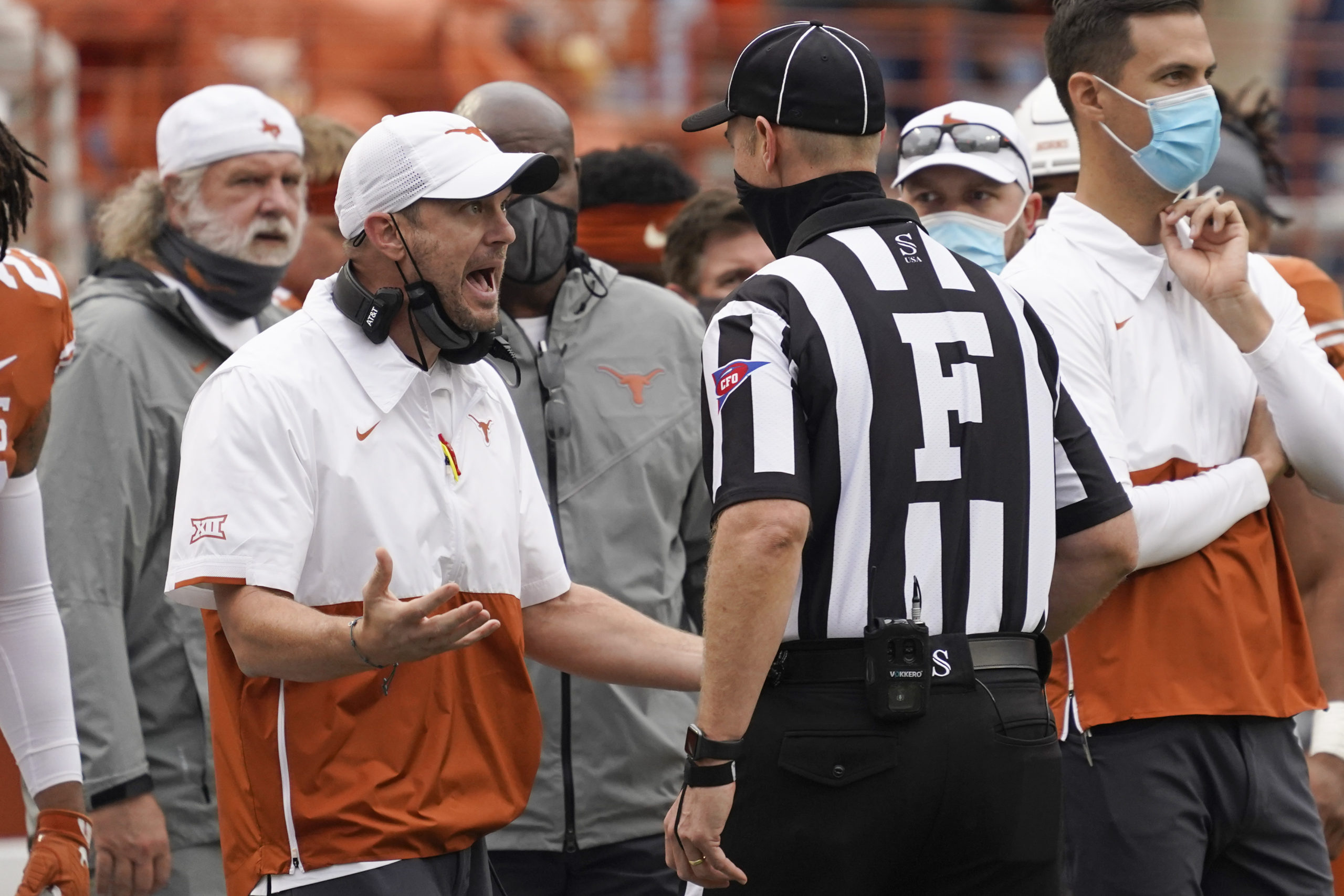 2 – Covid — I won't dwell on this, but is it not the most Iowa State thing ever that the program finally clears that championship game hurdle during a pandemic year when fans can't attend games?
3 – The one percent — We are being told that Iowa State has a 99 percent chance of making the Big 12 Championship Game.
Why does there have to be a one percent chance that it doesn't happen?
Relax.
Enjoy the moment.
If you're on this website, I can assure you that you deserve it.