Oct 31, 2020; Lawrence, Kansas, USA; Iowa State Cyclones wide receiver Joe Scates (9) runs the ball as Kansas Jayhawks safety Ricky Thomas (3) attempts the tackle during the second half at David Booth Kansas Memorial Stadium. Mandatory Credit: Denny Medley-USA TODAY Sports
The year 2020 has been full of surprises. Pretty much all of them bad.
Here's a new one that I experienced on Saturday: After signing off of Cyclone Reaction following Iowa State's 52-22 victory over Kansas, I hopped on KXnO's Cyclone SoundOff program with my colleagues Heather Burnside and Emery Songer.
We didn't mean to do the following. It just kind of happened (and keep in mind that we are all Cyclone fans). We spent the first 10 minutes or so nitpicking a 30-point conference road victory.
That's where Iowa State's football program is at now. Fans expect great things to happen. As a four touchdown favorite at kickoff, Iowa State was SUPPOSED to crush Kansas. Iowa State crushed Kansas. But it left us all wanting more and seeking out ways for this program to achieve things that it never has before – mainly a berth in the 2020 Big 12 Championship Game.
It's pretty cool. I am here for the nitpicking, scoreboard watching and most importantly, the dreaming. Except this isn't a dream. It is the reality of the situation.
It was far from perfect, but the Cyclones took care of business and grew as a football team in the victory.
With that, let's dig into this week's Three Up, Three Down and some additional musings on Iowa State's rout of the Jayhawks.
THREE UP
1 – It's a conference road win, and Iowa State is in a great position heading into November: Every one of us would have been ecstatic about 4-1 in the Big 12 heading into the month of November before the season.
On the surface, Saturday was very successful for the Cyclones when comes to the Big 12 standings. Both of the league's unbeatens, Kansas State and Oklahoma State suffered their first losses of the year.
However, Texas, who won in overtime in Stillwater, now has some juice. They play West Virginia and Kansas in their next two games, which will likely set up a Black Friday showdown vs. Iowa State on Nov. 27. The winner of that game could very well earn a spot to play for the championship (Iowa State hosts West Virginia and Texas travels to Kansas State in the final week of the season.)
Truth be told, it is probably too early to do too much of that. I think we only really know two things about the Big 12 so far this season.
1 – Kansas is the worst team in the league.
2 – The rest of the teams are very even.
— This is more of an individual commentary, but has to be made. Breece Hall is unreal.
After the TCU win, I wrote that Breece might already be better than David Montgomery was early in his career as a Cyclone. It's now starting to look like not only is Breece that kind of a back, but we are watching greatness in its early form.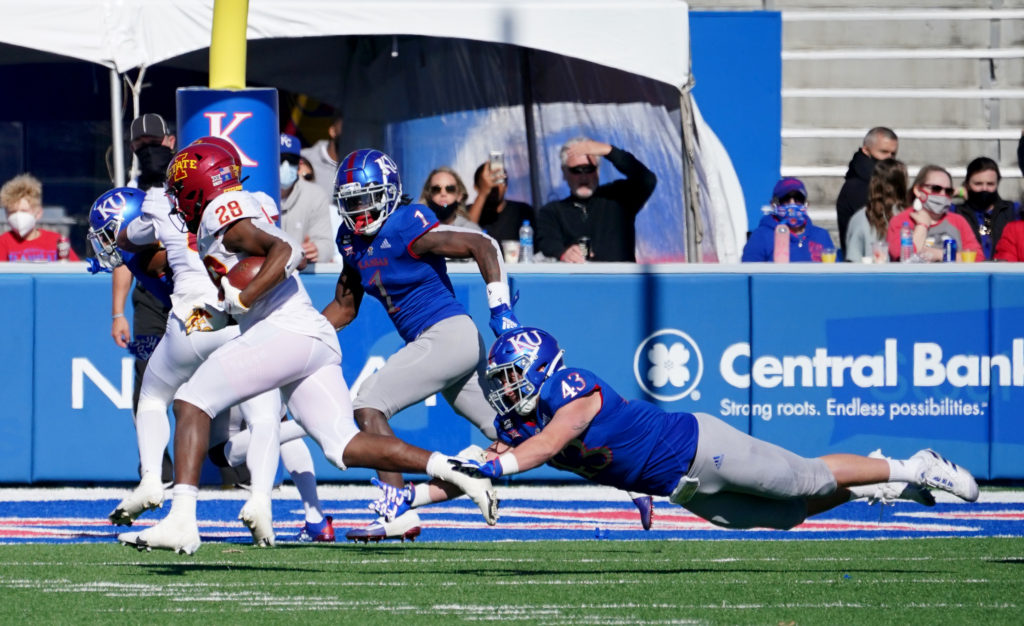 If the season ended tomorrow, I'd guess that along with Alabama's Najee Harris, Breece Hall would be a favorite to win the Doak Walker Award, which is annually given to the nation's best running back.
Elite.
Six games in, Hall has 901 yards and 11 touchdowns on 6.7 yards per carry. That's an average of 150.2 yards per game.
Silly.
2 – Spreading it out on offense – While the passing game still needs work, a big offensive gripe after the Oklahoma State game was Iowa State's inability to get the ball downfield, specifically to its wide receivers. In the OSU loss, the Cyclones only targeted one wide receiver prior to the final drive of the game. That's tough to do.
Iowa State came out of the gates and specifically tried to get receivers not-named Xavier Hutchison involved early. This resulted in Landon Akers of all people leading Iowa State in receptions Saturday with six. Sean Shaw and Joe Scates also caught passes from the wide receiver position.
Nine Cyclones caught passes in the win.
It didn't stop at wideout. Kene Nwangwu was involved heavily, early and often. Of course, the tight ends were a focal points of the offensive attack.
It wasn't a perfect offensive performance by any means but I totally understood what Tom Manning was trying to accomplish, especially early in the football game.
3 – Isheem Young – I don't have a ton of numbers to back this observation up, but sometimes you just get a feel from a certain player and how he impacts the team.
Iowa State's defense seems different – and much better – when Isheem Young is in the game. We really got a glimpse of that in the first half of Oklahoma State. He was awesome in the second half and backed it up in Lawrence with four tackles (one for a loss), a forced fumble and two breakups.

The guy is just everywhere. He's one of the most exciting players on the roster and as a redshirt freshman, Isheem Young is just getting started.
THREE DOWN
1 – Special teams: The good thing is, neither blunder was enough to hand Iowa State a loss against Kansas. That would have been disastrous. But the blunders keep happening. Again and again.
Connor Assalley missed a first half extra point. He recovered to make a field goal with a 20 mile per hour wind in his face and five more PATs. Loved to see that. But he's still awfully iffy right now.
The Cyclones gave up yet another kickoff return for a touchdown. That's three on the season and four overall special teams touchdowns by opponents in six games.
I want to keep thinking that the special teams stuff is fluky but at this point in the season, it isn't.
2 – Pass protection: This was a major issue against Oklahoma State, who might have the best defense in the Big 12 not named Iowa State. I did not expect pass protection to be a problem against Kansas.
It was.
To his credit, Les Miles clearly had Iowa State scouted well. The young Cyclone line struggled to see blitzes a week ago and did so again in Lawrence.
I'm curious if this is a personnel problem or perhaps it is more schematic. The answer to that is above my pay grade.
Hopefully it is the latter and adjustments will continued to be made.
Stay tuned.
3 – Not sharp: The 30-point victory was hardly a poor performance but it wasn't razor sharp either. It just felt like Iowa State let Kansas hang around when they should have been able to step on their throat earlier in the day.
It was a blast watching Hunter Dekkers connect with Joe Scates late in the game. I would have liked to see those guys play earlier.
First world problems.
But still.
MORE MUSINGS
— Johnnie Lang, who started multiple games at running back in 2019 for Iowa State, took some snaps at wide receiver on Saturday.
— Iowa State tried to block multiple punts in the game. That is a very un-Matt Campbell-like. Perhaps a sign of things to come?
— Mike Rose belonged in "Three Up" but I gave the nod to Young as it was a less obvious observation. After Breece Hall, Rose is probably playing better football than anybody else on the roster. In checking the season stats, he's at 45 tackles (team leader) now with two interceptions on the season.
— Up next for the championship contending Cyclones is a 1-3 Baylor team that at one point trailed TCU 30-0 on Saturday. To their credit, the Bears responded and only lost 33-23. I haven't seen a snap from this game yet but fully expect defensive minded head coach Dave Aranda to have a handful of unique blitzes ready to throw at Iowa State's offensive line next week. They better not get too cute though. This is the same Baylor defense that allowed TCU to run for 247 yards on 5.6 yards per carry.
It will all go down next Saturday at 6 p.m. in Jack Trice Stadium.