Nov 28, 2019; Nassau, BHS; Iowa State Cyclones guard Tyrese Haliburton (22) reacts with teammates after scoring during the first half against the Alabama Crimson Tide at Imperial Arena. Mandatory Credit: Kevin Jairaj-USA TODAY Sports
The night before Iowa State tipped off against Michigan last week, I was having a conversation with some diehard Cyclone fans in the lobby of the Atlantis Resort about how the team could realistically drop two games down south and still play some pretty solid basketball.
That is exactly what happened.
Granted, prior to those conversations, I never would have guessed that Iowa State's first opponent, then unranked Michigan, would win the tournament and become a top-five team just a few days later. (The Wolverines are No. 4 in the country after last week's wins over Iowa State, North Carolina and Gonzaga.)
What about Iowa State though?
Here are some takeaways from a week in which we learned a lot about Steve Prohm's 2019-20 squad.
Iowa State belongs…
The talk of the final day of the tournament was how Iowa State gave the Wolverines their best game in Atlantis. I didn't feel like the Cyclones played that well in their opening bout either.
What's it mean?
I honestly don't know. But I do feel a heck of a lot better about Iowa State basketball this season now compared to when we got off the plane in the Bahamas a week ago. 
First of all, that field was absolutely loaded.
Of course, Michigan went on to win the tournament. Juwan Howard's team is really, really good.
My honest opinion: Seton Hall might have been the best team in the field. They blew a double-digit second-half lead vs. Oregon. Stacking them up against one another by what I saw when they played Iowa State … Seton Hall is really damn good. 
Iowa State will get another crack at the No. 16 Pirates again next Sunday.
Tyrese is…
…Perhaps going to be the best player on the floor every time that Iowa State takes the floor this season.
Perhaps…

But his performance in Atlantis reminded me a lot of what Talen Horton-Tucker did last year at Maui. That's when "THT" went from being a probably 2-3 year guy in college to a one and done. 
Against some of the best guards in college basketball, Tyrese averaged 22.3 points, 7.7 rebounds and 7 assists per game in the Bahamas. We watched his level of play rise last week to a spot where it needs to be if Iowa State will reach its full potential this season.
If I had to guess right now, I'd tab Haliburton as a lottery pick for the 2020 NBA Draft. But a lot of basketball still has to be played until then. The great thing about Tyrese is that I don't even think that is on his radar. He's just having a blast being a Cyclone.
Rasir Bolton changes everything
If you guys listened to my postgame podcast after Iowa State's victory over Southern Mississippi a few weeks ago, you heard me talk about how the Cyclones simply can't be as bad of a 3-point shooting team as they had recently shown. 
Correct.
One of the reasons I thought that is because of Rasir Bolton. Prior to the Battle for Atlantis, the Penn State transfer just never looked fully comfortable during his brief amount of time in an Iowa State uniform.
Then, the sophomore went 5-of-7 from deep vs. Alabama and showed some real grit down the stretch slashing to the lane vs. Seton Hall.
I like the way this is trending…
Bolton averaged 17.3 points per game in the Bahamas including a 5-of-7 night from three on Thanksgiving vs. Alabama.
If he is that guy going forward (in which he will only get better), Iowa State's offense has an entirely different gear to it.
It is also notable and important to acknowledge that while Iowa State probably won't ever be an elite 3-point shooting team this season, the Cyclones are currently ranked 22nd nationally in offensive efficiency according to KenPom.com.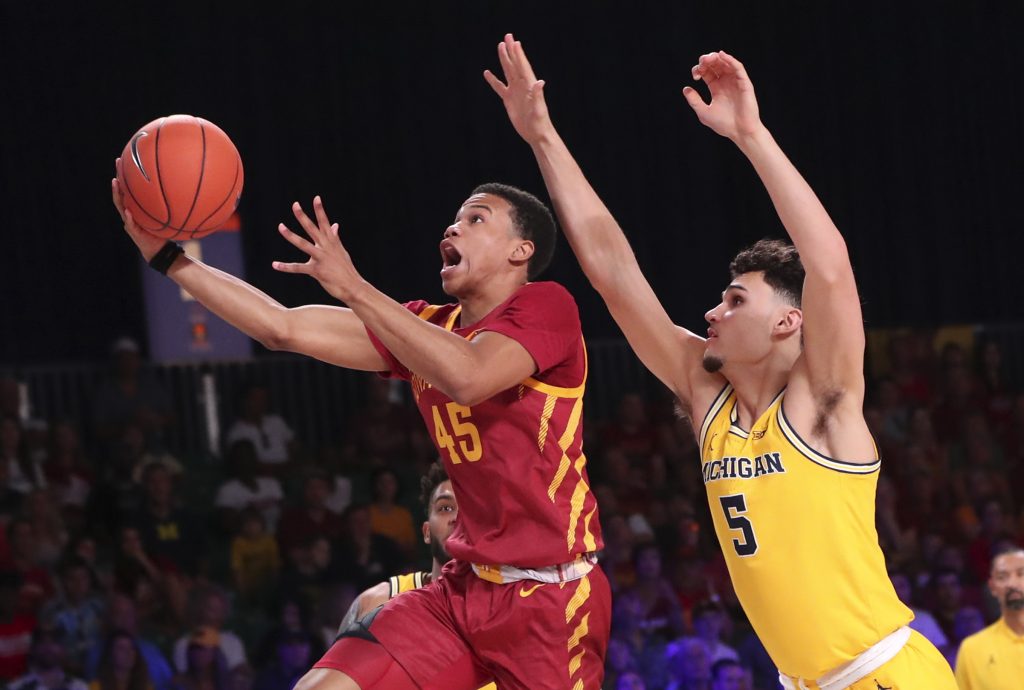 Tre Jackson can ball
I am incredibly excited about the future of freshman Tre Jackson.
In Oregon a few weeks ago, assistant coach James Kane told me that Jackson was already one of Iowa State's best on-ball defenders. He proved not only that down in the Bahamas, but he will hit some shots too.
Jackson played 26 minutes in the win over Bama and 23 minutes vs. Seton Hall.
The way I see Jackson at this very early point in his career: He is a younger version of Prentiss Nixon who at this point, probably is more skilled (compared to Prentiss as a freshman).
I see tremendous upside here. The young man is an absolute grinder who as a freshman, has the toughness of a senior.
For the record, I also really like freshman Caleb Grill. He's a gritty kid who will continue to contribute this season.
The four-guard lineup…
We saw a lot more of this down south. Iowa State is going to continue to play big and small this season, which I appreciate because flexibility is a good thing. 
Cue Matt Campbell: "Gotta be multiple."
When going big though, Iowa State needs more out of its four-spot.
I think that Michael Jacobson – like we saw in the Big 12 Tournament last year – is going to have some great games during his senior campaign. There is no doubt in my mind about this.
But whoever is at that spot has to produce more than two rebounds in 23 minutes like Jacobson did vs. Seton Hall. If it is Mike, George Conditt or Solomon Young, everybody knows that.
My personal favorite line up that Iowa State can play is Haliburton, Nixon, Jackson, Bolton & Conditt. But I plan on it being a while before we see that consistently. 
Jacobson and Young are both guys who are deserving of minutes.
It will be interesting to watch this whole thing play out.