AMES — The skin-penetrating ink reaches up Zion Griffin's upper left arm and touches his lower shoulder.
The elaborate artwork centers around a cross. Three larger-than-life letters undergird the powerful symbol: W.C.G.
They commemorate the life of Griffin's late grandfather, Willie Guyton — who always stood rock-solid for Iowa State's buzz-producing guard/forward from Chicago.
"Everything I do is for him and my family," said Griffin, who endured a tumultuous freshman season that started with knee surgery and ended with sparse playing time. "That's why I feel like I'm so passionate about the game. I'm using this as a platform. I want to help my family out, because I don't come from an (easy) upbringing. Everything's not peaches and cream. I'm trying to do this for them."
"This" involves excelling as a student, teammate, and athletically-gifted basketball player.
"This" transcends a stat sheet, a slam dunk, or a swished 3-pointer.
 "This" centers on family, which lovingly threads through Griffin, his mother, Santina Guyton, his siblings, Zebree and Jaydah, and back to his grandfather, whom he lost on Feb. 1, 2018 — roughly five months before receiving his first power-five scholarship offer from Steve Prohm's Cyclones.
"They say you're not supposed to have a favorite, but Zion and my dad's relationship was unbelievable," said Santina Guyton, who works two jobs as a single mother of three. "That was his best friend, so he took it pretty hard, we all took it pretty hard, but for the most part, I think it makes him stronger. I tease him a lot because I have an image of my dad, because my dad played basketball when he was in high school, and the image of my dad at Zion's age — and Zion is a spitting image of my father.
"So I always tell him that, 'Paw-Paw's playing his game through you,' because that's what we called him, 'Paw-Paw.' I say, 'He's playing his game through you, so just don't give up.' And my dad always told me, 'Santina, I love my grandkids. I love them all' — and this I know, that was that, but he said, 'There's something about Zion. He's going to be special.'"
Prohm agrees. He first saw Griffin play during the Lawrence, Kan.-based Hardwood Classic in July of 2018. That's when Griffin went from clutching a handful of low to mid-major offers to a firm four-star recruit drawing interest from power-five programs spanning coast to coast.
Now Prohm has identified the versatile 6-6, 217-pounder as the player who took the biggest step in his program this spring and summer. Where it leads is anyone's guess, but now that Griffin's regained full health, his wide-ranging skill set is shining brightly.
"Zion Griffin's been terrific," Prohm said earlier this month on media day. "I think he's the one guy, when you give out roles and they accept them, he's totally bought into his role: Make threes. Take good, open shots. And go to the glass every single time. He's playing with great athleticism and great purpose. He's healthy and his work ethic is really good. Really proud of him because he's made a huge, huge step."
 Griffin tends to do that. It's a family trait. And it's only just beginning at ISU, which Griffin stayed loyal to even as offers from Kansas and other blue bloods rolled in during his breakthrough 17U AAU summer.
 "Just off the floor, the main thing I can say about him is he is extremely humble," said Griffin's former AAU coach Quintin Garrison, who is now a first-year associate head coach at Trinity International (Ill.) University. "And I'm a little disappointed in myself that that's the second time I've said it. Probably should have said it more. A very, very humble young man. He's not one that, as my grandfather says, 'Smells himself.' He realizes that everything he got, it wasn't just strictly off of his own doing. It took a village to help him."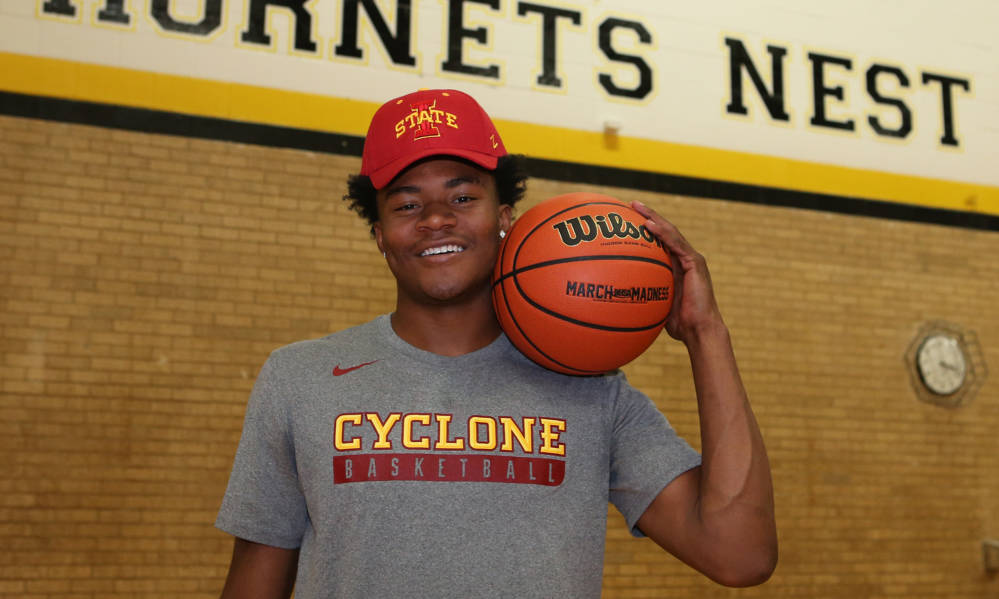 "YOU JUST SAW A GLOW"
Willie Guyton wasn't able to get to every single one of his grandson's AAU events, but when he did make it, Griffin took notice.
"When his grandfather was there, you just saw a glow on Zion's face," Garrison said. "Just knowing that his right hand man was right here supporting him at the games, he wanted to do things a little harder, a little better to make sure he played a good game in front of his grandfather. That was a relationship I know he valued. He values the life that his grandfather lived and looks forward to carrying on the legacy of his grandfather's name."
Willie Guyton set a strong example. He didn't just help out family. His generous spirit radiated through the community.
 "My grandpa was a very good man," said Griffin, who averaged 1.8 points and 1.6 rebounds while averaging 6.6 minutes in 17 games last season. "He always made sure that I was good and not even just me. Like my friends, if I would bring friends over to our house, he would always make sure that they had food in their stomach. He always made sure that the kids in the neighborhood that I hung out with, he made sure everybody was good, so he brought the peace together in the neighborhood, in my opinion, and I'm pretty sure everybody that lived by me would agree with that."
Santina Guyton inherited her father's commitment to family and hard work. She runs the bakery and deli at a Chicago-area Wal-Mart and works a second part-time job at a nearby McDonald's. She talked with her son daily when he was going through two months of rehab last season — and countless hours churning his legs on a stationary bike.
"It sucked," Griffin summed up. "Just to get it out there, it sucked a little bit, but at the same time, I knew it happened. It was a step. I was hit by a wall. I had to overcome that."
Mom helped. She always has. So the two often spoke between her job shifts.
"Thank God for video chat," Guyton said. "So in between jobs I would talk to him and just make sure he's staying focused as a kid. That was my biggest priority, just to make sure that he felt the support that I've always given him throughout his life, regardless of if you're here or not, I will always have your back."
Guyton helped her son regain his confidence — and not just through the daily talks. Griffin said returning home for a while after the season helped sharpen his resolve and allay any lingering self-doubt.
"I feel like after I went home, after we got that little break after the season was over and I went home, I feel like I got my confidence back," Griffin said.
He also reconnected with immediate and extended family. Loved ones such as his older brother, Zebree, and younger sister, Jaydah, who has autism.
Jaydah is on the dean's list as a high school senior — and like Zion, fielding scholarship offers based on her academic acumen.
The family helps support her by watching cartoons together, which she uses to better communicate her emotional state.
"That's kind of how she relays to us how she feels," Santina Guyton said. "So if she's kind of sad, she'll relate to a cartoon scene and she'll just repeat that scene and we know how she feels because we watched it with her. That's kind of how she is."
It's how the family is, too. A true team. Lifting each other up to meet any challenge, whether in the living room or a long-distance cell signal..
 "My life is pretty much surrounded with them," Santina Guyton said. "I don't care if I live to the last breath of me supporting them. I would be happy."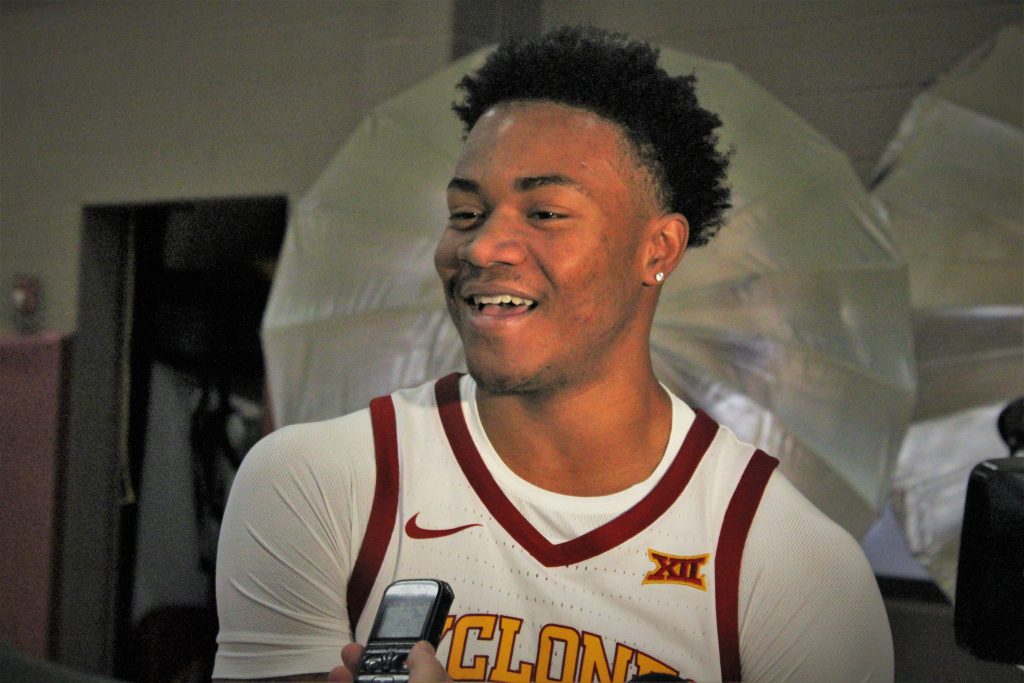 "THE STEVE PROHM GAME"
Griffin toiled in near-obscurity until he burst onto the national scene two summers ago.
"Lightning struck in a bottle for Zion," Garrison said.
But just how hard was it to attract interest from prospective schools before Griffin's stunning Hardwood Classic performance?
"I literally had to beg a Division II school who I had a relationship with and one of their assistants, who's now a head coach of a G League team, real close with him, I begged him one April Sunday morning, started at 6 a.m., called him," Garrison said. "It was after the second live period that April and I was like, 'Dude, Zion needs something. He's good, but I don't know how good he's going to be, but he's at that level right now. Help me, help me, help me.' He was like, 'All right, Q. Man, let me call you back.'"
The callback came — after Griffin's breakout in the Sunflower State. Prohm happened to be in the stands that day as Griffin poured in 42 points and drained nine 3-pointers. His first text buzzed assistant Daniyal Robinson's phone.
"Coach was like, 'This is my type of guy,'" Robinson said.
Garrison said Griffin's big day was part of a rapid progression. He hadn't previously scored more than 24 points in a single game for the Illinois Hoopers — but that's simply because he's such an unselfish player. It's team-first for Griffin. Always. Even as he helped lead his team down an impressive path that included 13 wins over shoe-sponsored teams.
"Nationally, we weren't known at all and then Zion exploded for, shoot, 42 points," Garrison said. "And I think he had nine 3s that game, if I'm not mistaken? Yeah, I think he was nine-for-14 from 3 and then as soon as that game ended, needless to say my phone started blowing up, but the only head coach at the time that had called was Steve Prohm and then that got the ball rolling."
Bill Self called later. Garrison said Griffin's offer list eventually swelled to almost 30 — with many other high-profile schools showing strong interest.
But Iowa State being first in line stuck with Griffin, who was the Cyclones' first big-time recruit of a stacked class. He spurned the other offers and prepared for life at ISU.
"Once I'm here," he said, "I'm not going anywhere."
"VERY PROUD"
Griffin's athleticism, Robinson said, "pops off the paper." His ability to shoot it from deep and crash the glass make him an intriguing candiate at the four spot for the Cyclones, but he's capable of being a three, as well.
"His body looks great," Prohm said. "He's got to where he can really make shots. He's making threes. The biggest thing is our team this year has to find different ways to score. OK? Can we score on the offensive glass? Can we score by turning people over? Can we score in the side, underneath, out of bounds at times? He has sold out to going to the glass and being the best offensive rebounder on the team and he's making shots."
It wasn't always this way.
Griffin said he couldn't even make the cut for a team until the eighth grade. Was it his size? A thin frame?
"Both," Griffin said.
Tough times. Grandpa helped him through it. He'd passed down a passion for the game that stemmed from pure joy, not outward results.
"He was there for me, letting me know if I would come home from a tryout or something and I didn't make it or anything, he was just making sure that I didn't lose my love for the game," Griffin said.
A growth spurt ensued. Griffin shot up four inches. He diversified his skill set and now is poised to finally contribute in the way he envisioned.
He's not late. He's been taught there's no such thing as "never." There's only "can-do" — and that treasured tattoo that intertwines the past, present and future, forming an unbreakable bond, embodied by the letters, W.C.G.
"My grandpa was like my dad growing up," Griffin said. "He taught me a lot of the stuff — the way that I am today, so my grandpa and my mom were my biggest influences in my life."
That multi-generational influence lives on. It's why Santina Guyton sees her dad in her youngest son. It's why she smiles when Zion cradles the basketball, takes off, and sprints toward the hoop with purpose.
"I'm very proud if him, period," she said. "Just staying focused and grounded, which is really hard, especially when you come from a situation where you have your family there supporting you through everything, to being in a new state, by yourself, figuring it out at the age of 19. Like, words can't even express how proud of him I am. Him showing me that everything I fought hard for and tried to teach him, that he's actually absorbed it and he's using it. That's what's most important to me."