Iowa State hoops legend Gary Thompson.
The following is a press release from Iowa State Athletic Communications.
AMES, Iowa – The Iowa State Athletics Department is honoring two of its legends by naming the school's annual Male and Female Athletes of the Year in their honor.
The Male Athlete of the Year will be named for two-sport All-American and Hall of Famer Gary Thompson. The Female Athlete of the Year will be named for former Big 12 champion golfer Celia Barquin Arozamena, who was senselessly murdered last fall during a practice round.
"We felt this gesture was a significant way to honor forever the amazing legacies – as students and athletes – of two of the brightest stars in Iowa State history," Director of Athletics Jamie Pollard said. "Our staff felt it was appropriate and timely to recognize one of our favorite sons and one of our favorite daughters in the Cyclone family."
Thompson, nicknamed the "Roland Rocket" after a stellar prep career at nearby Roland, Iowa, was the first multi-sport All-American in Iowa State history. He became the first player in school history to score 1,000 points and his No. 20 was retired by the school. Thompson scored a then- school-record 40 points vs. eighth-ranked Vanderbilt and helped his 1957 team defeat top-ranked Kansas and its star center, Wilt Chamberlain. A two-time winner of Iowa State's Athlete of the Year (1956 and 1957), Thompson was selected to Iowa State's inaugural Hall of Fame Class in 1997.
"This is a great honor for me," Thompson said. "I am forever proud to be a Cyclone and flattered that Jamie Pollard thought of me for this prestigious award. Winning the Iowa State Male Athlete of the Year Award is one of the highest honors you can receive as a Cyclone. It was a great honor for me more than 60 years ago, and to have my name mentioned with Celia is really special."
Thompson's baseball career as a shortstop included a .311 batting average as a senior when he led the Cyclones to their first College World Series appearance. After a brief amateur basketball career, where he was a member of the 1959 United States Pan American team, Thompson later became a nationally recognized college basketball announcer.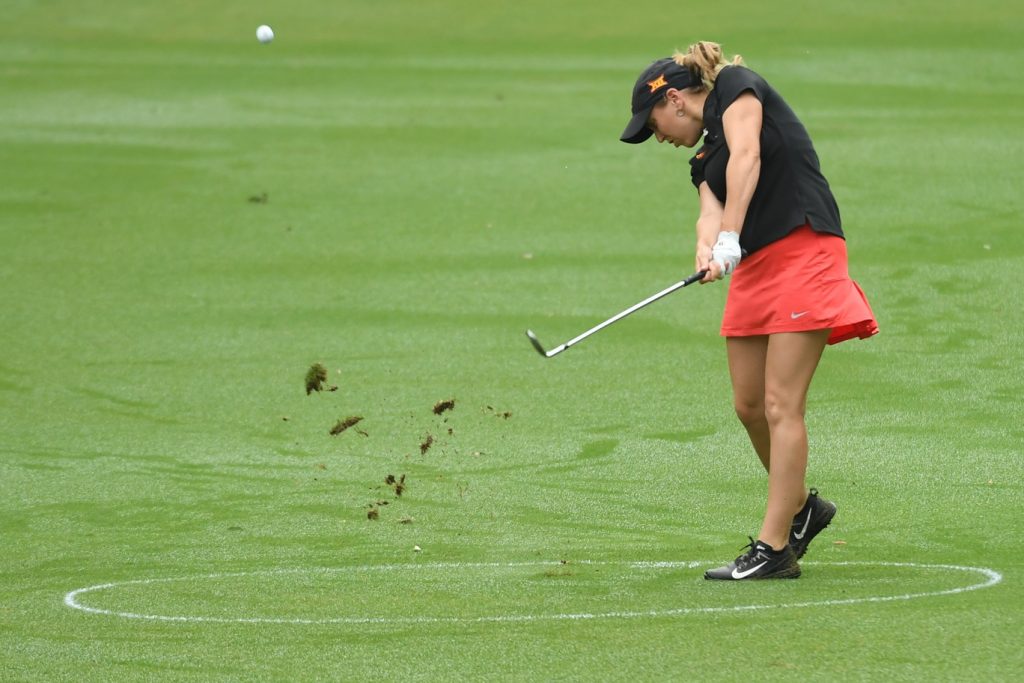 Barquin Arozamena, a native of Puente San Miguel, Spain, was Iowa State's 2018 Female Athlete of the Year. She led Iowa State to four-straight NCAA Regional appearances, earned All-Big 12 honors three times and was ranked as high as 69th nationally.
"It is a wonderful tribute to one of the most beautiful persons and best representatives this school has ever had," Head Women's Golf Coach Christie Martens said. "Iowa State was such a special place to Celia and her family was extremely appreciative of this way to celebrate her amazing legacy."
Barquin Arozamena was a three-time Academic All-Big 12 honoree in civil engineering and was bestowed an honorary degree posthumously. After completing her eligibility with a school-record career stroke average of 73.44, she earned an invite to compete in the U.S. Women's Open and also won the prestigious European Ladies Amateur in the summer of 2018.
Winners of the 2019 Gary Thompson Iowa State Male Athlete of the Year Award and the Celia Barquin Arozamena Iowa State Female Athlete of the Year Award will be named later this spring.