Mar 16, 2019; Kansas City, MO, USA; Iowa State Cyclones forward Cameron Lard (2) embraces Iowa State Cyclones forward George Conditt IV (4) after a play against the Kansas Jayhawks during the first half of the final of the Big 12 conference tournament at Sprint Center. Mandatory Credit: Amy Kontras-USA TODAY Sports

TULSA, Okla. — There's something about the name George (or Georges) and Iowa State basketball. 
The one spelled with an S at the end of it currently plays for the Utah Jazz. That guy – one of the most beloved players in Iowa State history – is a household name in Ames.
There's a strong feeling within Steve Prohm's program that the other one – freshman George Conditt – will someday be as well. 
Conditt, a 6-foot-10 freshman out of Chicago, has only averaged 8.2 minutes per game this season. So how is he one of – if not the most popular player on Prohm's young roster?
Because Iowa State fans aren't stupid. They know when a guy wants to be there.
Niang's winning certainly helped, but his Iowa State-loving attitude is just as big of a chapter when telling his story.
Conditt, too, gets it. But so far in his young career, he's had to show it in a different way.
"Everybody has a role," he said. "My role was to provide energy for the team whether if it was on or off the court. Whenever somebody hits a big shot, cheer for them. I will always be the first person off of the bench to cheer for them. I will bring the energy. If they are doing something good or doing something bad. Whenever we go to timeout, I instantly talk to these guys to do something more and do the extra stuff. I understand my role."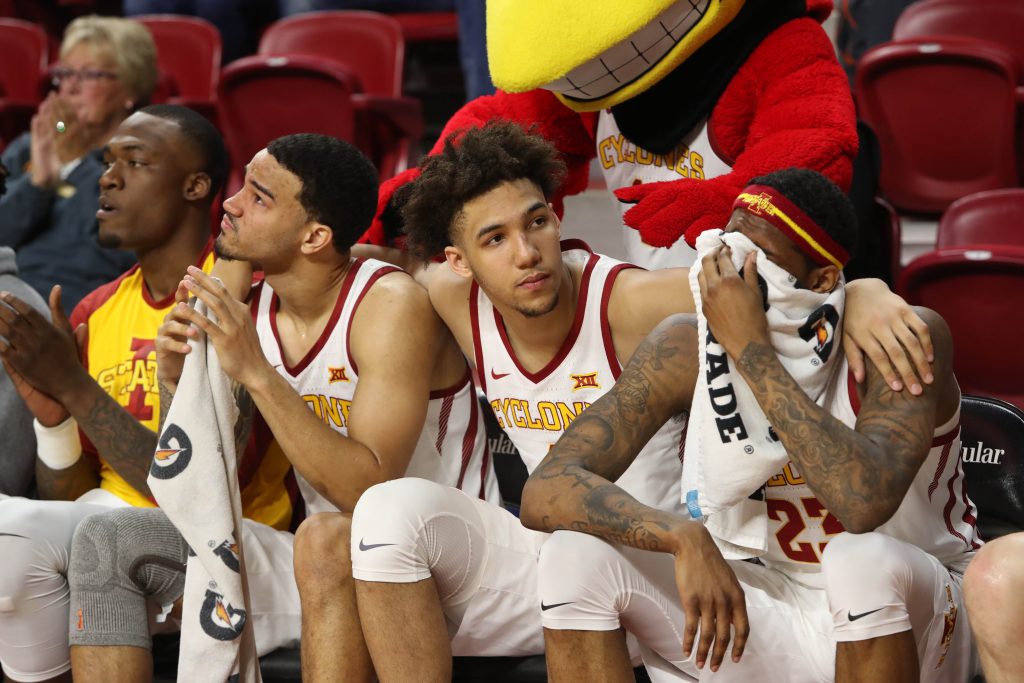 Say whatever you want about the 2018-19 Cyclones, but don't call them consistent. This season has seen more peaks and valleys than the Rockies.
Conditt, however, has been a rock. 
When the Cyclones were winning, you saw him at the end of the bench swinging his towel. When things got rough, nothing different.
"He's a team guy," said Prohm. "He's always tweeting with fans after games. I've gotten a ton of emails about him being at a women's game and signing autographs or pictures. He understands what it means to play here and the responsibility you have when you play here."
His teammates feed off of it too. Another fun freshman, guard Tyrese Hailburton, appreciates Conditt more than most. 
"We are both the skinny dudes," Haliburton said. "Not everybody thought that we would play right away."
The "skinny dudes" pushed each other in the offseason, which is another chapter of Conditt's story.
How do you become a leader on a team while barely seeing the floor?
Maturity.
"In this day and age, it's all about me, me, me and me," Haliburton said. "He really embraces, 'We before me.' It's huge and you don't see that much anymore."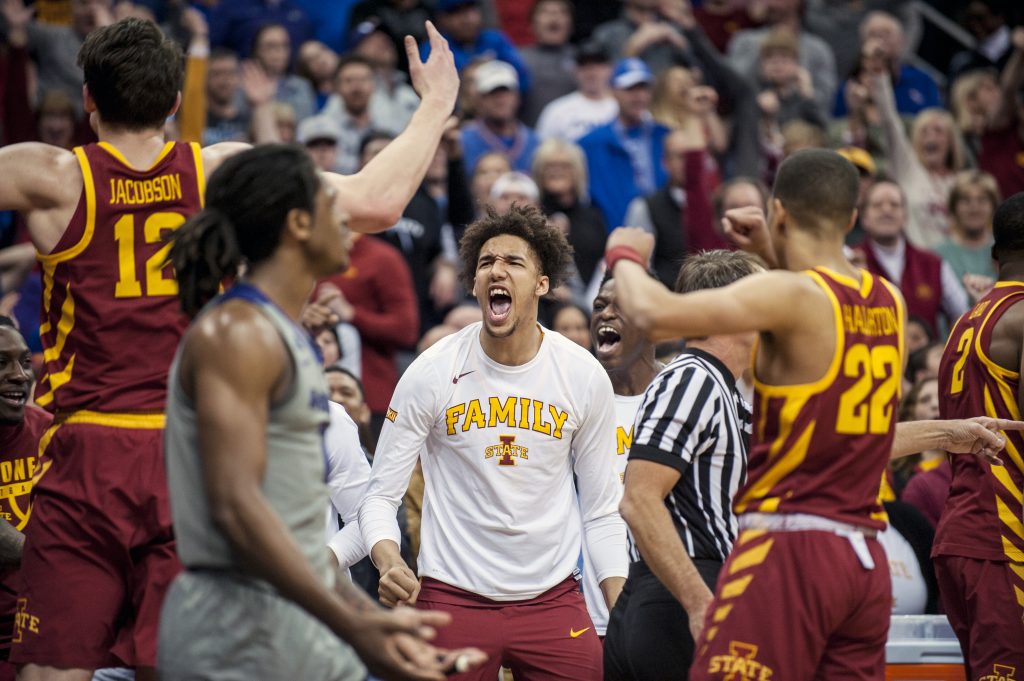 Family tradition
George Conditt is living his dream of playing for the Cyclones, but it's one that he never really had much control over. 
Conditt's father, George Conditt Sr., played football at Iowa State in the early 90's. 
"Cyclone football and Cyclone basketball were watched heavily in my house," Conditt recalled. "I didn't have a choice! Whenever Iowa State played, I had to watch. When they went on tournament runs or stuff like that, I watched it all."
This was in Chicago, where college football is basically afterthought.
Remember the old NCAA Football video games?
That too was a big deal in the Conditt house. It is the first recollection that little George has of becoming a Cyclone fan.
"It was the year when you could  first make your own character," Conditt said. "He (dad) made me and put me on Iowa State."
After seeing himself on the big screen wearing cardinal and gold, Conditt was all Clones. Dad created a lengthy wide receiver that would go on to win Iowa State its first football national championship – digitally, of course.
Over the last year, George Sr. has become a prominent voice on "Cyclone Twitter." He's constantly chatting with fans and being a positive voice for the team. It's easy to see where little George gets his bubbly personality.
What fans don't get to see though is Conditt's mother, Carol. 
"What you all don't realize is that my mother is the one who drives him to have my back. She stays on him. My mother is everything," said Conditt. "My mom forces him to tell her what's going on. Makes him call me to make sure I'm ok. That type of stuff. She is constantly trying to talk to me." 
Both of Conditt's parents work in law enforcement when they aren't cheering on the Cyclones. 
"George understands the tradition," Prohm said. "You can say 'Georges Niang,' and he recognizes that. I think that's what it is about. Any great program that you study, they have to have an appreciation for Fred, Grayer, Fizer, Tinsley, Hornacek."
Upside as a player
Speaking of Niang, let's flash back to the summer of 2017. Niang and his cohort, Naz Mitrou-Long, were in town working out while Conditt was on a visit. As is often the case, a pickup game ensued inside of Iowa State's Sukup Practice Facility. 
It's a day that Conditt will never forget.
"Georges came in and Naz came in," Conditt remembers. "I remember driving baseline and Georges was guarding me."
(Playing pickup ball with Niang was a dream for Conditt.)
"I got stuck, so I did Georges' special move," he said. "That one foot leaning jump shot from the baseline while falling away. I did it. He looked at me. Then Coach Hobbs looked at us and said, 'He just did your move!'"
Niang exited the game shortly after.
"Everything stopped," Conditt said. "He fell and stopped playing after that. It was a funny moment because I didn't even realize I had done it. It was stuff I tried all of the time in the back yard because I watched him all of the time."
This isn't just a feel-good story about a freshman on the end of the bench. 
Conditt can hoop and according to assistant coach Daniyal Robinson, his potential is "scary."
Time and time again this season, he's stepped when needed, sometimes without warning. That was certainly the case in last Saturday's Big 12 Championship game victory over Kansas, where he played a crucial 12 minutes due Michael Jacobson and Cameron Lard foul trouble.
"I've tried to meet with him every couple of weeks just to keep him engaged and understand what he means to our team and what he means to our program going forward," Prohm said. "He has handled everything great."
Conditt is getting stronger, which was the big knock on him out of high school. Since arriving in Ames last summer, he's gone from 205 to 222 pounds. Conditt's goal is to be up to 230 by the end of this upcoming summer. 
"The added weight has really helped with his confidence," said Robinson, Conditt's big man coach and lead recruiter. "You see it everyday in practice. You don't see it as much in games but we see it in practice. He competes and battles back. He can take the hits and you've seen the progression throughout the year."
Conditt's length and athleticism has been a force down low for the Cyclones. He's tallied 25 blocks in only 204 minutes. There is more to him though.
"I'm really working on jump-hooks," Conditt said. "I'm really working on spacing the floor. I'm spending time in the weight room. All of that is starting to show now. I have to go against three tons in Solomon (Young) and Cam (Lard) every day. I have to hold my own. If I'm not holding my own then I am going to get bullied all day."
Conditt gives an assist to teammate Solomon Young. 
"He's talked to me about his first year and how he earned his time to shine at the end of the season," Conditt said. "He's told me to stick with it and follow the course because everything will get better."
Who knows how many minutes Conditt will get on Friday night when the Cyclones take on Ohio State in the first round of the 2019 NCAA Tournament. In this conversation, it doesn't really matter. 
Win or lose, Conditt will be smiling, yelling and cheering on his teammates. Just like he always does.  And then he'll get back to work in the gym and weight room because the best of George Conditt is yet to come. 
"His ceiling is extremely, extremely high, said Prohm. "I know that with another summer and spring where he can develop, he has a chance to make a big, big jump."