AMES — Monday night at Hilton Coliseum had all of the makings to be a special one in the Iowa State history books.
The Cyclones were primed and ready to punch a ticket to the Sweet 16 for the first time since 2010. All they needed was a win in a Round of 32 showdown vs. Missouri State.
Senior Bridget Carleton was somewhere in between one and two games away from breaking the school's all-time scoring record.
After the men's basketball team had been eliminated from tournament contention on Friday, all eyes were on the women's squad that had the tools to compete with the best of the best, at least when they were hitting their shots.
On Monday, that wasn't the case.
The Cyclones finished the night with a 2-for-17 mark from behind-the-arc in a 69-60 loss to the Missouri State Lady Bears, knocking them out of the Big Dance.
"Disappointment," senior Alexa Middleton said of what was going through her head following the loss. "We all feel that that wasn't how it was supposed to end. You're going to miss this family that you have. We didn't play the way we wanted to play that game."
Iowa State got down to the Lady Bears early on and held its last lead of the game with 1:05 to play in the first quarter. From then on, it seemed like the Lady Bears hit every shot they could in the game's toughest spots.
MSU jumped to an 11-point lead out of halftime, but the Cyclones answered with a 9-0 run of their own. Every time Iowa State got close, the Lady Bears buried another.
"We weren't able to get that stop that we needed," Carleton said. "We put ourselves in a tough position there, but I think we got good looks. We just weren't able to knock them down."
Carleton finished the game with 31 points and never left the floor in the loss. As for her teammates, they didn't have 31 more points, combined.
"[Carleton] outscored the rest of our team," Fennelly said. "It's a make shot – miss shot type of game. She did everything she could tonight. She just didn't get the help she needed."
Carleton ended her career at Iowa State with 2,142 total points. The mark was seven points shy of tying the school's career scoring record, set by Angie Welle.
She did however finish with the most impressive season in school history, averaging a record 17.2 points per game.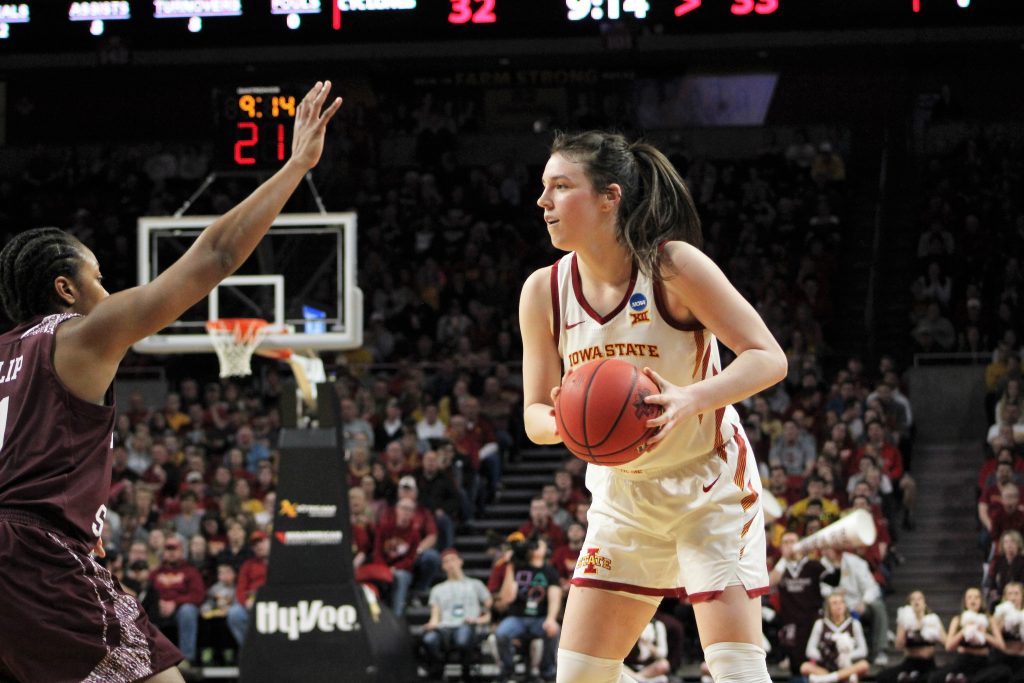 There's no doubt that her number 21 will be in the rafters some time at Hilton in the near future.
"She'll be remembered for obviously the kind of player she was – points, rebounds, etc; but what she'll be remembered for the most is, I don't think I've ever sat and listened to someone more articulate, more gracious, more dignified, more classy than Bridget," Fennelly said. "The way she articulates what this place means to her, what the fans mean to her… I think her legacy will be one of those where she'll always be remembered as a great, great Cyclone like so many others."
With every season finale comes a look back at what kind of a year it was, and Fennelly didn't shy away from it. It was well documented how much Fennelly loved to coach this group of Cyclones, and he even echoed those words after the game.
"I knew this moment was coming at some point, and it doesn't make it any easier. I've been here a long time, and there will be some decisions to be made moving forward – but this program is back where it needs to be because of the three seniors."
Fennelly preached about how this group restored what Iowa State was about. Not even just on Monday night but throughout the season, he articulated how this group put the Cyclone brand back on the map.
Rightfully so.
The Cyclones won their first NCAA Tournament game since 2013 and were one win away from setting school records for both total wins and home victories as well.
It just wasn't in the cards on Monday night.
"I can't thank our seniors enough for restoring the Iowa State way of what we do and how we do it," Fennelly said. "Whatever happens moving forward, that will not change. I can promise you that."