Mar 21, 2019; Des Moines, IA, United States; Basketball coach Fred Hoiberg during the game between the Bradley Braves and the Michigan State Spartans in the first round of the 2019 NCAA Tournament at Wells Fargo Arena. Mandatory Credit: Steven Branscombe-USA TODAY Sports
Can you believe it's been over four years now since the loss to -redacted-?
As each year has passed, the result of that game has become increasingly perplexing. Take a peek at that box score now and you'll realize that five of the eight athletes who got in the game for the cardinal and gold that day have since logged minutes in the NBA, and the other three have played basketball professionally in competitive leagues overseas. That's a wealth of talent normally only afforded to the blue bloods of college basketball.
Beyond the already-painful shock that accompanies fandom of any team that gets upset in the first round of the NCAA Tournament, the -redacted- game is also etched in history as the last that The Mayor, Fred Hoiberg, would coach at Iowa State.
Less than three months had passed since the sting of the early tourney exit when Hoiberg was announced as the next head coach of the Chicago Bulls. His decision to leave his alma mater in favor of the game's highest level was not without warning though. As part of the 10-year extension he agreed to with ISU in April of 2013, his contract included a buyout of just $500,000 if he were to take a head coach or GM position in the NBA – much smaller than the $2 million buyout if he left for a job at another college. Additionally, Iowa State AD Jamie Pollard told The Ames Tribune, "[Hoiberg] has always said from day one that his lifelong goal has been to coach in the NBA," just a month prior to the official announcement from the Bulls on June 2, 2015.
Despite these fairly obvious signs that a jump to the NBA was inevitable at some point, many Cyclone fans were still stunned when Hoiberg gave up everything he had built over the previous five seasons in Ames.
After all, thanks to a jolt of talent via the transfer market, The Mayor had quickly returned the program to national relevance and in the process cemented himself as an Iowa State legend. (If he wasn't already – having grown up in Ames and starred as a player for ISU in the early 90s.) The cherry on top was the returning roster for the 2015-16 season was set to retain almost all of its key pieces, compete for the Big 12's regular season crown, and make a deep run in the NCAA Tournament as the redemption story for the loss to -redacted-.
All of that added up may sound too good to pass up for Cyclone fans like you and me who place Iowa State athletics at the very top of our sports hierarchy. Unfortunately, as much as we would have liked the same to be true for Fred Hoiberg, roaming the Hilton Coliseum sidelines wasn't his personal greenest pasture.
…which is 100 percent okay. Just to be clear.
Yet as a fan, it's still hard to stomach Hoiberg making the objectively no-brainer decision to fulfill his lifelong dream of coaching in the NBA – for more than double the money he was making in college and as the leader of one of the most storied franchises in the League, no less. When he sat next to GM Gar Forman at his introductory press conference for the Bulls, I think every Cyclone fan felt varying forms of sadness, anger, and pride (he's still an Iowa State alum and his jersey hangs in the rafters, after all). An era of basketball in Ames was officially over, and a new one was about to begin.
Time has healed (most of) the fanbase's wounds that The Mayor inflicted when he left. His successor, Steve Prohm, has done an admirable job filling the impossibly large shoes that only a local legend can leave behind. The transition from Hoiberg to Prohm was honestly pretty smooth, all things considered. That helped put fans' minds at ease.
The problem is, four years later, yet another Fred Hoiberg career change is set to challenge even the most Loyal Sons.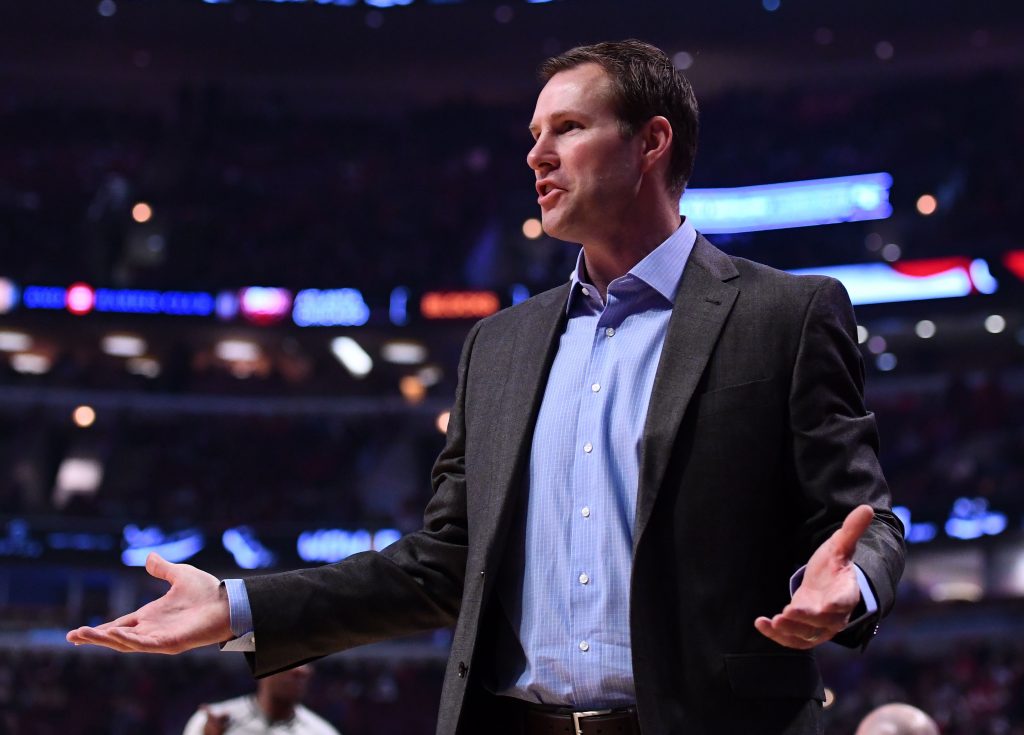 Go Big Fred
On December 3, 2018, the Chicago Bulls terminated Hoiberg as their head coach. Anyone who monitored the situation for three years to the slightest degree knows that the Bulls' problems ran deeper than the head coaching position. An inconsistent roster build (thanks mainly to the front office duo of Forman and vice president of basketball operations John Paxson) that was at times too inexperienced, too untalented and/or too unlike the personnel that Hoiberg would prefer to have in his up-tempo offensive system ultimately put The Mayor in a position that I'm not sure even Gregg Popovich could have succeeded in.
The good news? Hoiberg had technically fulfilled his dream of coaching in the NBA. The bad news? His early Christmas present was unemployment.
Sports writers and fans have argued over the past few months what Hoiberg's next move would be. Would it be back to an NBA front office, like the position he held for the Minnesota Timberwolves before landing his first coaching gig at Iowa State? Would another NBA team give him a shot, realizing he was never truly given one with the Bulls? Would he dedicate himself to the life of sipping pina coladas and getting caught in the rain? Or would he shift back to a high-profile job in the college game, where he could seemingly land a job anywhere despite making it well-known that recruiting teenagers wasn't his favorite thing to do?
Over the past week or so, smoke started to appear publicly that none of the above options would end up being Hoiberg's ultimate destiny. Instead, a darker reality emerged for Cyclone fans.
The University of Nebraska just wrapped up its basketball season with a second round finish in the NIT. On Tuesday, its administration decided to fire previous coach Tim Miles after seven seasons in Lincoln. Miles successfully led the Huskers to their first NCAA Tournament appearance in 16 years in 2014, but had failed to get them back in the Dance since then. Miles' 116-114 record at Nebraska was a winning record, yet was it a winning record? The decision-makers didn't think so, despite the relatively soft expectation level that accompanies a program that has never won a single NCAA Tournament game.
Even before Miles was shown the door, rumors circled that The Mayor was Nebraska's next head coaching target. For people outside of Husker land, and especially fans of Iowa State, those rumors initially fell into "laughable" territory. Why would a former NBA head coach (who could seemingly land about any college job he wanted) want to go to coach at Nebraska – a past heated rival of Hoiberg's alma mater and a wasteland for basketball success?
After digging slightly past the surface, a couple reasons reveal themselves. Hoiberg was born in Lincoln and has some family ties to the University. It's not nearly the connection and history that he shared with Iowa State as a player and alumnus, but it's a Midwestern college town in a state that doesn't have any professional sports teams. And there's no doubt that Hoiberg sees comfort and familiarity there.
That's something that hasn't been discussed enough yet, too… For three years, Hoiberg was coaching in his dream job. However, that dream job also came with a ton of pressure to perform to expectations – certainly more pressure than he ever faced while coaching at ISU. Remember that this is a man who has a pacemaker installed in his chest and rarely wears ties because he doesn't want the blood circulation through his neck to face any resistance.
So when you put the pieces together… family connections, Midwestern town, about as low of an expectation level as you can get in a college basketball program… maybe the University of Nebraska is the single most natural landing spot for Fred outside of an encore at Iowa State, especially after all of the pressure he must have felt in Chicago. You could even argue he'd feel more pressure in a hypothetical immediate return to Ames.
It may sting to see The Mayor coaching somewhere in college other than Hilton Coliseum. And it may sting even more knowing that "somewhere" is a school that has rubbed elbows with and often pummeled Iowa State into the ground during the days of the old Big 12 and Big 8 conferences. But if you put any bias you have aside for a second, hard as it may be, you might just be able to feel good to see a great representative of ISU land a gig that fits him better than we'd like to admit.
Still hard? Okay. Well, perhaps you need a reminder that the Cyclone basketball program is in good hands no matter what.
Counting Blessings
On one hand you can point at a loaded roster, reinvigorated fan base, and overall program momentum as reasons that Steve Prohm had it better than most new coaches do upon landing a new college coaching gig.
On the other, you can focus on the recruiting gap left behind, heightened pressure to find continued success, and awareness that Prohm would never be Mr. Iowa State like Fred Hoiberg as reasons that he had it tougher.
No matter your perspective, Prohm's results have consistently been compared to Hoiberg's ever since the latter moved on to Chicago. It's hard to believe, but we're just one season away from Prohm's tenure matching the length of Hoiberg's as head coach at ISU.
Hoiberg through four years: 90-47 (38-33), one Big 12 Tournament title, three NCAA Tournament appearances, four NCAA Tournament wins (one Sweet Sixteen).
Prohm through four years: 83-53 (35-37), two Big 12 Tournament titles, three NCAA Tournament appearances, three NCAA Tournament wins (one Sweet Sixteen).
Pretty similar results if you ask me. Throw in Hoiberg's fifth season and that adds another Big 12 Tournament title to his resume, matching the mark that Prohm already has. That fifth season doesn't add any wins to his tourney stats though… Damn -redacted-.
You can argue until you're blue in the face about Prohm's first two seasons and how much of those team's successes (or failures) should be attributed to Hoiberg since those rosters were almost entirely made up of players that were recruited by the previous regime, but the fact of the matter is Hoiberg was not the one calling the plays. He wasn't the one leading the practices. He wasn't the one holding the players accountable.
Prohm was doing that. And he's a pretty good coach, if you haven't noticed.
There seems to be some weird tribal instinct kicking in that you either have to be #TeamHoiberg or #TeamProhm. I'm not exactly sure why that is, because it seems perfectly reasonable to me to respect Hoiberg for revitalizing the Iowa State program while also appreciating Prohm for having the balls to step into a position vacated by a school legend (and doing a fine job sustaining the success that legend brought back).
As with any basketball program, Iowa State has gone through its share of bumps in the road with Prohm as head coach. This past season had its warts, no one can deny. What's wrong as a fan is to hold the revisionist history opinion that the warts only started happening the last four years.
Remember losing to both Drake and UNI in 2011? How about the dud against Iowa in 2012? Remember losing to five unranked teams down the stretch after starting the season 14-0 in 2013-14? Literally throwing away a shot at the Big 12 regular season crown in 2014-15? I've already mentioned –redacted- plenty of times in this article.
My point is, no coach is immune to hiccups. What really matters is that Iowa State has a basketball coach that just signed an extension and has repeatedly said he wants to be in Ames for a long time. And even though he didn't grow up in town, turn down bigger programs to play basketball for ISU, or get in at the time to be the one to yank a sinking program out of the quicksand as head coach, Steve Prohm deserves our trust and support.
If it takes Hoiberg going to coach at Nebraska for some fans to finally release Prohm from The Mayor's shackles, then maybe it's for the best.
At this point, I've probably convinced you that I'm a Fred Hoiberg hater, but that's not the case at all. On the contrary, actually.
Defining a Legacy
Nebraska hasn't officially announced Hoiberg as its head coach yet, but it is expected to happen shortly after Fred's son Jack is done playing in the NCAA Tournament as a walk-on for Tom Izzo's Michigan State Spartans.
So… Once he becomes Fred Hoiberg, Nebraska Cornhusker, what does that mean for the legacy of someone who was often pointed to as the ultimate Iowa State Cyclone?
I've already seen some fans say such a move should strip him of his title as The Mayor of Ames. After all, no cardinal-blooded Cyclone would ever willingly associate him or herself with the dreaded Huskers, right? Much less become the leader of one of their sports programs.
What I've come to terms with, and what I hope other fans do as well, is that there are two ways you can look at the Mayor. One is vastly superior to the other.
The first is Fred Hoiberg is The Mayor because he did what any of us die-hard fans would do if we were gifted with world-class athleticism: star at Iowa State as a player, then return to coach down the road when presented the opportunity. This way of thinking about the Mayor nickname makes it easy to say his legacy is ruined by going against what us die-hard fans would do for the first time in his career. (Going to coach a rival college program is different than going to coach in the NBA.)
The second is Fred Hoiberg is The Mayor because he has given more to the Iowa State basketball program than arguably anyone else, ever. What he's already given cannot be taken away. Coaching at Nebraska doesn't erase the 1,993 points he scored in an ISU jersey and it doesn't erase the fact that he dedicated five years of his life resurrecting the Cyclone basketball program as a coach.
Option two is the one I prefer, and that's why Hoiberg's Iowa State legacy will remain untarnished for me even once he becomes a Husker.
I'm reminded of this SoundOFF segment from Keith Murphy in 2015.
Fred Hoiberg doesn't owe Iowa State anything. If anything, we as fans are still in debt to Fred for all of the joyous memories he provided as a player and coach. Perhaps a way of repaying that debt is to reach deep down and find the grace to accept Fred Hoiberg, Nebrasketball head coach. That doesn't mean we have to root for the Huskers – it just means we have to respect Fred's decision.
His body may reside in Lincoln, Nebraska in the near future. But his pacemaker-fueled heart will always reside in Ames, Iowa no matter where his career as a coach takes him.
That's why he's still The Mayor. Forever.