Dec 28, 2018; San Antonio, TX, United States; Washington State Cougars head coach Mike Leach (left) and Iowa State Cyclones head coach Matt Campbell shake hands after the 2018 Alamo Bowl at Alamodome. Washington State defeated Iowa State 28-26. Mandatory Credit: Kirby Lee-USA TODAY Sports

SAN ANTONIO — Unless you're at the College Football Playoff, bowl games these days tend to be more about the spectacle than the actual competitions, which aside from getting a sweet trophy and new T-shirts, are somewhat meaningless. 
That's why you have so many top pro prospects skipping them. 
The recent Cyclone party on the San Antonio River over absolutely lived up to the hype though. 
As did the drama that surrounded Iowa State's 28-26 loss to Washington State. 
Here are final thoughts on the game, the experience and what lies ahead over the news for months for the future of Iowa State football. 
1 — Brock Purdy has played better games than what we saw in his postseason debut. But even with the early mistakes, this youngster once again showed off his moxie. I've yet to see No. 15 – who doesn't look like he's old enough to shave – get rattled. 
There are other offseason storylines (which we will get to in a moment) but when is the last time Iowa State entered the winter this confident with its future at quarterback? Bret Meyer? 
The numbers Purdy put up in his freshman campaign are impressive but his command of the huddle and mental capacity is what makes me the most positive about his future.
2 — Hakeem Butler and David Montgomery have some serious decisions to make about their futures. 
My guess is that over the next few weeks, both young men will declare for the NFL Draft. 
I think that's the right move for Montgomery. He's a running back, the position with the shortest lifespan of any at the next level. Considering the bruising style with which he runs, I'm concerned about the amount of tread wearing off of those tires and more importantly, what NFL GM's will have to say about it. 
I'm not Todd McShay and nor do I claim to be, but I really believe that Butler has a lot to gain by returning for his senior season. He's phenomenal now and will no doubt get drafted if he chooses to go pro, but most of what Hakeem does is based on pure athletic ability. The guy is a total freak show. 
Give him another offseason and another year to set records, garner national attention and prove he's improved in regards to paying attention to details (mainly eliminating drops), and Butler could be a first round pick in 2020. 
Maybe he will be in 2019?
Both have decisions to make. I just believe that one is much easier than the other. 
3 — Matt Campbell's recent contract extension does not guarantee he will be Iowa State's football coach next season. That's important to note. We still don't know much about new terms to a buyout or anything like that, but I'm assuming it's similar to the last change in his deal. 
I honestly don't think it matters. 
If somebody wants him badly enough and he wants to leave, money won't be an issue. 
I don't think he wants to leave though. 
I, for one, will be shocked if he isn't roaming Iowa State's sideline in 2019. 
4 — Without having had the opportunity to go back and watch the tape yet, I'll go on the record and claim the Alamo Bowl was JaQuan Bailey's best game as a Cyclone. 
Six tackles (two for a loss), a sack and one pass break up is a stout stat line. 
I'd argue the most impressive aspect of his game came after Enyi Uwazurike was controversially ejected for targeting in the second quarter. Bailey evolved into Ray Lima 2017 mode by often times taking on (and beating) two blockers. He was so good the line's production really didn't drop off much with Matt Leo entering the game. 
5 – Iowa State's defense took a major step forward when it became elite up front in 2017. 
That's what it is going to take for the offense to take the same step. 
It's somewhat of a shame Iowa State could lose Montgomery and Butler in the offseason before their eligibility is up considering neither player really ever played with the luxury of a good offensive line. 
Iowa State's isn't bad. It just isn't where the rest of the program is at this current point so it stands out. 
It will get there eventually, but this position more than any other on the field takes patience and development. The talent is there and Campbell has proven to be good at this spot in the past. 
Next year has to be when this group takes that step though. 
6 — More so than all of the controversial calls, Iowa State's seven false starts are what ultimately cost them the Alamo Bowl. 
They all came at such terrible times. I'd love to go back and chart them to see exactly how many first downs/points it cost the Cyclones. 
Brutal. 
7 – Having said that, let's discuss the officiating. 
I absolutely hate questioning officials so let me get one thing out of the way: I do not believe those officials from the Big Ten woke up on Friday morning and thought, "Let's screw Iowa State tonight."
However, I do believe that crew was borderline incompetent throughout the course of the game. 
The Willie Harvey targeting ejection was fine. I hated to see Willie's career end that way but it was a hard one to argue. 
The Uwazurike ejection was more criminal than an episode of COPS.  
A question I'd have for the officials if they would actually answer them: Had the Washington State quarterback's helmet not popped off, is targeting called? Keep in mind targeting was never called on the field. It came from the booth. 
I can guarantee you the answer to the rhetorical question above is no. 
We can even move on from this, as in my opinion, that wasn't even one of the two worse calls of the night. 
How do you miss a blatant false start? It is the most basic call in football. It's like going to the doctor vomiting and they forget to take your temperature to see if you have a fever.
It's the easiest call in the sport! Yo, line judge. YOU HAD ONE JOB! 
And why did Matt Campbell have to burn a timeout on the Matthew Eaton reception – where he made the catch and took four steps – before hitting the ground and fumbling (which isn't a fumble because the ground can't cause a fumble)? 
Egregious.
8 — We've got to get this replay thing figured out in college football because nobody knows what the hell is going on. 
The story that surfaced earlier this year about the Pac-12 suit calling into a replay booth is just one example as to why fans don't trust conferences and the officials they trot out there. 
I understand because I oftentimes have questions myself. This is what happens when so much money is involved.
College football needs a real commissioner that oversees the entire sport so we aren't going strictly conference by conference all of the time. There is too much inconsistency across the board. 
There needs to be more transparency with what's going on in these replay booths. 
What we witnessed in San Antonio Friday night was an absolute travesty. 
If there are good explanations for it, then let's hear it! We don't have to trot refs out and make fools of them in press conferences but for God's sake, give the fans who pay thousands of their hard earned dollars supporting this sport something! 
For what it's worth, this is the very reason why Matt Campbell got all fired up last night. He's a pretty measured guy, but you can't throw Enyi out like that and not give the head coach an explanation as to why.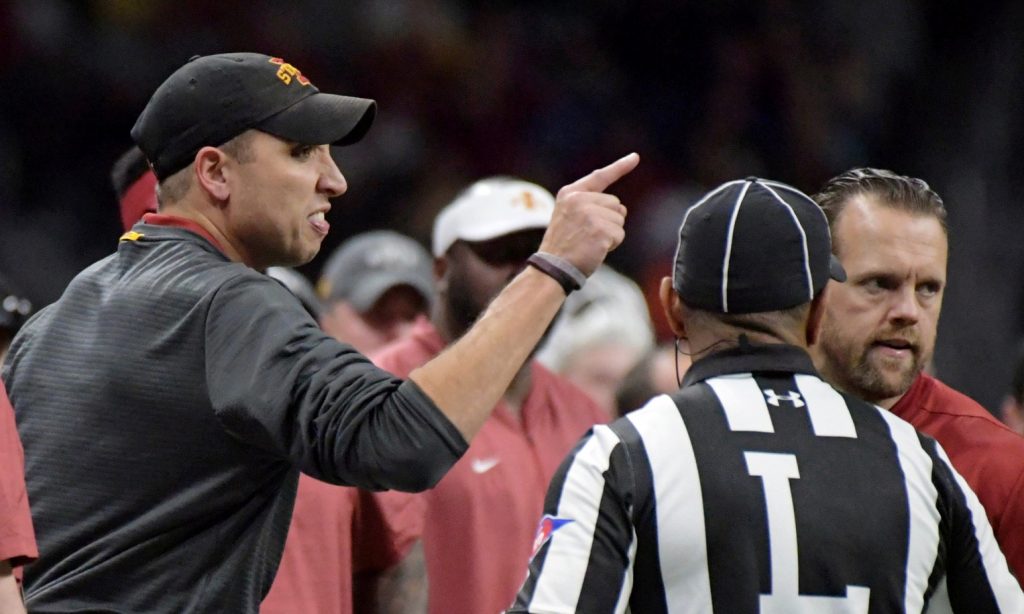 9 — The officiating Friday night reminded me of those old school bowl games that were so brutal to watch. 
You know the ones I'm talking about? Like when a Sun Belt crew would get assigned to a game featuring elite teams from the SEC and Big 12? When they weren't used to the speed of the game and were constantly a step behind?
10 — Last but not least on this, Iowa State made its bed. 
You can't turn it over three times and have seven false starts and expect to beat the 12th ranked team in the country. 
But if you see some wise guy on Twitter indicate that the officials had nothing to do with the outcome, reject it because that's simply not true. 
11 — An underrated offseason storyline…
Replacing Brian Peavy. The dude has been a lockdown corner for three straight years. 
The good news is that Datrone Young and Anthony Johnson both have very bright futures. 
It's difficult to just up and replace a guy like Peavy though. Not only is he one of Iowa State's best players, but he's also one of the team's top leaders. 
12 – It also helps that basically the entire defensive line is coming back. 
Plus, guys like Leo, Will McDonald and Zach Peterson will only get better. 
Iowa State will have the best defensive line in the Big 12 next year and could have a top 10 unit in the country. 
13 — What an amazing bowl game…
I don't think there would be a single Iowa State fan disappointed if the Cyclones end up in San Antonio again next year. 
The city is amazing. The proximity of the Riverwalk to all of the hotels to the Alamo Dome is absolutely perfect for a bowl game. 
The game itself is run in a first-class matter. The weather is warm. 
The Alamo Bowl is a perfect bowl. 
Thank you, San Antonio.