Nov 24, 2018; Ames, IA, USA; Kansas State Wildcats running back Alex Barnes (34) is tackled Iowa State Cyclones defensive back Brian Peavy (10) at Jack Trice Stadium. Mandatory Credit: Reese Strickland-USA TODAY Sports

I think I've watched the fourth quarter of Iowa State's come-from-behind 42-38 victory over Kansas State 15 times. 
The more I watch it, the more incredible it becomes not only that the Cyclones did what they did, but the pace in which they did it. Iowa State scored 21 points in eight minutes!
Some more thoughts from Saturday night and beyond…
1 – When Iowa State fans refer to Bill Snyder as "The Vampire," it's a compliment. I believe it was Cyclone Fanatic's Brent Blum who came up with this nickname a little over five years ago. The origin of it is Snyder, age 79, has done a job at Kansas State over the years that is not of this world. 
Most of you reading this understand the nickname but I did see a few Kansas State and Iowa (who claim to not care about Iowa State yet still tweet about the Cyclones nonstop) fans playing the "disrespect" card on Saturday night. 
Those folks could not be more wrong. 
It's a compliment so settle down, snowflakes.
In my opinion, Bill Snyder is the greatest coach in college football history when you consider what he has done, where he has done it and for the length of time he's been successful. 
2 – You had to love what Brock Purdy brought to the table in the K-State victory. I was legitimately concerned as to what we'd see from the true freshman following his rough outing at Texas where Todd Orlando's aggressive defense blitzed almost 60 percent of the time. Purdy looked uncharacteristically rattled that night in Austin and a bounce back was key. 
Matt Campbell called Purdy's 20-for-27, two touchdown showing the best game of his young career.
Purdy is putting up incredible statistics during his freshman season but his best trait is without question what's going on between the ears. Purdy's moxie showed on Saturday night with a bounce-back performance that we'll all remember for years to come. 
3 – I actually felt much better about Iowa State's offense after re-watching the Texas tape. 
The offensive line, believe it or not, wasn't that bad. Purdy missed a handful of reads early and by the time the offense had somewhat recovered, the Longhorns had their ears pinned back and were in full aggression mode. 
Considering Purdy's performance, not having David Montgomery for the first half hurt more than most people realized.
It's just another reason why Purdy's showing vs. K-State was so important for the offense going forward. The Texas game is now well behind this unit. 
4 – My favorite play from Saturday night was Montgomery's 11-yard touchdown run with 12:23 to play in the third quarter. 
Go back and watch it: Iowa State subbed true freshman offensive lineman Trevor Downing into the right side of the line. Sam Seonbuchner absolutely blows up his guy to give Montgomery a huge hole to run through on that right side. 
THAT'S how the Wildcat is supposed to look. 
5 – A lot has been written over the last week about Kyle Kempt and Mike Warren. I just wanted to take a few minutes to feature them in Musings today. 
How selfless are these two Cyclone seniors?
Their stories are legendary. 
Kempt's is well documented. But it hit me with Warren when I watched him walk onto the field on Senior Day. 
Honestly … why didn't he transfer? College football's freshman rushing leader from 2015 had everything to gain from leaving but chose to stay because he loves Ames and Iowa State.
I hope that both of these guys get to play a lot on Saturday vs. Drake so Cyclone Nation can properly send them off. 
And Kempt downing the football for the game's final play to snap the 10 game losing streak to Kansas State was absolutely perfect. 
6 – Will this Saturday be the final time that we see David Montgomery and Hakeem Butler play inside of Jack Trice Stadium?
It's very possible. 
So how is a fan supposed to observe this? After all, these are kind of uncharted waters for Iowa State football fans. 
My take: Root for them to go and make a living in the NFL. Both of these guys have had really tough pasts. An NFL contract would do wonders for their families.
Regarding what it means for Iowa State: It's good for Iowa State in the sense that you want guys at the next level. Especially in the early years with a young head coach. 
Clearly, selfishly we all want them back next year. But I'm hopeful that most fans can see the big picture here…
7 – I'm all but positive that David Montgomery needs to go pro after this year. 
He's a running back. If David gets feedback that he will be a first or second-day pick, he has to go. 
I think Hakeem's situation is a little different. He will need more feedback before making a decision on what to do. His God-given skills are undeniable but the consistent drops will be on the minds of NFL general managers. 
Stay tuned.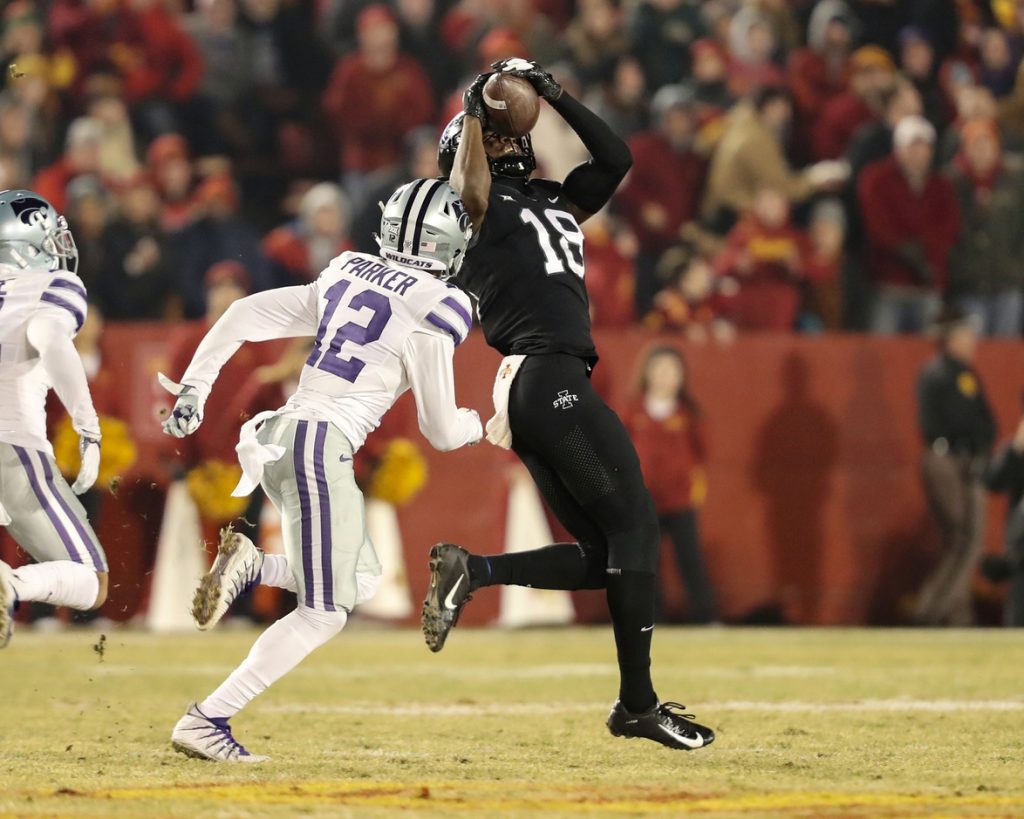 8 – If you're wondering about Iowa State's current bowl situation, CLICK HERE. 
I outlined it late last night. 
Also, Cyclone Fanatic will be hosting a charter to wherever the Cyclones play. CLICK HERE to sign up for updates on Sunday. 
I'm thinking San Antonio or Orlando… 
9 – Texas Tech fired Kliff Kingsbury on Sunday. 
The Red Raider quarterbacking legend then took out a full page ad in the Lubbock newspaper to thank fans for their support. 
All class. 
He'll be a head coach again at some point in time. 
For what it's worth, I would have given him another year. The Red Raiders vastly improved defensively this year and faced major injuries at quarterback all season. When you hire a first-time coach at the age of 33 like Tech did with Kliff, you should expect the need to be more patient and allow him to learn on the job a bit. 
Thank you. #WreckEm pic.twitter.com/X7znxRdz2u

— Kliff Kingsbury (@TTUKingsbury) November 26, 2018
10 – There are some interesting names getting thrown around to replace him in Lubbock. 
I'll rank five of them in the order of how much they scare me as an Iowa Stater, with five being the least and one being the most.
5) Jim Leavitt, Oregon defensive coordinator: A 61-year old defensive guru in Lubbock? Didn't they already try that with Tommy Tuberville?
4) Seth Littrell, North Texas head coach or Neal Brown, Troy head coach: Two guys who are reportedly not top-level candidates. But I find it hard to believe that they won't at least talk to them. Littrell has built a nice program at North Texas and knows the Big 12 footprint well when it comes to recruiting. Brown was Tech's offensive coordinator during the Tuberville era. Both are kind of "meh" for me. I don't think they'd be disasters but don't think they are Mike Leach either. 
3) Mike Norvell, Memphis head coach: We got a good look at him last year before the Liberty Bowl and I was impressed. He seems to be an innovative offensive mind that would likely fit well into Texas Tech's football culture. 
2) Matt Wells, Utah State head coach: I've been a big fan of his for a really long time. At 45, he's built a nice program at Utah State over the last six years. This would be Tech replicating its Chris Beard hiring in hoops. Not the sexiest pick, but a solid guy who has proven he can lead a program at a lower level.
1) Brent Venables, Clemson defensive coordinator: This would be considered as a home run nationally. It surprises me that Venables is interested as I feel like the 47-year old blue-chip defensive coordinator could get about any job he wanted. But a longtime relationship with Texas Tech AD Kirby Hocutt is the connection here. They were college teammates.
I always thought Venables would replace Bill Snyder at Kansas State, where he played from 1991-92. Perhaps he still will…
But I have two questions if Tech goes this route: Will your fans be ok with a defense first guy and are you prepared to hire another guy who hasn't been a head coach before? 
(Note: Shortly after publishing this piece, Venebles denied interest in the job.)
Venables on the Texas Tech job: "Kirby [Hocutt] and I are great friends and I talk to Kirby a lot. I've talked to him recently." But says he loves his job and "sold a dream" to his son, Jake, who's a frosh LB at Clemson, and he doesn't want to be "a hypocrite."

— Ok, cool. Hale 'em✋✊✌️ (@ADavidHaleJoint) November 26, 2018
A few basketball musings to top things off…
11 – Maui was awesome. 
Not physically, of course. We are a free, independent website. You think I'd get a trip to Maui out of this deal?
As for the team, I absolutely love how the Cyclones reacted to Monday's stinger of a loss to Arizona. 
I think it helped to have Illinois being the second opponent, considering three freshmen out of Chicago are on the roster and what not. Wednesday's game against San Diego State was a laugher. 
12 – I believe even on Nov. 26, we know what the key is going to be to the rest of the season…
Edge. 
Iowa State played with one in Maui. These young kids, the two transfers, Nick Weiler-Babb and Terrence Lewis are a small but scrappy group. They defend. They dive for loose balls. They never take a play off and they really, really care. 
If Iowa State can have this be its identity even when Cameron Lard, Lindell Wigginton, Solomon Young and Zoran Talley are back, then this can be a special season. 
If not, then it might be very ordinary. 
It's time for the veterans to step back and learn from the youngsters, which I hope they did while watching from the bench in Hawaii.