Oct 27, 2018; Ames, IA, USA; Texas Tech Red Raiders defensive back Jah'Shawn Johnson (7) pressures Iowa State Cyclones quarterback Brock Purdy (15) at Jack Trice Stadium. Mandatory Credit: Reese Strickland-USA TODAY Sports
Cyclone Twitter was not a fan of Iowa State's play calling for the overwhelming majority of Saturday's 40-31 victory over Texas Tech. 
On first down, Iowa State's attack neared Ted Cruz levels of conservative.
Yet upon further review, the approach was brilliant. 
In a game featuring two talented true freshmen quarterbacks, Texas Tech's guy threw the ball 56 times. Iowa State's tossed it a mere 27. 
Guess which rookie threw more interceptions?
The strength of Iowa State's team is its defense. Matt Campbell knows this. The scheme on Saturday, which for the first three quarters was much less aggressive than what we saw in previous wins over Oklahoma State and West Virginia, was to give Tech the dink and dunk routes and force the Red Raiders to be patient. 
Patience isn't exactly Kliff Kingsbury's strength. Nor is it it for any true freshman quarterback I have ever seen.
Campbell and Jon Heacock knew this.
Alan Bowman threw twice as many passes as Brock Purdy and eventually made twice as many (probably more) mistakes. 
When you have a defense like Iowa State's, there are worse things in the world than punting. That's also the case for handing the ball off to David Montgomery on first down and killing some clock.
Ball control ultimately won out (Iowa State had the football for 8 more minutes than Tech) for the Cyclones on Saturday.
It wasn't sexy, but it worked.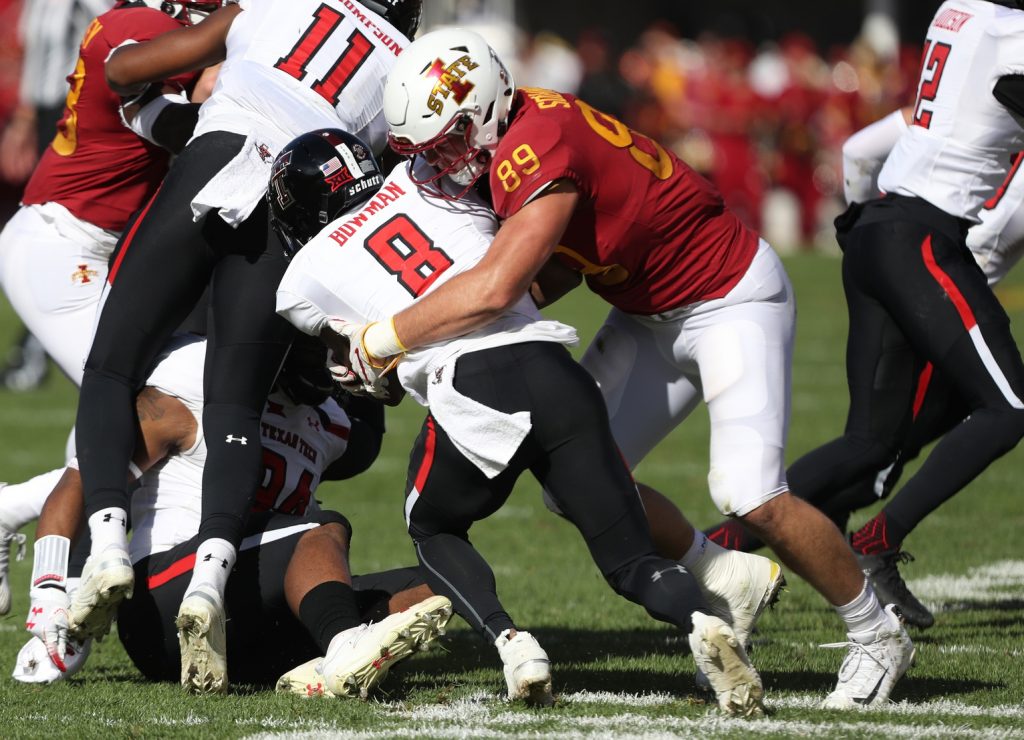 MORE MUSINGS
ELITE DEFENSE: Iowa State's defense has held every opponent it has faced this season well below the opponent's season average of yards per play. 
Check out below, where the opponent's current season average is listed first and what they did vs. the Cyclones second. 
Iowa: 5.1 … 4.2
Oklahoma: 8.7 … 7.6
Akron: 4.4 … 4.1
TCU: 5.5 … 4.0
Oklahoma State: 6.1 … 5.5 
West Virginia: 6.8 … 3.6
Texas Tech: 5.7 … 4.5 
That's an average of 1.3 yards per game that Iowa State's defense is holding opponents beneath their respective season average. 
This is why as infuriating as it might be sitting in the stands, it's sometimes okay to punt from inside the 40.
UWAZURIKE, OUT: Some really bad news from Matt Campbell on today's Big 12 teleconference … defensive end Enyi Uwazurike will have surgery on his hamstring this week and is out for eight weeks. 
Brutal. 
Uwazurike entered Saturday with 22 tackles, five of them for a loss, and one sack on the season. 
The good news here is that Matt Leo played well in his absence. Iowa State has plenty of depth up front on defense. But Uwazurike is a big time talent and this is a considerable blow for Iowa State the rest of the season. 
ZEB NOLAND TRANSFERS: One thought on this situation: If Zeb Noland wants to transfer, I don't blame him at all. It's obvious to anyone with a pulse that Brock Purdy is Iowa State's quarterback of the future. Noland, who has had some really nice moments at Iowa State, only gets one chance at a college football career. He should go to a place where he will play (because he is very talented) and Iowa State fans should wish him nothing but the best.
PROJECTED POINT SPREADS: Iowa State's projected point spreads for the rest of the season…
VS Baylor: -12
AT Texas: +5 
VS Kansas State: -13 
VS Incarnate Word: N/A
KANSAS: Iowa State is a 14-point favorite for Saturday's road trip to Kansas. The Jayhawks beat TCU on Saturday 27-26 and won their first October football game since the 2009 season. More on them later this week…
BUCKLE UP: The Cleveland Browns fired head coach Hue Jackson this morning. Matt Campbell's name is absolutely going to get tossed around with that opening. 
Won't Lincoln Riley's too? After all, the Browns organization did just use its number one draft pick on former Oklahoma Sooner Baker Mayfield …
THIS WEEK: Winter sports will start to get going this week at Iowa State. 
Women's basketball will host exhibitions on Thursday night and Sunday afternoon. 
Meanwhile, wrestling's Cyclone Open will go down on Saturday in Ames. 
Men's basketball will tip off the season a week from Tuesday vs. Alabama State.