DES MOINES — There's a formula that Las Vegas uses when projecting point spreads of college football games.
Every week, every team in the country is assigned a number. This number changes throughout the season based on how the team is performing. There is another number that is given to each team's home field. For instance, Jack Trice Stadium is worth three points according to the experts in the desert.
According to these current projections, Iowa State will finish the 2018 season 8-4. Along with a few notes on each game, here's how.
Oct. 27: Iowa State (-5) vs. Texas Tech – Vegas sees these two teams as essentially even at this point, with a slight 2-point edge going to the good guys on a neutral field. Their resumes are similar, with each team recording road wins at Oklahoma State. Both the Cyclones and Red Raiders impressed many last week with convincing victories at TCU (for Tech) and vs. West Virginia. Tech's defense is better than most people think, however holding TCU to 14 points last week had a lot to do with the Horned Frogs struggles on offense as well.
Nov. 3: Iowa State (-17) at Kansas – The Jayhawks have at least been competitive at times this season and Iowa State is in no position as a program to take anybody lightly. Still, this should be a comfortable Cyclone victory as imaging the Jayhawks scoring much on Iowa State's stout defense seems like a stretch.
Nov. 10: Iowa State (-8) vs. Baylor – The Bears are much improved compared to the Matt Rhule led team that went 1-11 last season. Baylor most recently played Texas to a 6-point game in Austin, a week after beating Kansas State 37-34. We'll learn more about Baylor, who has played the easiest schedule in the Big 12 so far, over the next two weeks as the Bears will go to West Virginia and host Oklahoma State.
Nov. 17: Iowa State at Texas (-6) – Barring a major change, this will be Iowa State's one game as an underdog the rest of the way. Count me in as a guy who believes that Texas is "back." Tom Herman's crew made national noise knocking off Oklahoma two weeks ago, but has really been solid ever since losing to Maryland in week one.
Nov. 24: Iowa State (-8) vs. Kansas State – Was last week's convincing victory over Oklahoma State a sign that Bill Snyder is turning things around in Manhattan or is Oklahoma State just really fading?  With an average of only 5.2 yards per play, Kansas State's offense has proven to be one of the worst in America this season. However, a K-State turnaround wouldn't be the most shocking thing in the world as we've seen that scenario play out so many times.
Dec. 1: Iowa State (no line) vs. Incarnate Word – The Cardinals are 3-3 on the season and 3-1 in conference play. In their two games vs. FBS opponents, Incarnate Word lost to North Texas 58-16 and New Mexico 62-30.
A few other notes…
*** If the season were to end exactly as these projections indicate, Iowa State would likely end up in the Alamo (San Antonio) or Camping World Bowl (Orlando).
*** If Iowa State wins out, it would likely play in the Big 12 Championship Game on Dec. 1. Check it out here. Shout out to @SwessBall for the original tweet and putting this together.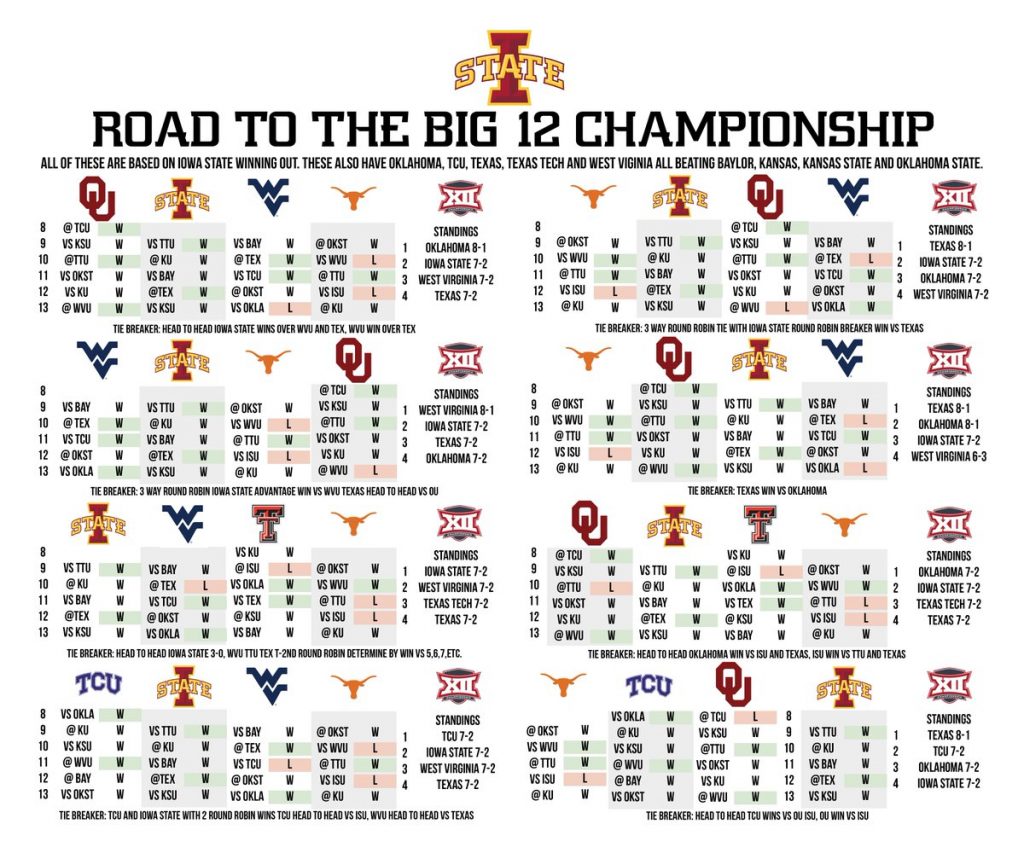 *** According to the data at TeamRankings.com, Iowa State has played the toughest schedule in the Big 12 (and country) so far, but has the easiest schedule in the league the rest of the way.
*** If Vegas handled the top 25, Iowa State would be ranked 24th. For what it's worth, the Cyclones are currently 50th according to the Associated Press poll.