Sep 15, 2018; Ames, IA, USA; Oklahoma Sooners defensive back Justin Broiles (25) looks to tackle Iowa State Cyclones wide receiver Deshaunte Jones (8) at Jack Trice Stadium. Mandatory Credit: Reese Strickland-USA TODAY Sports

The older I get, the more cynical I become about the world in general. That's because no matter how hard you try to wrap your mind around bad things that happen, many of them will never make sense.
The recent death of Iowa State's 2018 Female Athlete of the Year, Celia Barquin Arozamena, is one of those things.
I never had the opportunity to meet Celia, who won the 2018 Big 12 Championship. Others who have only say the best things about her.
The thing I've learned being around Iowa State for so long is that regardless of if you had a personal relationship with Celia or not, you are likely hurting today. That's how tight the Iowa State community is.
So during this time, let's all do the only thing that we can do — what Iowa Staters do. Reach out to those in the greatest pain. Attempt to comfort them. Be there to make the best out of one of the absolute worst situations known to man — the senseless death of an innocent young woman.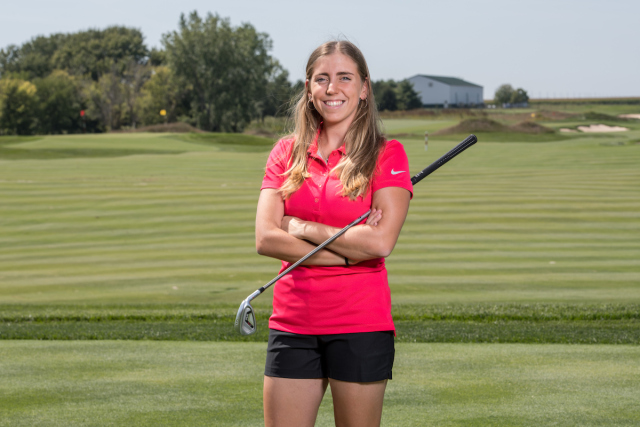 Now onto something that feels quite irrelevant right now … football. 
……………….
It's difficult to especially feel good about an 0-2 start to the season, but Iowa State's performance against No. 5 Oklahoma on Saturday gave me significant hope for what's to come.
First and foremost…
This is a geeky way to approach the game but Matt Campbell has me sucked into this "process" that he often speaks of. 
After going back, re-watching and reviewing the participation chart vs. Oklahoma, I'm estimating that 23-25 guys took snaps defensively for Iowa State on Saturday. 
That's crazy! 
By my account, there are three reasons for this. 
1 – It was one of the hottest games I have ever been to at Jack Trice Stadium. The heat index on the field was reportedly over 100 degrees. 
2 – Watch Oklahoma for five minutes and you see how athletic the Sooners are. The speed is everywhere. Chasing those guys around the field causes a defense to wear down faster than say last week's opponent – Iowa – who plays a pretty basic style of offense.
3 – And most important … because for once, Iowa State actually can!
The Cyclones made some adjustments defensively in the second half and got much more aggressive compared to the more passive,  mostly three-man rush in the first. One of the reasons they were able to do this was because of Jon Heacock's ability to keep a somewhat fresh lineup on the field at all times during a brutally hot day. 
A handful of the young guys made mistakes, which is to be expected. But what we saw on Saturday proved to me that Iowa State can legitimately go two, sometimes three deep at all positions on the defense against the best team in the Big 12. 
That's a sign of improved recruiting, which is great for the longterm success of this program.
Zeb's potential
I honestly do not know if sophomore Zeb Noland is Iowa State's quarterback of the future, mainly because the guys behind him are really good. There will be great competition at this position for the foreseeable future. But Noland, who completed 25-of-26 passes for 360 yards and two touchdowns in the first home start of his career, made one hell of a statement against Oklahoma. 
It isn't a shot at the injured Kyle Kempt, a guy who one can argue saved Iowa State's season a year ago. But these guys do different things well. 
Zeb's skillset gives an Iowa State offense that lacks dominance up front a shot to produce at a higher level in a conference known for scoring a ton of points. His arm strength and swagger give Iowa State's offense a much higher ceiling, albeit also a lower floor. 
I'm greatly intrigued.
If Noland continues to have success on Saturday vs. Akron, which I believe he will, I don't see how Matt Campbell can take him out of the lineup even upon Kempt's pending return. 
Last year's Akron game was the turning point of the season
I've talked about this a few times on the radio but am not sure if I've ever penned it…
It was the third quarter of last year's 41-14 victory over Akron that changed Iowa State's season for the better. 
It's a classic Campbell story — one that he told me this summer at the Big 12 media days in Dallas. 
Iowa State shut the Zips out in the second half in that victory, but Akron's consistency on converting third downs drove Campbell mad (the Zips were 11-for-18 on the day). 
It was during that third quarter when Campbell and defensive coordinator Jon Heacock knew something had to change. Iowa State's head coach was agitated after the win. Other than the 2016 Iowa game, it was as annoyed as I've ever seen Campbell, a usually very cool customer.
That's the moment when the decision was made to move to a three-man front defensively, which totally changed the outlook of the rest of the season. 
The greater point is that these un-sexy non-conference games really do matter. Last year's date with the Zips was season altering for the Cyclones in the most positive of ways.
Analyzing Akron's win over Northwestern…
The Zips,  who will enter Saturday's game in Ames (11:00 a.m. on Fox Sports Net) as around an 18-point underdog, have some juice heading into this one. Coached by Terry Bowden, Akron is fresh off of a surprising 39-34 win at Northwestern last Saturday night. 
Akron trailed Northwestern 21-3 at halftime and frankly, looked really terrible while doing so. But on the back of senior safety Alvin Davis Jr., the comeback was on. Davis Jr. had not one, but two pick 6's (for 97 and 50 yards) to fire up the comeback. Akron added a fumble recovery for a touchdown to its resume and ended up winning the game, despite having 14 fewer first downs than the Wildcats. 
Another crazy stat from this game: Akron committed 15 penalties for 140 yards compared to only three via the Wildcats. 
Just goes to prove how difficult it is to overcome three defensive touchdowns by the opposition. Northwestern head coach Pat Fitzgerald has to be sick today. 
Personally, I'm glad that Akron won this game. It makes the week a lot more interesting from an Iowa State standpoint and I'm sure Campbell is happy as it likely got the attention of his players too. 
For what it's worth, prior to Saturday, Akron had not beaten a Big Ten team since the year 1894. Akron was named Buchtel College back then and the victory was over Ohio State. The Big Ten was founded in 1896. 
Quick hitters on the Cyclones
— A lot of noise about Iowa State's "Wildcat" formation's lack of success in the first two weeks. It hasn't worked, but I still don't hate it. It's really similar to what Campbell did with Joel Lanning last year, only that they haven't thrown it yet. The thing is, David Montgomery is a former high school quarterback. He can throw the football and I suspect that at some point, he will.
I'm sill surprised that we haven't seen any of Re-al Mitchell in the redzone and am hoping that will be a wrinkle going forward. 
— Not that this matters, as Iowa State's defensive line has been very good so far, but senior Kamilo Tongamoa has not appeared on a participation report yet this season. 
— Iowa State's tight ends have caught six passes so far this season. Cyclone tight ends caught five passes in all of 2015. 
Big 12 musings…
Hook'em?: Texas looked great in its 37-14 rout over a blah USC squad. Tom Herman's team looks to be following the same path that it did a year ago. Slow start and gradually improve the rest of the season. I believe that the Longhorns will be a force in the Big 12 by the time mid-October rolls around.
TCU showed something in a loss: Most pundits believed that TCU would be a threat in the Big 12 this season and even in a 40-28 loss, they proved it last weekend vs. a great Ohio State team.
Biggest surprise?: I'm likely going to have to eat some crow on Oklahoma State. I really believed that this would be a down year for Mike Gundy's crew and that's turning out to not be the case. It's still early so I'm not crowning them, but the defense in Stillwater looks to be much improved, which the Cowboys proved by holding Boise State to only 21 points. We'll really find out something about OSU's D this weekend when Texas Tech comes to town for each team's Big 12 opener.
Kansas: After embarrassingly (even by Kansas football standards) dropping its opener to Nicholls State, Kansas has rattled off two wins in a row vs. Central Michigan and Rutgers. I know, it's Central Michigan and Rutgers. However one thing regarding the Jayhawks did catch my attention this week: That's the fact that they are only 7.5 point road underdogs at Baylor on Saturday. Is this an oddsmaker commentary on Baylor's lackluster showing vs. Duke or do the experts in the desert truly believe that on a neutral field, Kansas is simply only a few points worse than Baylor? Keep in mind that Baylor only won a single game last year ….. Regardless, I'm surprisingly kind of interested in how this one turns out.