All of the offseason suffering was well worth it. Game week has arrived. 
I hope that you all are as excited about the 2018 Iowa State football season as I am. Judging by our spiking traffic numbers, you most certainly are. 
Something different this year to make you all aware of … Matt Campbell's weekly press conference will happen on Tuesday afternoons at 12:15. This is different from the past 20 years or so, when Iowa State's football coach has met the media on Monday mornings.
I actually think it will help our coverage of the team here at Cyclone Fanatic. 
Starting today (during the season), every Monday at 1:30 you will be able to log onto our front page and check out Agrigold's CFTV-Live program featuring former Cyclone Jeff Woody and CF's Jared Stansbury. Basically, it will be a film breakdown of the previous weekend's game. That's kind of what Monday's will now be able to be from a content standpoint on our site. We now have a day to go more in-depth with our analysis on what happened.
Then, the rest of the week it is foot on the gas as we head to the next Saturday. 
Here is a baseline content schedule as to what you can expect week-to-week here on CF. As always, will will sprinkle other things in as well.
I actually shared this exact schedule with our staff last night. As always, it's coming to you 100 percent free of charge so if you enjoy it and have a few bucks a month to share/show your appreciation, please consider donating to our Patreon page here. As the site grows, expenses go up. We just had to boost the server two weeks ago, which adds to our monthly expenses. 
CF Podcast/Content Schedule for the 2018 football season
Monday:
Monday Musings (Chris Williams)
Matt Campbell Big 12 teleconference coverage (Jared Stansbury)
CFTV-Live at 1:30 (Jared Stansbury and Jeff Woody)
Tuesday: 
Heartland Flags sponsored Rundown Podcast (Jared Stansbury and Rob Gray)
(New to 2018) Chris Williams Insider Column
Standard presser coverage (Rob Gray)
Presser videos for site, social media (Jared Stansbury)
Weekly Matt Campbell podcast (Chris Williams)
Wednesday:
The Iowa State Graduate Business School presents the Stanz & Fitz Show (Jared Stansbury and Kevin Fitzpatrick)
Mid-week mailbag (Kevin Fitzpatrick)
Brent Blum column (Brent Blum)
Coordinator/player videos for site and social (Jared Stansbury and Jacqueline Cordova)
Write live on injuries, news, etc. (Jared Stansbury)
Thursday:
Game advance/feature (Rob Gray)
Know the opponent notebook (Jared Stansbury)
FAWcast (Chris Williams and Mark Charter)
CF Radio Show Presented by Nebraska Furniture Mart in Clive, 6-7 on 1460 KXnO (Jared Stansbury, Brent Blum, Chris Williams)
Friday: 
Staff predictions 
Weekly CF newsletter (Kevin Fitzpatrick) (SIGN UP HERE) 
Saturday: 
Game coverage
CF Tailgate Show Presented by Iowa Pork: (Jared Stansbury, Jeff Woody, Chris Williams)
Facebook Live Pregame Show Presented by Iowa Clinic (Chris Williams)
Instant Reaction Podcast/Facebook Live Presented by McFarland Clinic (Chris Williams)
Sunday:
Film analysis (Jay Jordan)
………………
So there you have it. Here are some final thoughts on the Cyclones as kickoff is only a few days away.
I actually think that the Mike Rose talk is a positive at middle linebacker. 
Mainly because Iowa State entered fall camp feeling really good about where O'Rien Vance was. They still do. I believe that Matt Campbell would be perfectly fine with Vance being the starter there on Saturday. Physically, he's got a Big 12 body and has matured nicely from a mental standpoint. I remember a few weeks ago, Vance's name was one popping in backchannel conversations as a guy who looked really good out there. 
Rose, the 6-foot-3, 228-pound freshman out of Ohio, has simply stood out. I don't think the plan was ever to play him as a true rookie but from what I'm hearing, he's too impressive to stand on the sideline. Both guys will play, as will Bobby McMillen. However, I think this is a case of Rose just being really good and not one where the other guys losing the job if that makes sense.
I'm still concerned about the offensive line. 
Don't get me wrong … I think this group will be significantly better than it was a year ago. My issue here is that if you take every other position group on this roster, Iowa State is close to being able to compete for a Big 12 championship. This group, which will start a redshirt freshman at center, just isn't there. 
I'll gladly eat crow on this come November. 
The Cyclones are 14-point favorites over South Dakota State. 
That's a higher number than I thought it would be. I would have guessed 10-12. 
Some quick hits on SDSU for you guys and please know that we will go more in-depth on the Jack Rabbits later this week…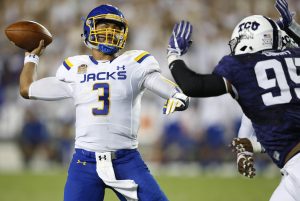 The main point I'll make here is that head coach John Stiegelmeier is back for his 22nd year (!!!) in Brookings. The Jacks won 11 games last year and made it to the FCS semi-finals for the first time in school history. There's a great culture in place. 
South Dakota State returns senior quarterback Taryn Christion, who threw for over 3,000 yards and 30 touchdowns in each of the last two seasons. In 2017, he ran for over 500 yards with nine touchdowns. So he is a dual-threat guy and will test Iowa State's linebackers. 
SDSU has to replace probably its best wide receiver and tight end in school history from last year's squad. 
I'm less sure as to what to expect on defense. 
This will drive the folks in Brookings crazy but the Jacks remind me of North Dakota State – who Iowa State fans know quite well – on a lower tier. There is a great culture in place and as one Iowa State coach told me last week, "They play really hard."
My final record prediction on the season is…
I was at 7-5 all offseason but switched it to 8-4 last week. I flipped and now have the Cyclones beating Iowa in Kinnick Stadium on Sept. 8.