Little did Jared know that he'd be the main cause of a Twitter beef involving a couple titans in this year's edition of The Basketball Tournament.
After we got done recording Stanz & Fitz yesterday, Jared told me he had an interview later in the afternoon with Hilton Magic Legends GM Tony Colosimo to talk about DeAndre Kane's announcement to join the Cyclone alumni team. It's a great read and, as all Cyclone Fanatic articles are, was published on Twitter shortly after Jared crossed the t's and dotted the i's.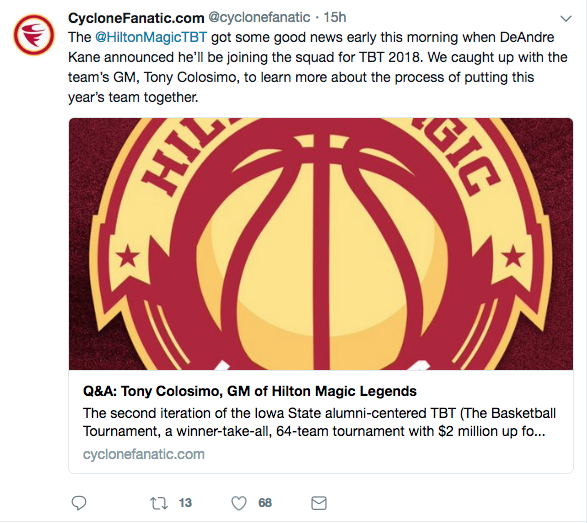 Somehow, that tweet ended up in the timeline of Hofstra Director of Basketball Operations, Colin Curtin. Why is that significant? Because Curtin also happens to be the head coach of Overseas Elite – the team that has won The Basketball Tournament three straight years, with the last two of those championship teams featuring DeAndre Kane as a key roster piece.
Needless to say, Curtin and Overseas Elite have earned the right to be confident in their program thanks to the past three years. Once he saw the tweet from Cyclone Fanatic, Curtin drafted up a response.

It's a pretty general response from the head coach of the back-to-back-to-back champs. But boy, did it lead to a couple feisty internet conversations.
The first one to respond to Curtin's tweet was a Twitter user who goes by "MC", who went right after the still-open wound of DeAndre Kane leaving Overseas Elite for Hilton Magic Legends.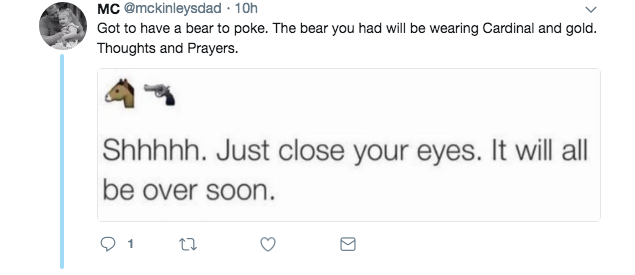 But Curtin fired back.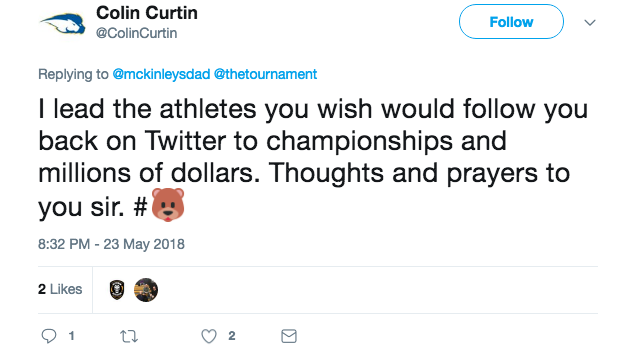 Next, MC alluded to being directly involved with Hilton Magic Legends' player recruiting efforts.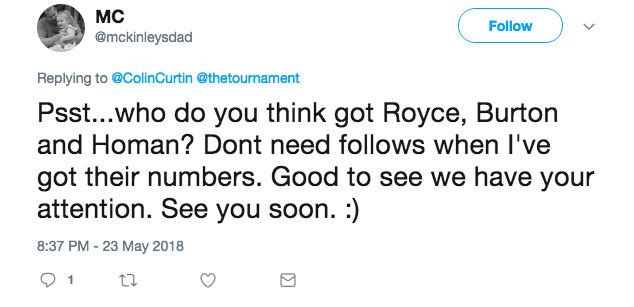 …which is when Curtin posted a screenshot that supposedly showed that Royce White approached Overseas Elite in February hoping to join their team.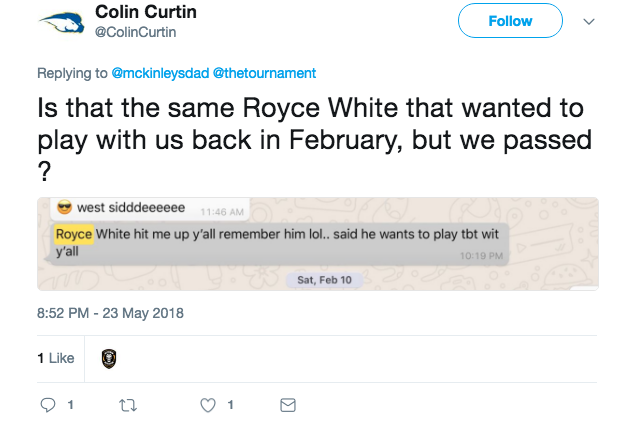 To which MC foreshadowed a bit…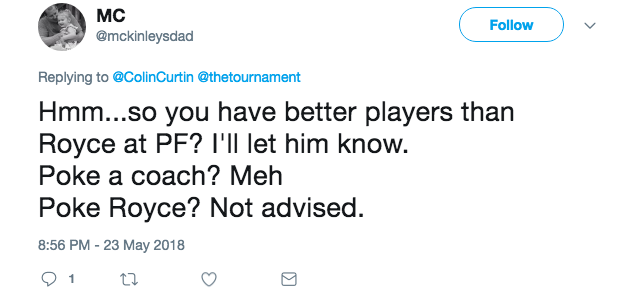 User @fuegodeltoro jumped in to add to MC's comment about Royce. @fuegodeltoro had this to say about White's venture into the National Basketball League of Canada: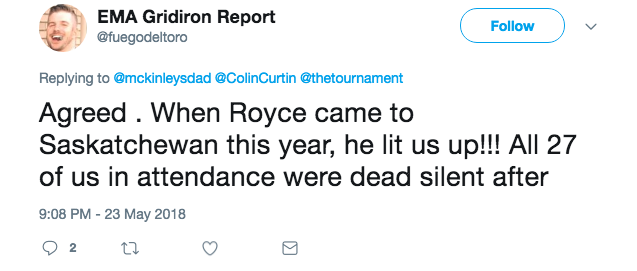 But that didn't stop Curtin from snapping back.

Side joke: Of course Overseas Elite wouldn't recruit Canadian players. Canada isn't overseas!
(Thank you to the three dads reading this who chuckled.)
Anyway, after the above conversation concluded, Royce White himself caught wind and decided to respond to Curtin's original tweet. (Warning: One NSFW word)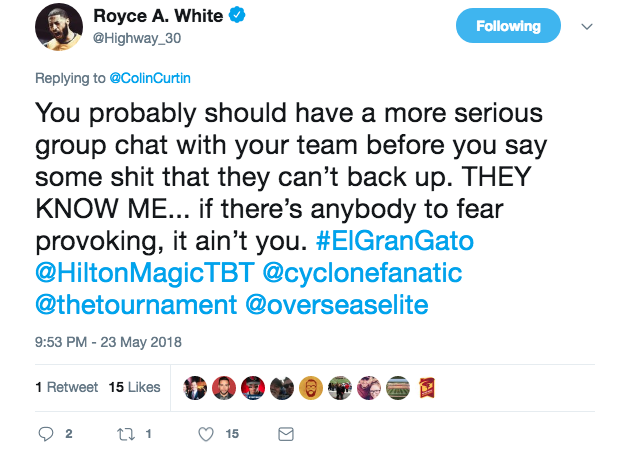 Curtin's response:

That sent Royce into full-on biology professor mode.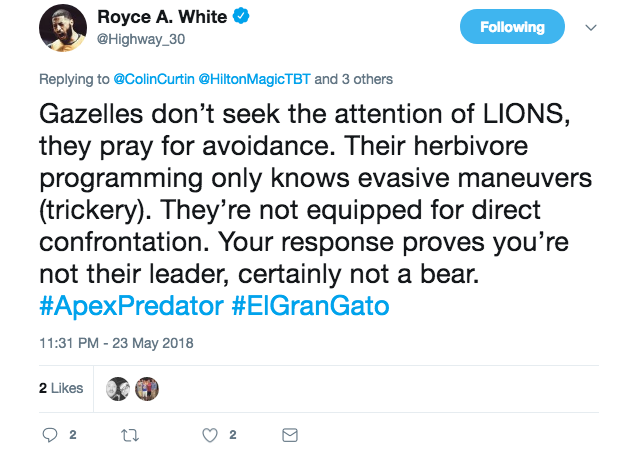 …which Curtin had jokes about.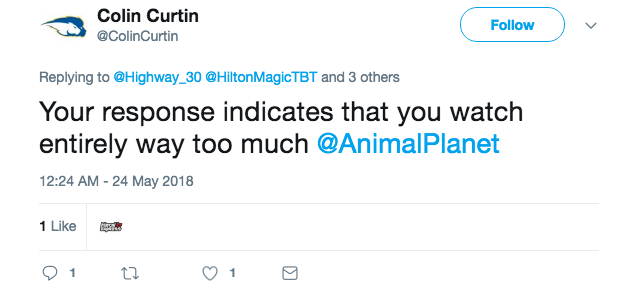 But Royce wasn't going to let the Director of Basketball Operations at Hofstra get the best of him.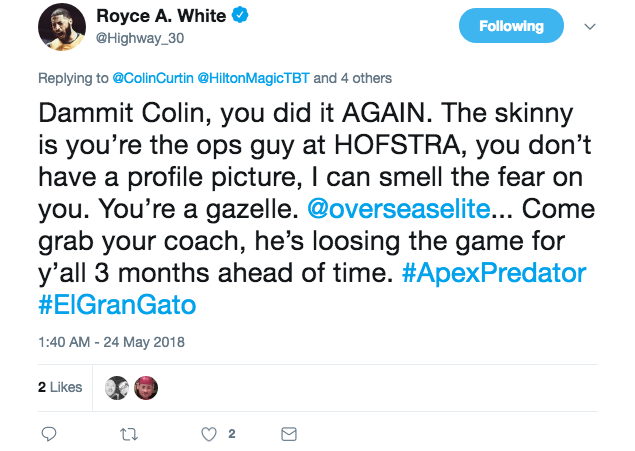 The Twitter beef between White and Curtin is still ongoing as of this morning, but the interaction between the two caused some waves among the inner workings of The Basketball Tournament.
Josh Brown, the Content Coordinator of The Basketball Tournament, had this comparison to make when he saw White and Curtin's argument: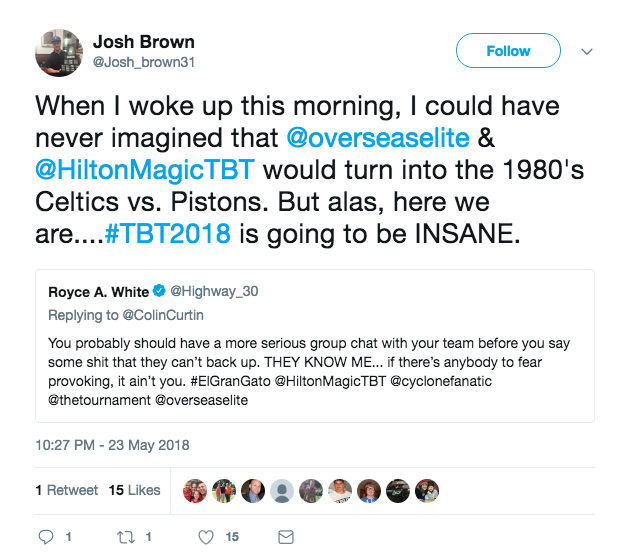 And, of course, Royce had to make sure he set the record straight.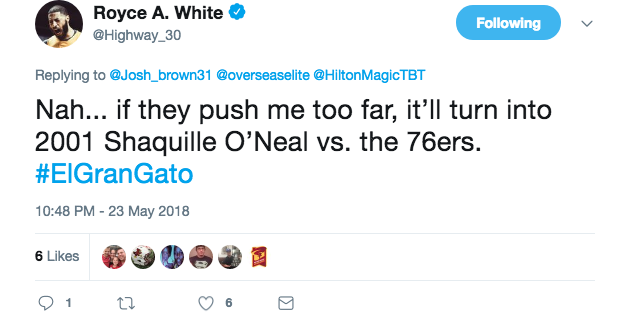 Wrapping Up
It's amusing to see all of this back-and-forth on the internet when we're still over a month out from anyone playing games in The Basketball Tournament. Stuff like this certainly adds entertainment value behind the scenes.
One thing I would note… Even though DeAndre Kane has indicated he's going to switch teams and join the Hilton Magic Legends, I wouldn't feel completely comfortable about it happening until his player bio/video is added to the official roster page. Overseas Elite is likely making one final push to get Kane to reconsider his decision, and nothing is set in stone until we get video confirmation from Kane himself.
IF Kane does end up playing with the good guys, hopefully Hilton Magic Legends and Overseas Elite will get the chance to play against each other. That'd make for some tense on-court battles and provide great fodder for Fran Fraschilla to use during the broadcast.
The Basketball Tournament begins in July and will be televised on the ESPN family of networks. Stay tuned for the official bracket to be released sometime before then!