AMES — Iowa State hosted its annual Pro Day on Tuesday at the Bergstrom Indoor Facility. I've covered probably 10 of these over the years and let me tell you, there was a very different feel around the complex this year.
With Allen Lazard, Iowa State's streak of not having a player drafted since Jeremiah George in 2014 is almost sure to end next month. But you get the feel that this program could have close to a dozen guys get drafted over the next few years. That's not counting top prospects in Iowa State's latest recruiting class or even the freshmen from last season.
In honor of Pro Day, I worked the phone earlier this week to get a sense for who the program feels like will have the best chance to play at the next level.
Note: If a guy is on the roster and has barely played, I did not include him on this list. The only young prospects I included are players who we have seen actual on-field potential from or ones that my sources have identified to me as future pro prospects.
Will get drafted…
1 – David Mongtomery, RB
This one is simple. Behind below average offensive lines, Montgomery ran 1,709 yards and 13 touchdowns first his first two seasons at Iowa State. If he continues to develop during the offseason, and there's no reason to think that he won't, Montgomery has a realistic chance of going pro after his junior season.
2 – Hakeem Butler, WR
The NFL loves massive wide receivers. At 6-foot-6, 219-pounds, Butler's body type is perfect for the next level. He caught 41 passes for 679 yards and seven touchdowns as a sophomore and without Lazard in front of him, Butler should have exponentially more opportunities as a junior. With hopefully more consistency at quarterback and in the running game as well, Butler is due for a breakout year in 2018.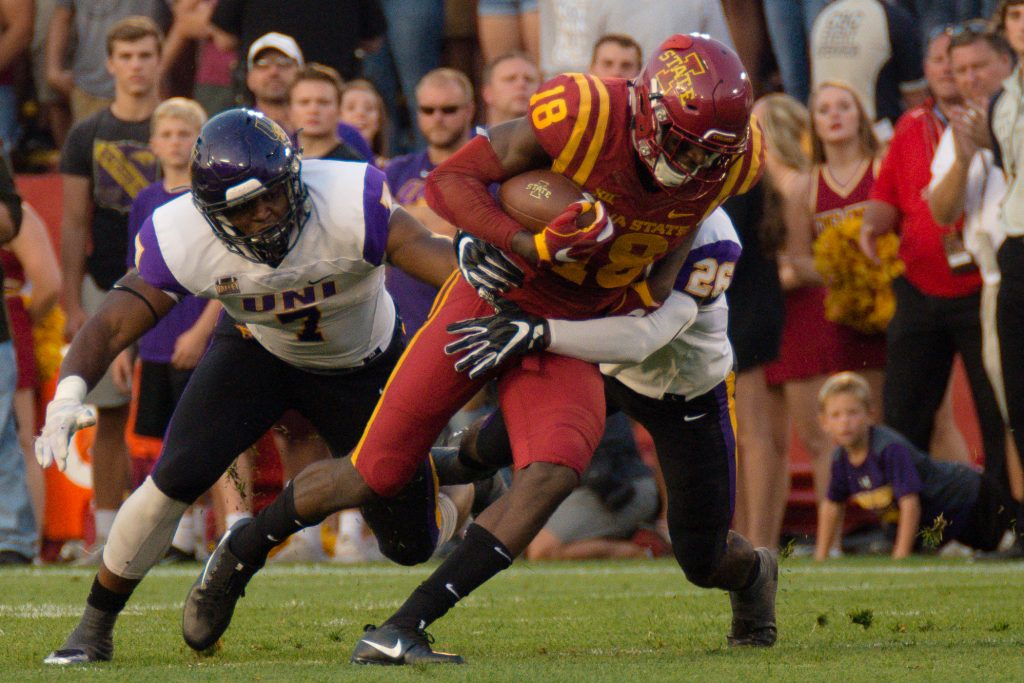 3 – Ray Lima, DL
Lima was the cornerstone that allowed Iowa State's defense to take massive steps forward in last year's Liberty Bowl winning season. At 6-foot-3, 306-pounds, Lima's body is going to be fine at the next level. Don't look at his stats and make any sort of a judgement. By taking on two blockers nearly ever play, Lima does exactly what his coaches and NFL scouts want to see. This guy has "pro" written all over him. Plus, he's one of the hardest workers in the program.
4 – JaQuan Bailey, DL
JaQuan led the team in sacks with seven as a sophomore and has yet to play his best football in an Iowa State uniform. At 6-foot-2, 260-pounds, JaQuan Bailey has a chance to be one of the best defensive ends in the Big 12 next season. Maturity has always been a question here but it's getting better with age. Most folks would be very surprised if he doesn't play in the NFL someday.
5 – Brian Peavy, DB
At 5-foot-9, 190-pounds, Peavy is going to have the same issue that Jeremy Reeves did back in the day. Despite the fact that he is one of the top cover corners in the country, Peavy's size will absolutely hurt him during the draft process. Still, most people find it hard to believe that he won't be a late round draft pick.
Should get drafted…
D'Andre Payne, DB
The only reason I put Peavy ahead of him is because we have seen more of Brian over the years. Payne's athleticism is elite but his size, like Payne's, will be an issue. Still, most in the know believe he will be a third day pick.
Julian Good-Jones, OL
He's probably a better NFL prospect than Peavy. Iowa State's 6-foot-5, 293-pound center has developed quite a reputation over the last two years. It will be interesting to see how he develops over the next two years with better linemen around him.
Josh Knipfel, OL
Those in the know say he has been the best offensive lineman to have played in the program during the first two years of the Campbell Era. His 6-foot-5, 319-pound frame and two more years to develop make Knipfel a quality candidate to someday be drafted.
Will have a shot…
Eyioma Uwazurike, DL
He's still a toddler in football years but Uwazurike is widely considered to be perhaps the most talented young player on Iowa State's roster. The 6-foot-6, 288-pound defensive end will have plenty of time to develop with good players ahead of him on the depth chart. Still, he will be a major part of the best defensive line we have seen in Ames since 2005 when the 2018 season rolls around.
Marcel Spears, LB
Spears was an awesome surprise for Iowa State's defense in 2017 when he started 13 games and was the Big 12's Defensive Player of the Week twice. Problem is, he's only 6-foot-1, 215-pounds. Spears has time on his side to develop into an NFL player though.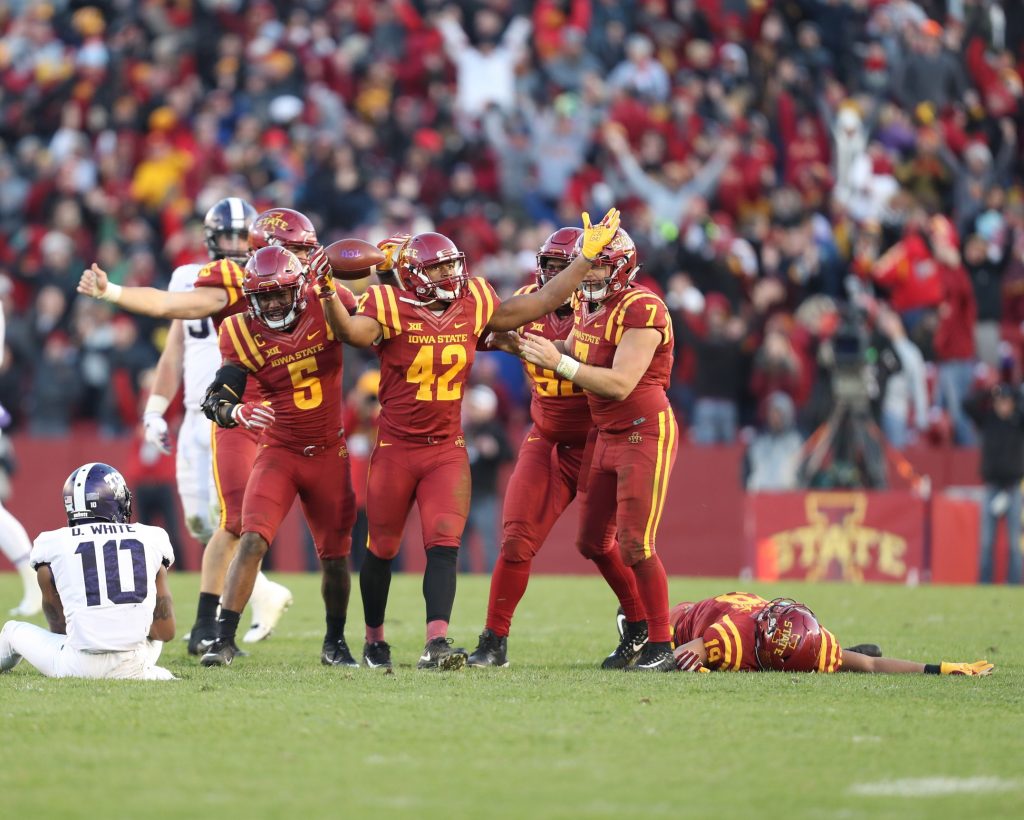 Bryce Meeker, OL
Because of his 6-foot-6, 314-pound frame alone, Meeker will get NFL looks. He's a guy who should really benefit by having better linemen around him over the next two years. Meeker has played just about every position there is to play on the line and will develop more efficiently when he can settle down, preferably on the outside.
Chase Allen, TE
The sky is the limit for Allen, a 6-foot-7 sophomore who continues to grow into his lengthy frame. Allen earned second-team All-Big 12 honors as a true freshman last season and should be used much more in the passing game as a sophomore.
Dylan Soehner, TE
Matt Campbell loves him. Iowa State not using the tight end position the last two years had more to do with personnel than it did Campbell's system. Now that Iowa State has two quality tight ends, I anticipate the offensive coaches will use them. Plus, what's not to love about 6-foot-7, 271?
Wild cards…
Willie Harvey, LB
Matt Leo, DL
Kamilo Tonguamoa, DL
Matthew Eaton, WR
Kene Nwangwu, RB
Arnold Azunna, DB