Allen Lazard (left), coach Tyson Veidt (center) and Joel Laning (right) chat toward the end of Tuesday's Pro Day at the Bergstrom Football Complex. (Rob Gray photo). 
AMES — As Iowa State's Pro Day wound down, Allen Lazard and Joel Lanning stood shoulder to shoulder, chatting about the morning's results.
Lazard, of course, had already opened eyes last month at the NFL Combine — largely vanquishing concerns about his straight-line speed, while impressing as expected in other make-or-break measurables.
Lanning needed to shine Tuesday at the Bergstrom Football Complex — and naturally was asked to add yet another layer of his skill to his versatile pad-popping portfolio.
But fullback?
Put me in coach, Lanning essentially said.
And the Cyclones' celebrated quarterback-turned-All-American linebacker took on those drills with his characteristic aplomb.
"I wasn't expecting it really and then they asked me, 'Why not?'" said Lanning, who performed the fullback drills at the behest of a Oakland Raiders team rep. "But I went out and did pretty good at it. Obviously, not working on it, I obviously don't know the depths of routes and things like that, but he said I looked pretty good, so I'll take it."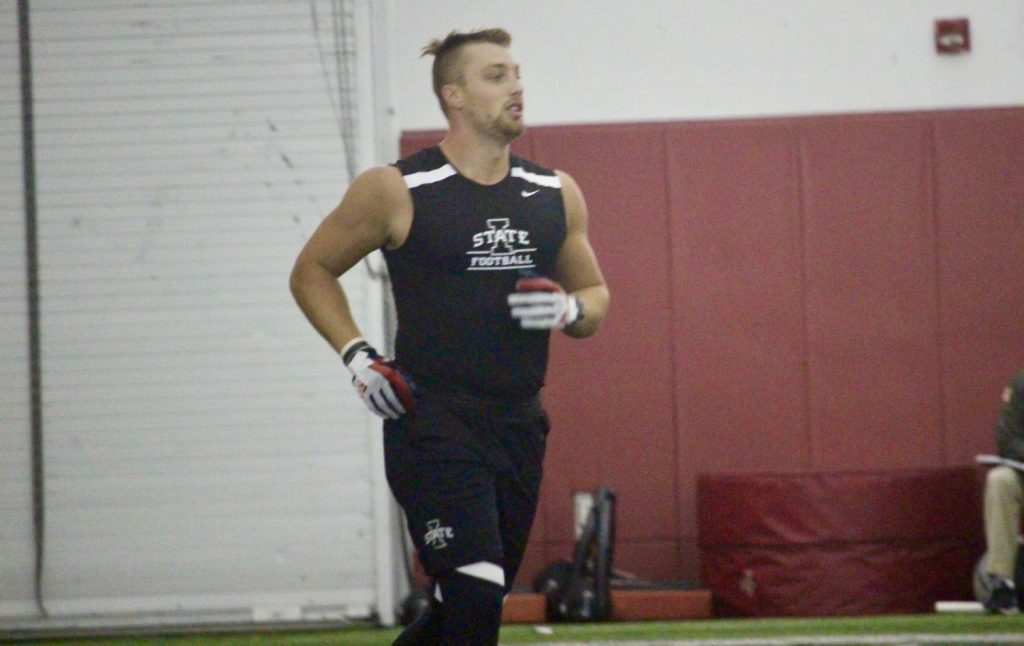 Both of ISU's most decorated seniors shared that sentiment.
Lazard eschewed the 40-yard dash Tuesday, but performed some drills, including the broad jump, where he improved his combine mark from 10-02 to 10-04.
Lazard had nothing to prove in the 40 — not after running a solid 4.55-second time in Indianapolis.
So Pro Day for Lazard consisted mostly of polishing the edges of an already accomplished game that likely will land him in the middle rounds of the NFL Draft, either as a wide receiver or tight end.
"I think a lot of teams were pleased by (the 40 time) for the most part," said Lazard, who like Lanning will remain in Ames to train in advance of the April 26-28 draft. "I know a lot of teams had me — assumed I'd run like a 4.7 or 4.8, so I kind of just cleared that speed question up a little bit."
As for Tuesday?
"My biggest emphasis was just to come out here and run clean, crisp routes and just show the scouts that I can play on the outside and the inside as well," Lazard said.
Mission accomplished, as usual.
"The biggest thing right now is starting to get in football shape, because as soon as the draft's over, OTAs start and I want to go in there and start to compete for a starting position," Lazard said.
Lanning's Pro Day could have been stressful. He didn't have combine results to fall back on. But Lanning and stress don't mix — and his results showed that.
"I thought I performed pretty well, actually," Lanning said. "I PRd on pretty much everything. My 40 I guess for what people are saying was like a low 4.7, which is good. I was expecting that."
Lanning's speed numbers would have been about mid-pack at the combine. His bench press total would have put him near the top. Lanning hoisted 225 pounds 26 times. Only three combine participants at linebacker completed more reps at that weight.
"I wasn't surprised at all, just with the competitor that he is and what he brings to the table every single day," Lazard said of Lanning's efforts. "For him to go out there and put up the numbers that he did — I'm sure he probably wished he could have done better, but I think he did a very good job."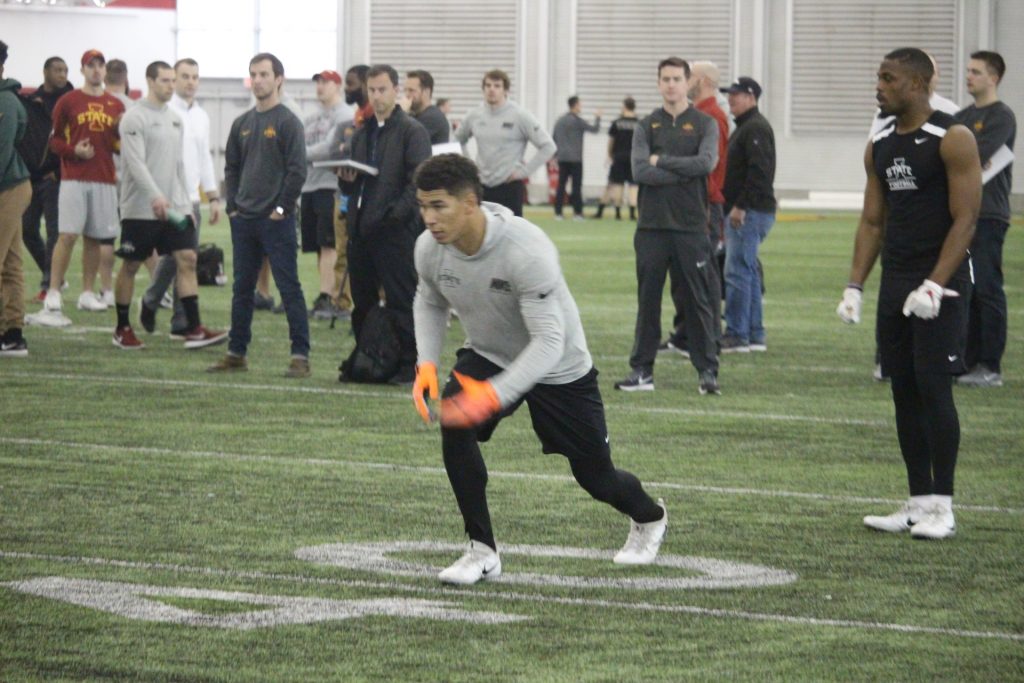 What's next for Lazard and Lanning?
Waiting for potential pre-draft individual workouts with teams, which is the main reason they're staying in Ames.
Support from the ISU staff is another big reason, too.
"The coaches here, they've always pushed me every single day, especially these last two years, and I think that just kind of had a ripple effect on my mentality of going into this combine process and being able to go out there and compete to the best of my ability," Lazard said.
Both Lazard and Lanning have done that in recent weeks.
They'll continue to do so moving forward for at least a couple more weeks, shoulder to shoulder, until the draft unfolds and free agents are eventually summoned.
"I really appreciate a guy like Joel Lanning and obviously I wish the best for him," Lazard said. "Hopefully we end up on the same team again, which I think would be really cool."
Yes, it would.
We've just always stayed close," Lanning said. "It's been fun to go through pretty much everything at Iowa State with him. It's been a great journey."
 QUOTABLE
Lanning on not being invited to the NFL Combine:
"At first I was pretty upset. I felt like I'd earned that, but it's whatever. I mean, used it as motivation here and I performed pretty well here. I'm not mad about it now."
 LAZARD'S PRO DAY RESULTS
Bench press: N/A (17 reps at 225 at the combine)
Vertical jump: N/A (38 inches at the combine)
Broad jump: 10 feet, four inches
40-yard dash: N/A (4.55 seconds at the combine)
3-cone drill: 7.11 seconds
 LANNING'S PRO DAY RESULTS
Bench press: 26 reps at 225
Vertical jump: 33 inches
Broad jump: Nine feet, six inches
40-yard dash: 4.76 seconds
3-cone drill: 7.01 seconds