AMES — Saturday's installment of the Big 12/SEC Challenge – Ames edition – can be summed up in a tweet and a chant.
The tweet: A follower asked me if an illness had ripped its way through Iowa State's locker room. How else, he pondered, could the Cyclones look so lethargic and uninterested vs. a top 25 team at home in front of a packed, spirited Saturday afternoon crowd?
The chant: With five minutes to go during Tennessee's 68-45 rout of the Cyclones, Iowa State's student section – what was left of it – chanted, "We want Brad." Brad (who?) was the last guy on Tennessee's bench. This was what the students had resorted to for amusement.
Iowa State's offensive performance – a frigid 33.3 percent shooting day that included going 23.5 percent from three and 7-for-17 from the free throw line – was historically bad.
You have to go back to the 2008-09 season to find the last time Iowa State scored fewer than 50 points in a game. It happened twice, on the road at Missouri (46) and at home vs. Kansas State (46).
It gets worse. Please, Hans Brase (0-for-4 from the field) yourself for this stat…
The 45 points scored vs. the Volunteers were the fewest ever scored by an Iowa State team in the history of Hilton Coliseum. You have to go back to the year 1959 – when the Cyclones played in the old armory – to find a game where Iowa State scored fewer than 45.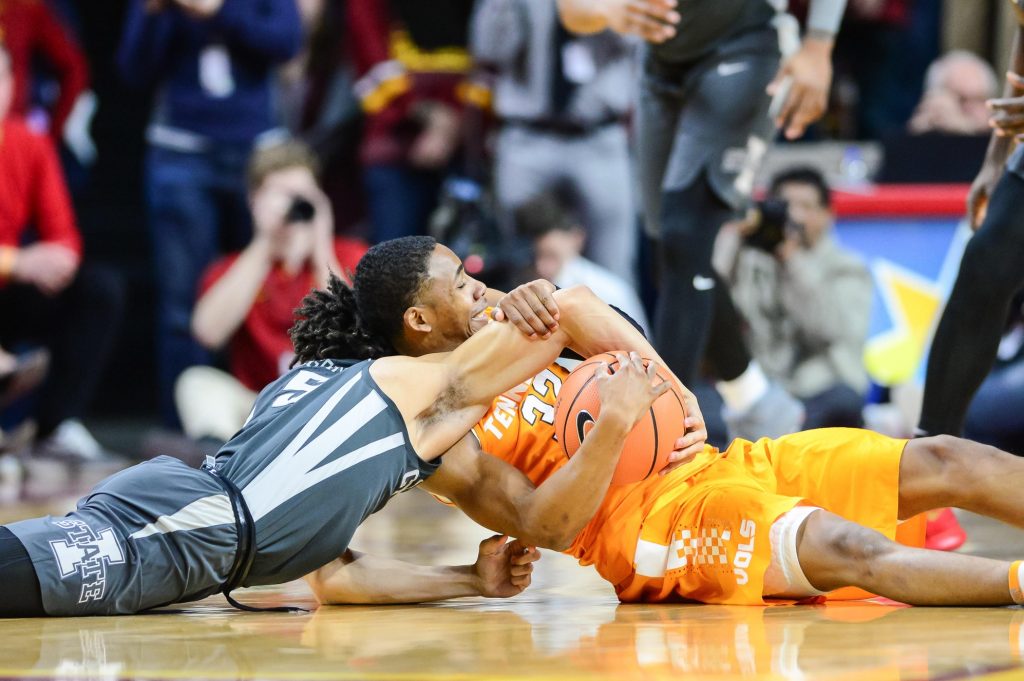 So we have determined that this was a stinker of epic proportions. But why?
"Soft," said a very outspoken Donovan Jackson after the game. "That's all it is. We played soft."
With 13, Jackson was Iowa State's only player that scored in double figures.
"Hilton is supposed to be our safe haven," Jackson added. "We are disrespecting Hilton, right now, to me. We just have to find it. It is on us as players. It's not on coach. He always take the blame for it but honestly, it is on us. We have to compete better."
Donovan Jackson's thoughts on Iowa State's loss to Tennessee. pic.twitter.com/P2g7SsIt0l

— CycloneFanatic.com (@cyclonefanatic) January 27, 2018
The story of this game cannot simply be told by the putrid offensive numbers that were collected within Iowa State's box score. The Cyclones had a body language problem. What came across as a lack of interest resulted in an overwhelming lack of "50-50" balls going Iowa State's way.
Example: Tennessee's 49-31 edge on the glass. Specifically, the Rick Barnes led Volunteers collected 16 offensive rebounds in the game, 42 percent of their misses. So nearly half of the time when Tennessee missed a shot, it got another chance. That led to a 22-6 edge in second-chance points.
"You have to look yourself in the mirror, man," Jackson said. "At the end of the day, you are a grown man. You are playing college basketball. You are playing against an SEC team, a Big 12 team, it doesn't matter. You have to come out here and compete."
What's surprising about this outcome is that Iowa State actually got off to a nice start in this game. The Cyclones led this game 14-9 with 9:51 to play in the first half.
"Then we really got stagnant," Steve Prohm said. "We started getting kicked on the glass. Again, the focal point was the three. We are just so late getting out there. Our competitive instinct has to be better."
Steve Prohm on if Iowa State played soft in the loss to Tennessee. pic.twitter.com/LqWTwonVtx

— CycloneFanatic.com (@cyclonefanatic) January 27, 2018
Tennessee entered Saturday averaging 6.8 made 3-pointers per game in conference play. The Volunteers connected on 12 Saturday.
The Volunteers ended the first half on a 16-2 run and began the second half's first five minutes with a 13-2 advantage.
Some simple advice for these Cyclones: Listen to Donovan Jackson, come out on Wednesday vs. West Virginia (6 p.m. on ESPNU) and compete like you have never competed before. Dive for loose balls. Play like your hair is on fire. Many of you committed to Iowa State to play in front of one of the best fan bases in America.
Iowa State was trailing by 17 points with 12 minutes to play and the fans were on their feet attempting to will this team into simply making it a game.
Seven days ago, the Cyclone Nation left its cathedral feeling as optimistic as possible about a young team during a rebuilding season following a convincing 18-point victory over No. 8 Texas Tech. This matinee created the exact opposite emotion.
Losing is one thing. As Jackson put it, playing "soft" is another.