It is hard for me to know how to feel this morning. I finished crying somewhere around 5 p.m.  central yesterday and talked it out with a couple of new acquaintances.  I then settled in to a satisfied malaise as the vodka seeped slowly across my brain producing blissful anesthetization.
I have six pages of notes from every play of the game I observed when I wasn't dancing around like a 5 year-old who can't hold it anymore. It was nice to review them in a calm state to grip what we observed yesterday.
I saw enough to write a week's work of articles and certainly will not cover it all here (you can thank me later). Though, the game is worthy of at least two. Ultimately, in broad scope, I observed one of the best coached and competitive games I have ever seen. From scheme and adjustments, to just gutty individual performances, both schools put their best foot forward and, forgive the cliche, left everything on the field. I am not sure the result matters. Even if the loss prevents a bowl game for ISU, there is not a single negative that should be drawn from this game.
It isn't that there were not mistakes. There were plenty. It isn't that opportunities were not missed, they were. It isn't that a different play call here and there is not regretted, some are. It is that at its core, football is about competing on every snap to the best of your ability within the parameters given by the plays called and the coaching imparted. That was done, as it always is, by Iowa, and that was done in culture shifting fashion by Iowa State.
I could go a hundred different directions here, but have chosen to discuss some matters in broad terms. I will save some details for later. The game had a little bit of everything. In terms of Iowa State fandom, we observed a tangible change in this program's mentality, saw in full display the vision of Matt Campbell, and are able to pick up on his identity and the identity of Iowa State moving forward.
Last point before some quick hits. As much as this game was Iowa v. Iowa State, it was Wadley v. Montgomery. That does not mean to exclude the fabulous effort of the rest of the team, but it was clear in observation who the leaders of the respective teams were. Both teams drew from and hopped on the back of these two fabulous players. Their competitiveness and grit defined the effort yesterday and will define a season for both programs. I wish good health for both because it was a pleasure to watch.
Quick Hits
— Wadley and Montgomery have similar skill sets. Wadley enjoys an advantage in elusiveness and Montgomery enjoys an advantage in being filthy nasty.
— That is my new nickname for Montgomery. Filthy Nasty.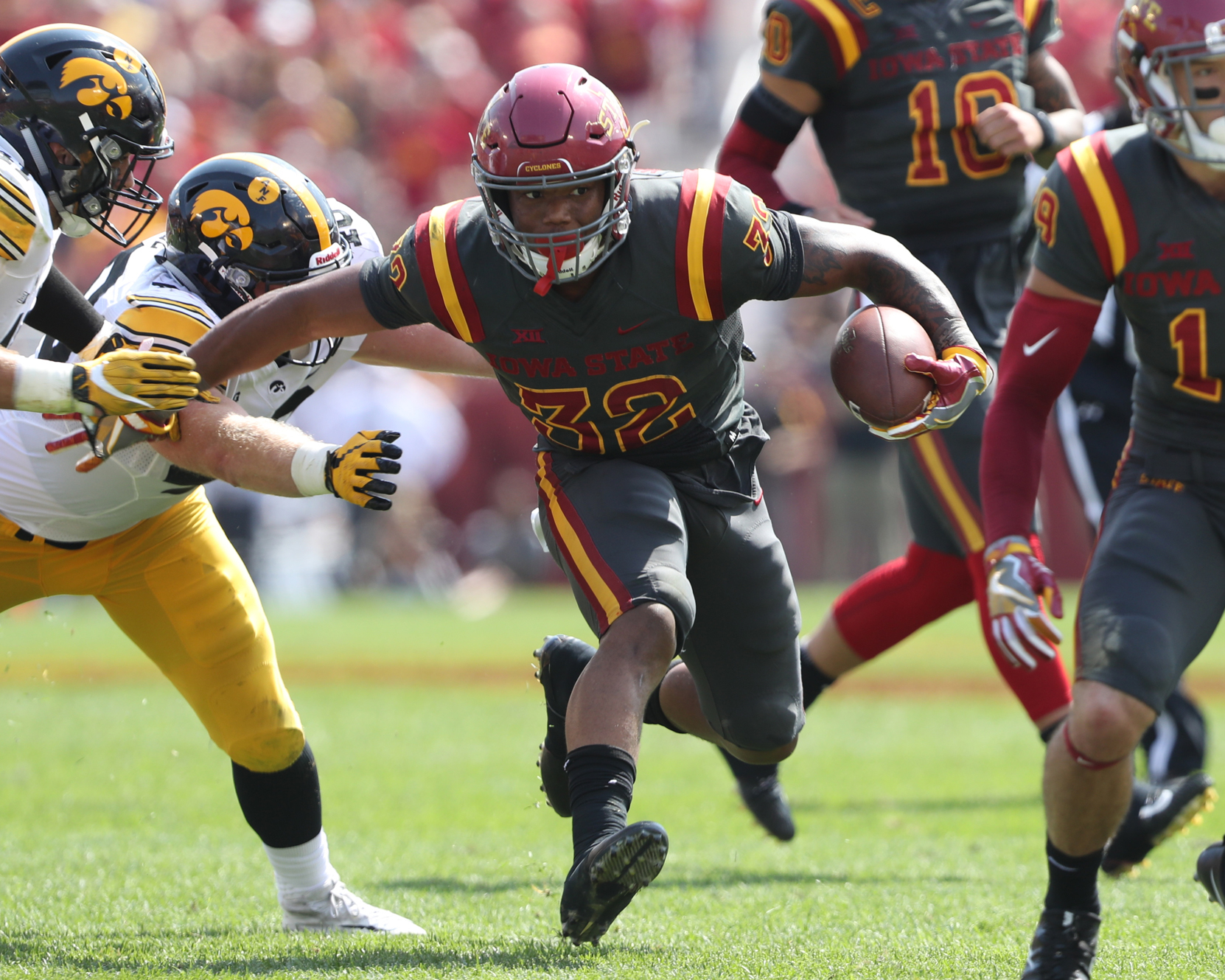 — Campbell talks about getting the right type of players with the right type of mentality. He often talks about aggressiveness and a nasty attitude. Montgomery defines what he wants. Super nice, got-it-together guy off the field, with an animal instinct on the field. It starts with Lazard, and his "little bro" cleans it up.
— Jacob Park had some uncharacteristic struggles in this game. From the mid-second quarter until the mid-fourth he locked on to his receivers instead of reading his progressions. He was tentative with some of his throws and late to make his reads. He needs to improve his decisiveness and use his God-given zip. I had not seen him play tight before, and he was tight.
— That said, seven drops will make you tentative and press for perfection.
— That said, 347 yards and four touchdowns should not be criticized. Just a point for future observation and growth.  One of the growth points I wanted to see from Park this year is the willingness to be patient and hit a check down or throw a ball away. He did that masterfully and showed real growth in that area. That is a great sign moving forward.
— Stanley acquitted himself well. He missed five open receivers on deep shots. But, that touch will come. ISU put him in tough spots. Iowa adjusted their play calling and gave him a comfortable place to play.
— Ray Lima, Vernell Trent, and the rest of the interior defensive line are not weaknesses on this team.  In fact, they are strengths. They held the line all day and Iowa absolutely could not penetrate the middle of the defense. A perceived question has been answered.
— ISU's edge players struggle to contain when physically confronted in the run and pass game at both the first and second levels of the defense. Greater schematic adjustments and improved safety support will have to be brought to bear.
— ISU's coverage is weak at the safety position. Instincts are hard to coach and safeties have to play with great recognition and instinct. Angles in both coverage and tackling can be coached and I am hopeful that we will see improvement there over the course of the season.
— Marcel Spears is legit. Lanning is still adjusting, but will be very solid moving forward.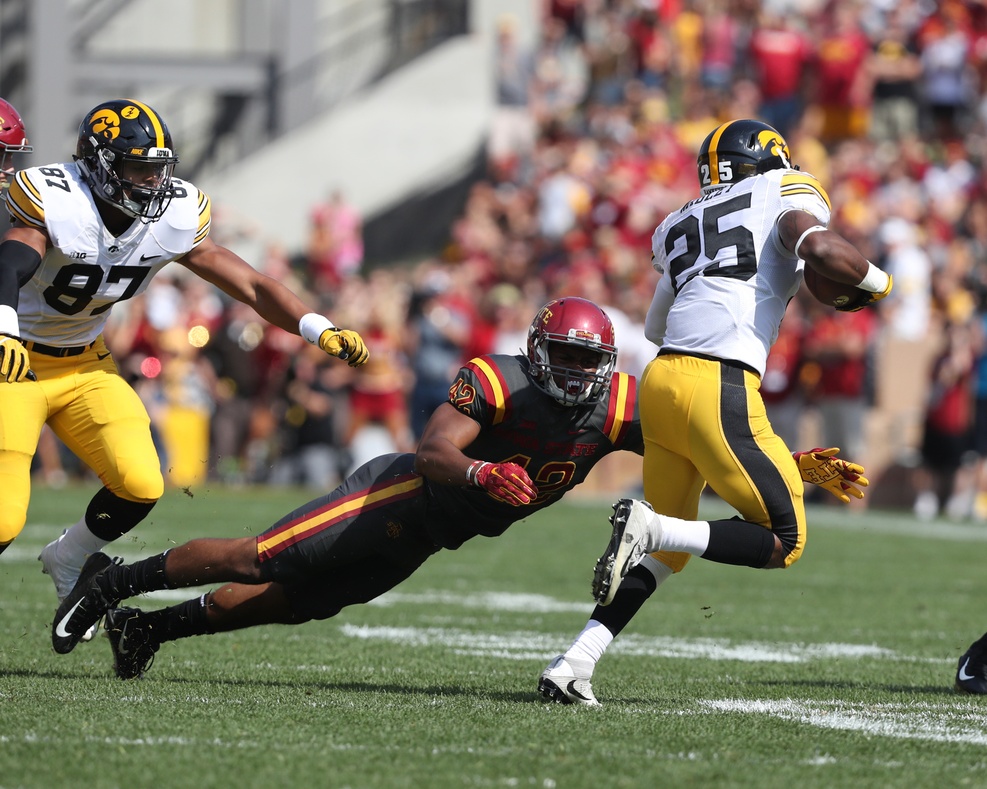 — For the second week in a row, the halftime adjustments were spot on and ISU responded accordingly.
— The offensive line is also legit. They are still coming together, but limited pressure again and made strides in run blocking within the play parameters utilized in the game. The baseline for this group is high and if we see similar growth as we did last year, this unit will be very solid. Not to mention that we will have many of their services in the following years as well.
— Offensive line and defensive line as strengths at Iowa State? Sounds good doesn't it!!!!!!!
— The wide receiver unit is highly regarded. Their performance is below the standards they have set for themselves at this point. This offense needs them to become play makers or, at the very least, consistent in route running and catching. I need to see more Jones and Butler needs to keep working and not rest on his laurels. I expect both to manifest, just putting an alert out that the group needs to elevate for Big 12 play.
The Difference
There were certain play calls and scheme related strategies that worked for each team in this game. The coaching staff's were outstanding at utilizing what worked and adjusting to exploit those advantages. They are as follows:
Iowa
1 – Edge running game.
Edge running means attacking the 5 and 7 (or 6 and 8) holes which are inside and outside of the tackle respectively. You do this with power plays where the line blocks to the inside, or down, and a lead blocker kicks out an edge defender, or running a sweep concept where the edge defender is hooked by the blocker and the back extends and cuts back off of the lead edge blocks.
Iowa also utilizes the patented zone stretch play to achieve their edge run pressure. I think I counted three stretch zones in my extremely unofficial count. Instead, Iowa effectively focused on power and sweep action to achieve the edge.
These plays attack the weakness of Iowa State's defenders. Especially Bailey and Harvey who struggle to withstand and make plays when they are required to set the edge and contain in traffic. Spears penetrated the blocks and held his edge effectively. Technique and discipline are required as well as just some of Filthy Nasty's attitude.
Iowa recognized this weak spot around the start of the second quarter and began to exploit it. They used it the rest of the game in order to move the ball.
2 – Underneath passing.
Iowa State was playing 8 in the box as recommended. That left the corners in tight man or combo coverage.
Just an aside here. ISU uses the corners to provide edge pressure on blitz packages. That passes coverage off to the safeties. This is a bad exchange for ISU. I would like to see the safeties used in that blitz capacity versus the corners more often. I think that would help cover a weakness and have good results.
Iowa ran its wide outs vertically to a depth of 10 or more yards which had the effect of clearing out and turning the back of the support tacklers. Then, they would use the tight end to chip block to stop pressure and slip them in to the flat or across the middle for an easy throw with room to run underneath and outside of the linebackers in their zone drops.
The effect was to put ISU in to a chase position and force them to tackle in the open field one-on-one. More often than not, the steps gained by the flow advantage resulted in late reaction, difficult pursuit angles, and a difficult tackling scenario for the ISU defense.
Iowa utilized this extensively to move the ball and score.
3 – Tackling.
Iowa tackles as surely and soundly as any team in the country. Part of the reason their defense is consistently good is that they do not give up additional yardage due to broken tackles (unless trying to tackle Filthy Nasty, which might be impossible). The linebackers have limitations in coverage, but once they get to you, you go down and go down hard.
Iowa was sound for 4+ quarters in tackling fundamentals. That advantage was pronounced precisely because Iowa State struggles in the same category.
ISU missed open field tackles and failed to stop and secure limiting plays due to poor tackling. It is a carryover issue from 2016 and was evident on both the edge runs and the underneath passes where Iowa was isolating defenders in order to take advantage of the weakness.
The tackling differential (could that be a new statistical category Kirk?) was pronounced and decisive.
Iowa State 
1 – Edge running game.
It took until the early third quarter for Iowa State to make the adjustment to the edge running game. Like Iowa, there was no room to run in the middle with the slow developing scheme ISU chose to utilize. For two weeks, ISU has failed to find their footing in the inside running game.
But, just like in the UNI game, when the runs started to press the edge, there were yards to be gained. ISU had an advantage with Campos' ability to set an edge and Montgomery's speed and elusiveness in space. While a little late, the adjustment changed the game and led to the 21 unanswered points.
ISU used a quick pitch scheme to pressure the edges to great effectiveness and eliminated their stagnation issue with a switch to the play. Just like Iowa, though with less adherence to it, Iowa State utilized the edge run to open up the field and gain an advantage. Iowa was no better at contain than Iowa State which speaks to the high level of skill it takes to effectively contain a play.
2 – Pass to the seams.
Early on, the first scoring drive, Iowa State found a soft spot in the Iowa defense. Iowa always plays two deep safeties and their linebackers do not drop to a comparable depth. That leaves space for a skinny post to stretch the underneath coverage horizontally and allow a quick slant back to the seam in front of the deep safeties. Murdock's initial catches are the example here.
Iowa State went away from the concept during their second quarter struggles, but, after halftime, began to attack the seam again with the same route and a series of hooks and digs in to the same zone.
In fact, the late touchdown bomb was the result of the effectiveness of this scheme. Butler ran a skinny post and go, a double move. The safety jumped up on the post due to the past success of the play and could not recover on the go action.
Late in the game, in overtime, the same was used, but fell victim to one of the more egregious drops we saw.
I now understand the horizontal screen game — a little bit. That wide pressure is intended to stretch the defense in order to open up the seam where the big bodies of Lazard and Butler can hit that gap and convert first downs.
It was effective against Iowa. Outside with the run, inside with the pass. Nice concept and Iowa State will continue to develop its play calling rhythm in that area to a positive end.
3 – Passing to Montgomery.
The check down receiver is often open because the coverage has dropped and there is an easy throw and some space to move for winning first and second down plays. When you can make that throw to Filthy Nasty, then you have something.
Not only that, we saw Montgomery split out and catch one of the quick pop's to a great effect. We also saw him run some deeper out routes where he is a mismatch for a linebacker in coverage.
Iowa State made this adjustment after halftime as well and used it to make big first down plays similar to what Iowa was doing with their tight ends and Wadley.
It is a huge part of developing the offense and provides an extra thing for the defense to worry about. If Montgomery threatens in the underneath passing game, then it will create space for one of the outside receivers to get over the top or pull away from coverage on a crossing action.
Both teams had advantages and utilized them to keep the offense going and make their respective come backs. It leads me to my last point — at least for today.
Matt Campbell on why he wasn't overly discouraged by Iowa State's loss to Iowa in this #CFTV. pic.twitter.com/Nnk5uyiIFq

— CycloneFanatic.com (@cyclonefanatic) September 9, 2017
The End Game
Starting after Iowa pulled to within 31-28 in the fourth quarter, we entered the coaching no-man's land of end game decision making. The dilemma being, do we keep our foot on the throttle and continue to do what brought us to 31 points, or do we reign it in and try to burn clock and squeak it out.
Iowa State ended up with poor field position (I would like to see Johnnie Lang on some returns and I miss Nwangu). This stresses the decision maker even more.
Iowa State decided to keep it going. You can debate edge run or seam pass, but either is a fine decision. Iowa was giving up nothing in the middle and you might as well have punted on first down if you were going to try to get a first by running inside the tackles.
The pass play had Montgomery crossing underneath for an easy throw running away from his coverage. Park made the throw and Iowa intercepted it. Worst case scenario. Wrong decision, absolutely not.  In fact, I think it was the only decision.
The truth is that Park could have waited a half second longer and thrown through a better passing lane, but the pressure was almost there and there was a lane. Number 40 just made an absolutely spectacular individual play.
I can't get upset when ISU did nothing wrong and someone makes a great individual effort to beat them. That is what happened. The defense then did its job and kept the game winnable.
Now, ISU has to respond for about the 10th time in the game. They do so using their difference making concept and score in spectacular fashion. In hindsight, would a 14 play, six minute drive have been ideal? Yes, but I love the aggressive play and execution. You could not rely on your ability to drive the ball at that point in the game. It worked out that a big play was hit on a great play call. Right time, right decision.
Iowa then briefly abandons what has been working the whole game. They try two deep passes (got lucky on the deep ball) and a run in to the middle. They went away from the edge run and underneath pass to try to respond accordingly. In so doing, they create a three and out and give the ball back to ISU.
ISU has to decide how to put together some first downs. They have the advantage passing in the seam, but an interception to consider. They have an advantage in an edge run, but a negative play backs them up further and would leave Iowa with good field position.
Instead, they run to the middle which is stopped. Now, they try to hit the edge and create space on second and third down. But, they choose to do so with two plays they have not run before in the game. A slow developing sweep and screen. The thinking here is sound even though it might not seem so at first blush.
ISU was trying to hit a vulnerable part of the defense. The problem was the nature of the plays. By using a new play, you think Iowa will react slower because they had not seen it before. Nothing wrong with that decision making process. The plays did not work and the other, more familiar plays might have, but who know? I don't. Either way, it was sound. It just didn't work.
Now, the dilemma is set for both teams. For Iowa, do they continue to abandon their edge run and short passing game and push the ball downfield in the passing game to accommodate the need for yardage in a small amount of time? For Iowa State, do you drop eight in coverage, relax the box and pressure at the line of scrimmage in order to prevent a big play, or do you keep playing your defensive scheme and stay aggressive to get a stop?
Iowa decided to go back to their difference making plays and attack the edge and the underneath passing game. It had worked all game for chunks of yardage. There was no pressure on Stanley to execute, and the game would be in the hands of Wadley and Fant.
Iowa State decided to continue to play its base defensive scheme and try to get a stop. They were in a tough spot with regard to the edge run, but could at least burn time if they could force second and third downs. Sound call based on winning the game with passion and identity.
Iowa goes edge run and underneath pass to penetrate just inside the 50 yard line. The clock ticked to near 1:30 left. Iowa State now decides to drop eight for the first time in the ball game. Watching live, I shook my head yes, because it was time to keep the ball in front of you and rally to the tackle.
Iowa did not take the bait and stayed true to their form. Stanley hit Wadley underneath the coverage. Only this time, the coverage was more spread out that in the rest of the game. Wadley, thanks to some poor angles and tackles, but mostly due to one of the more inspired runs you will ever see a back make, exploits the space and houses the underneath throw.
Wrong decision by ISU?  No. Great decision by Iowa. Yes. Just good competitive football.
Overtime was disjointed by the Cyclones, but they got the opportunity to make a back shoulder money throw to Lazard. It wasn't executed. Iowa goes edge run, short to the flat, short to the flat and it is ball game.
The end game coaching dilemmas were monumental for both teams. In the end, Iowa took one more crack at using their difference making plays than ISU. That decided the ball game. But, Iowa State made sound decisions and, more than anything, they were beaten by just one or two individual efforts.
Iowa State lost on Saturday. But, Iowa State won because they answered the bell over and over again on the field and in the coaching booth. The teams could not have been more even in effort, talent, and scheme. Overtime was fitting, but both teams and we the fans won yesterday.
As Cyclone fans we should be extremely encouraged by what we saw. If we see more of that in the coming weeks, then this team will contend for bowl eligibility. There may be more heartbreaking moments, but I believe Matt Campbell does his best work when the chips are down. The lessons he will bring to bear will be tangible.
Go 'Clones!!!