I hate to generalize, but every 18-25 year old male (myself included) I have ever met has one thing in common: They don't pay attention to details.
I thank him for it now, but my first "real world" boss used to hound at me all of the time about this. I had a tendency to accomplish 75 percent of a task in a very suitable level but the final 25 percent was hot garbage.
While my intentions and work ethic were very acceptable, I wasn't organized (in or out of the office) enough to be able to perform to the best of my ability.
After watching Saturday's 41-14 victory at Akron, this came to me: The current vision of Iowa State football is that 22 year old guy I described above. He is talented enough to win but not enough to skate through life.  He needs to work harder than the other guy. He just hasn't had enough reps in life (in this case on the field) to really understand just how good he could be at 100 percent efficiency.
Luckily for the Cyclones, Matt Campbell is that boss calling them in for daily pep talks. In just over a year, Campbell's leadership has already proven to be top-notch.
His less-than-giddy response to a convincing road win was all the proof that I needed.
As a result, I have never been this excited about the longterm future of Iowa State football.
What a difference a year makes…
Iowa State just won a road game (that it was favored by 10 in) 41-14 and the majority of the fan base is nit-picky on Monday morning. That is a very positive thing, Fanatics. From the head coach down, expectations are rising around these parts.
I dedicated my weekend family/friends so this is really my first chance to let loose on Saturday's game, so here goes:
— The Cyclones dominated in the trenches on both sides of the football, which was awesome to see. It is exactly what a Big 12 team should do to an opponent from the MAC.
My eyes tell me to still be concerned about Iowa State's ability to run the football. However when you look at the Big 12's stats through three weeks and you see David Montgomery just five-yards shy of leading the league in yards on the ground, it's hard to complain too much.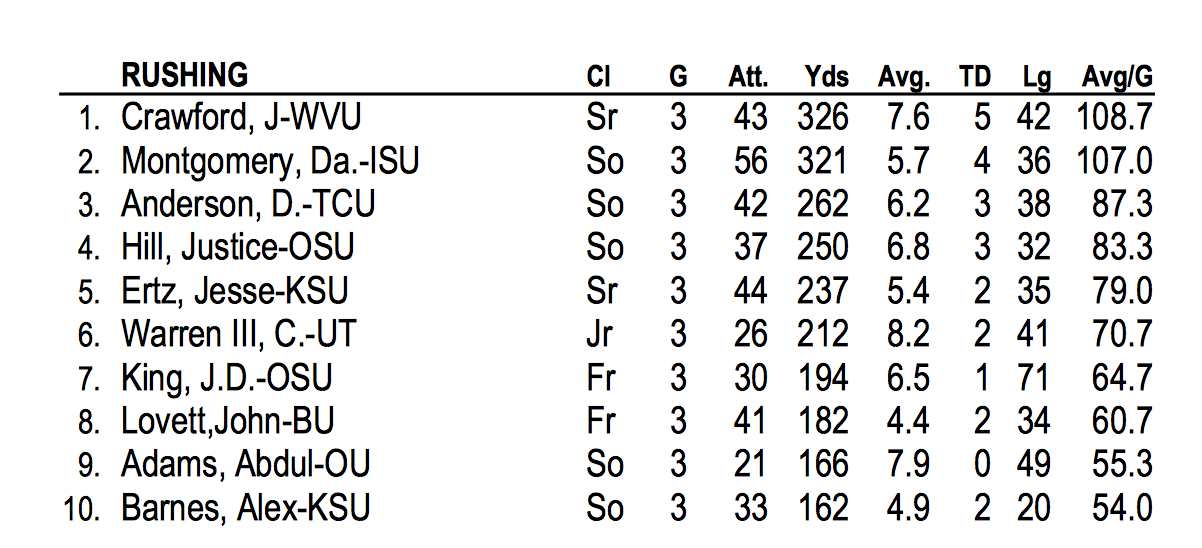 — Zero turnovers on Saturday for the Cyclone offense. That was a big accomplishment in its own right.
— I have yet to crunch the numbers but Iowa State has to be one of the worst defenses in America on third down so far this season. There are very few things as frustrating for a fan than to watch your team not be able to get off the field on third down. This killed the Cyclones vs. Iowa and didn't get much better on Saturday, as the Zips were 11-for-18.
— I am 100 percent on the Jacob Park hype train now mainly for two big reasons.
The first being his ability to make the tough throw. The early touchdown to Allen Lazard in the corner of the endzone might not have made Sports Center's "Top 10," but it was a very difficult throw that Iowa State quarterbacks simply have not made over the last five years or so (probably longer).
Mainly though, remember the column I wrote about Jacob Park and the need for accuracy before the season? Through three games, Park is connecting with receivers at a 66.7 percent completion rate with a passer rating of 153.9.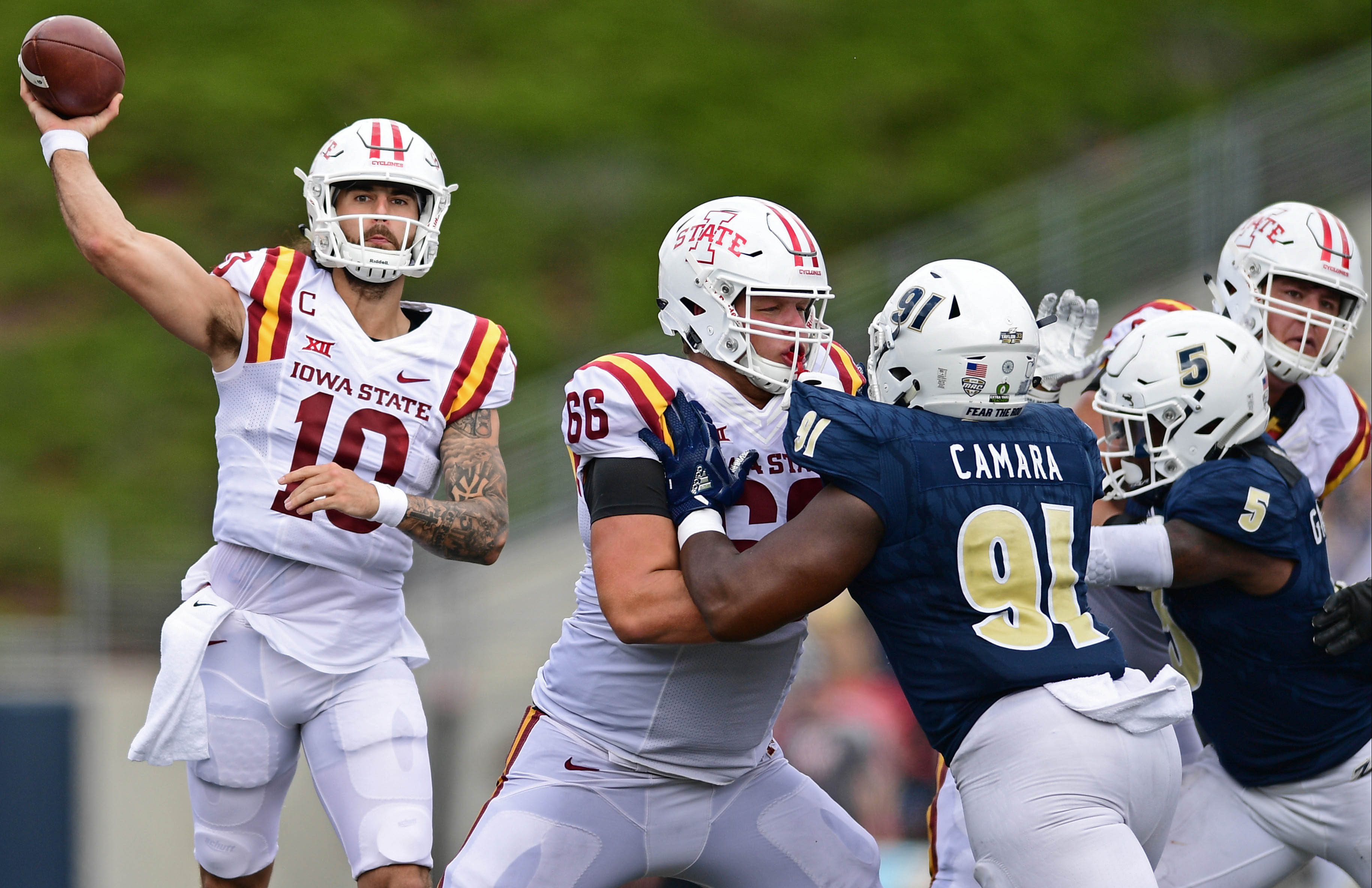 — Back to the running game… This is why I am concerned about the offensive line but also incredibly impressed with David Montgomery. In 56 carries, the sophomore is averaging 5.7 yards per. Meanwhile in 24 carries, Mike Warren's average is at 3.3.
The greater point here is that Montgomery is creating a lot of this success on his own. It is great to have a back like that, no doubt. But I also think that when Iowa State gets into Big 12 games where it has to score 40-plus points to win, the ability to shove it down someone's throat every once in a while (to keep defenses from being able to drop back into coverage) is crucial, as we saw last year vs. Baylor and Oklahoma State.
The good news is that Montgomery appears to be a back capable of doing a lot on his own against pretty much anybody, which is an immediate upgrade in its own right. Like we saw last year, the line should continue to get better as well.
— Speaking of 40 points, Iowa State has scored 40 points or more in all three games this season. The last time that Iowa State score 40 or more three games in a row was in 1976.
In ISU's school-record six-game streak of producing over 400 yards of total offense, the Cyclones are averaging 501.2 yards in that span. pic.twitter.com/H0JfpV22iI

— Cyclone Football (@CycloneFB) September 18, 2017
Where are the tight ends?
Perhaps the most surprising stat through three games: Chase Allen's one catch for nine yards. Once again, the tight end position is essentially nonexistent at Iowa State.
I'm not panicking over this. When you have as many huge wide receivers as Iowa State does, Park is basically throwing to fast tight ends all over the field. I do believe that this would add another dimension to an already pretty good offense though and am curious to see how this develops over the final nine games.
My weekly Big 12 power rankings…
1 – Oklahoma – That win at Ohio State was so huge on so many levels.
2 – Oklahoma State – I have been covering the Big 12 for over a decade and this is one of the best offenses I have ever seen.
3 – TCU – I hyped TCU all summer and still believe this team is for real. TCU at Oklahoma State on Saturday at 2:30. Must-see TV.
4 – Kansas State – Lost to Vanderbilt over the weekend but I still think this is the fourth best team in the Big 12 – for now.
5 – Texas – It didn't take long for Tom Herman to wake this group up. At the end of the year, we might look back at that season opening loss to Maryland and call it the best thing to happen to this thing. The Longhorns lost at USC in overtime on Saturday but came away knowing they can compete with anybody in the country.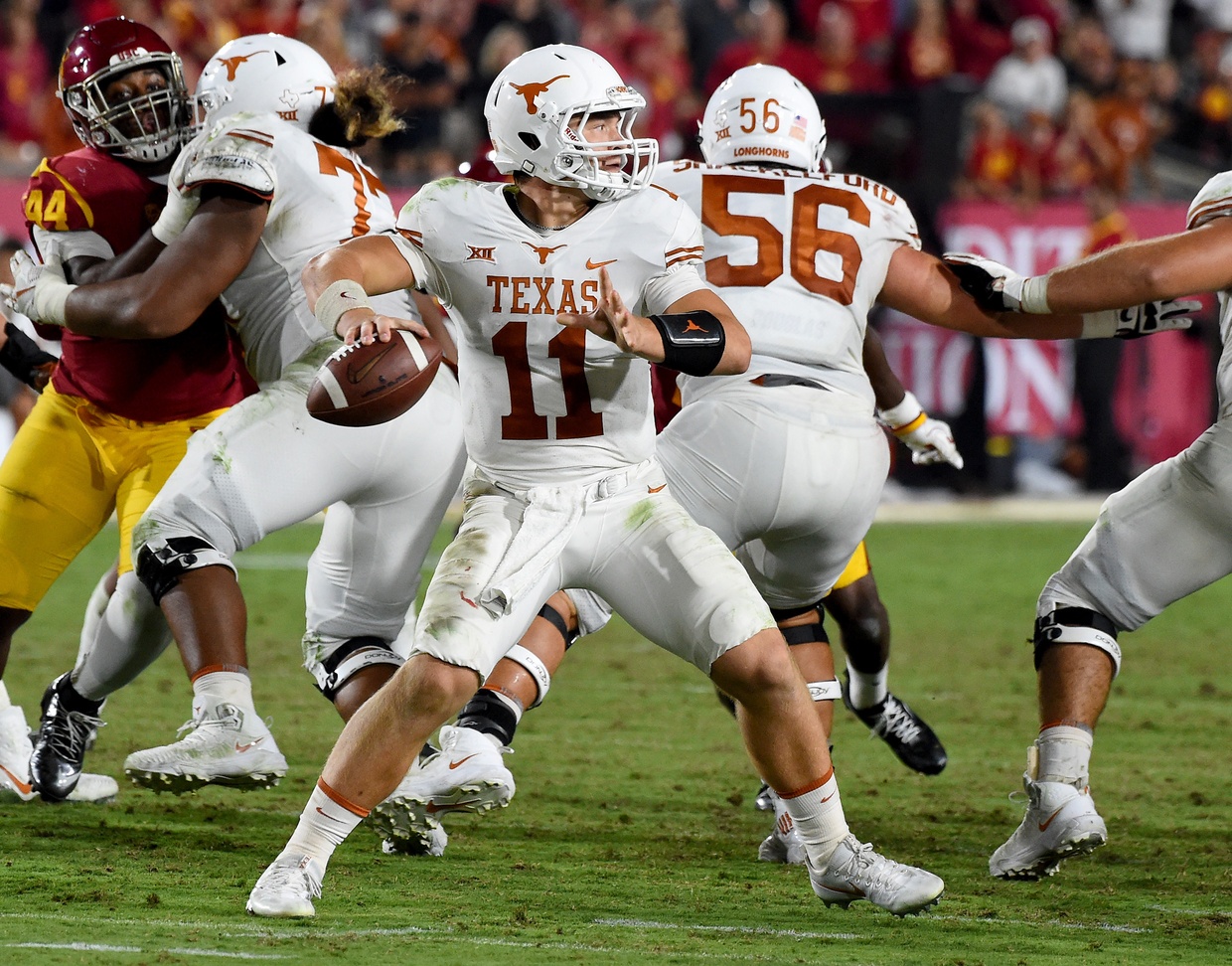 6 – West Virginia – I'm still not in love with this team. Could easily put Iowa State here. In fact, 4-7 are a toss-up.
7 – Iowa State – The Cyclones exit the non-con 2-1, feel like they should be 3-0 and will host Texas a week from Thursday.
8 – Texas Tech – Beat Arizona State 52-45 over the weekend in the most Texas Tech game ever.
9 – Baylor – At 0-3, is still better than Kansas. Actually showed some improvement in a loss to Duke over the weekend.
10 – Kansas – Back-to-back losses to MAC teams is never cool.