I have a secret to share with you all, just promise not to share with the rest of the public. Deal?
I have solved the secret formula for success in college football. This info has worked for decades and is as formidable as any coach, Heisman winner or off-season program. It is the No. 1 factor for continued success and Alabama has been on the vanguard of this revolutionary concept since 2008.
Brace yourselves, your mind is about to be blown.
The key to success in college football is….stopping the run.
Yes, so I might have created some unnecessary build up, but the evidence is amazing and Iowa State is heading towards success for this sole reason.
Why has Alabama been so dominant? They have been a brick wall against the run. Since 2008 (Nick Saban's second year with the Tide), Alabama has finished in the top 10 of rush defense every single season. The Tide were No. 1 in run defense in 2011, 2012 and 2015. They won a National Title each of those years.
Okay, Alabama is elite and is on another level right? Well check out this correlation:
Every single team in the top 35 of run defense last year had a winning record in 2016.
It's clearly the No. 1 indicator for success. And nothing else is close. Take your schematics, flame throwers and playmakers, give me some run stuffers in the middle and I like my chances.
So why has Iowa State been so abysmal the last four seasons prior to this one? Good call, run defense.
2013: 224 yards per game allowed (115th in nation)
2014: 246 yards per game allowed (122nd)
2015: 187 yards per game allowed (86th)
2016: 218 yards per game allowed (103rd)
Even in the so-called "pass-happy" Big 12, if you can't stop the run, teams are going to destroy you with the run.
Quite simply, it is the No. 1 key to every single game. And that is why defensive tackles are as valuable as any position in college football, more so than the headline grabbing quarterback.
The good news for Matt Campbell's team is they finally have a couple high level defensive tackles in Vernell Trent and Ray Lima. Iowa State's numbers are reflecting that.
Through three games, Iowa State is allowing a salty 106 yards per game on the ground, good for 26th best in the nation.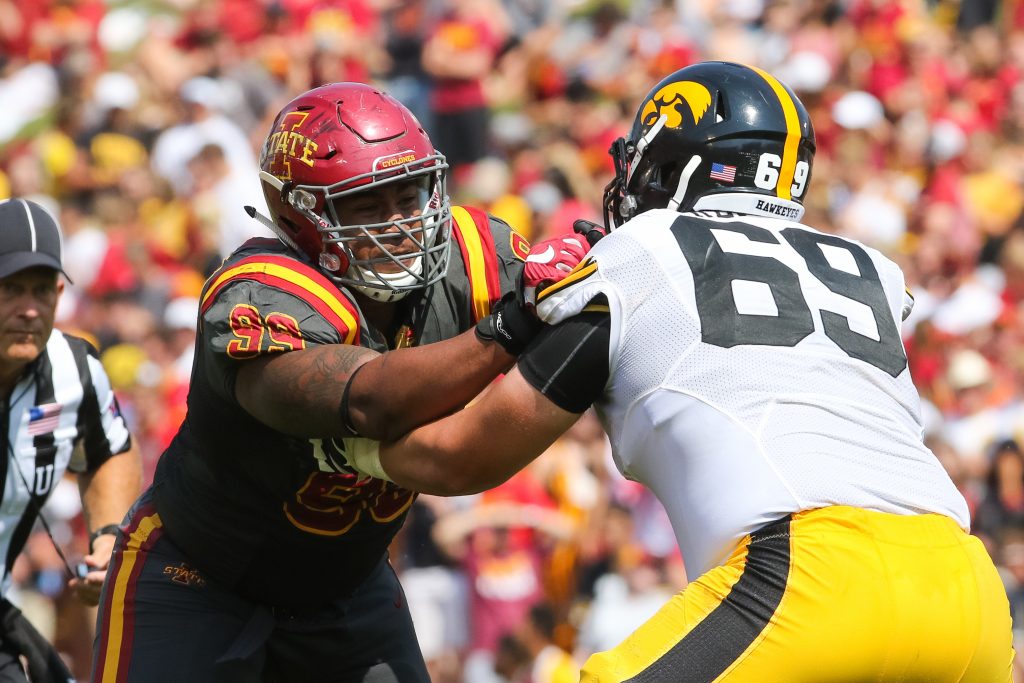 The Cyclones haven't had stats in that neighborhood since 2005, when Nick Leaders and Brent Curvey were clogging up the interior. That was also, not coincidentally, Iowa State's best defense of the modern era.
Ray Lima may be the most important piece Iowa State has had in a half decade. It's hard to notice No. 76 in the stat column because he only has five tackles on the season, but he is a huge disruptor and alters what teams can do against Iowa State.
In the past few years, teams could run up the gut at will and get chunks of yardage. Now Lima and Trent are filling gaps and forcing opponents to find other ways. Once they go to the air, that means more opportunities for turnovers. As a wise man once said, "When you throw the ball, three things can happen and two of them are bad."
If Iowa State continues to clog the middle, good things are in store for this program. Lima is only a sophomore and Kamilo Tongomoa is improving by the day. Both will be huge factors against Texas. Plus, Iowa State has more young bigs in the pipeline ready to disrupt. It is the single biggest key to Iowa State's sustained success going forward.
The great news is Toledo under Matt Campbell (and thanks to the addition of defensive coordinator Jon Heacock) climbed the national rankings in run defense every single year. In year one they were 118th in the country against the run, in year four…sixth in the nation, trailing only programs like Alabama, Wisconsin and Ohio State. It's no mystery Toledo won nine games in Campbell's final season.
Iowa State is on the rise and it is thanks first and foremost to the big fellas making thing ugly inside. That needs to continue against Texas.
As the line should go in Field of Dreams, "Stop the run, Ray, and the wins will come. The wins will come."